... Or have instructions in a 16-point font. Or have big controls for our increasingly arthritic hands. Or aren't heavier. ("Ah, yeah, this one's a good one. Feel how much it weighs. That's quality construction, there.") Or don't say
"Made in Occupied Japan."
You figure the sex toy market would be 90% women. Alright,
I
figured that, and we've established I don't know what the hell I'm talking about. Here's further proof: Google "sex toys for women." Around 211,000 hits. "Sex toys for men?" – 397,000. And nowhere on the first five pages of results are 'women' identified as some of those toys. That's gotta be progress. I guess.
Guys, straight and not, can take pride in the variety of gadgets we wrap around ourselves, insert into ourselves, and insert ourselves into. As far as I'm concerned, women's stuff is pretty lame, based almost entirely on the single proposition of penetration. Yeah, it can shake, rattle, roll, come in a variety of colors, textures, lengths and widths, but a cock is a dick is a prick is a dildo. Right?
Men are a more diverse lot. We seek pussies, asses, mouths, boobs, hands, armpits and gaps between the sofa cushions. But toy-wise, we have design problems. Cocks can be transformed into things of beauty. The parts on a woman that interest us do not stand in isolation from each other. It matters that the pussy is connected to thighs and legs. That a mouth is part of a head attached to a neck to a chest with boobs. More so than women, men rely on the complete visual for stimulation.
For boy toys, we have realistic vaginas with or without realistic assholes, pocket pussies, blow job imitators and sex dolls, whole or torso-only. Masturbation sleeves: in Latin,
masturbation pinguesco
. "Yes, waiter, I'll have the Vongole Fra Diavolo, Capellini Antonio … and finish it off with your Masturbation Pinguesco. That
is
a white sauce, correct?"
Buying female parts might be more attractive if we could eventually put the whole thing together. Sort of like building a model railroad: adding mountains, bushes, tunnels, loading and unloading facilities. A hobby that could drive our Xmas and birthday wish lists, though most daughters, bless them, would respectfully pass. Girlfriends would be pissed. Moms would quietly disown and disinherit us. My ex might be agreeable, though I suspect she'd send me nothing but assholes. None that fit.
As it is, the parts on their own often just look … weird, man. Take your
"Deep Throat Stroker
," a somewhat amorphous looking glob of gunk.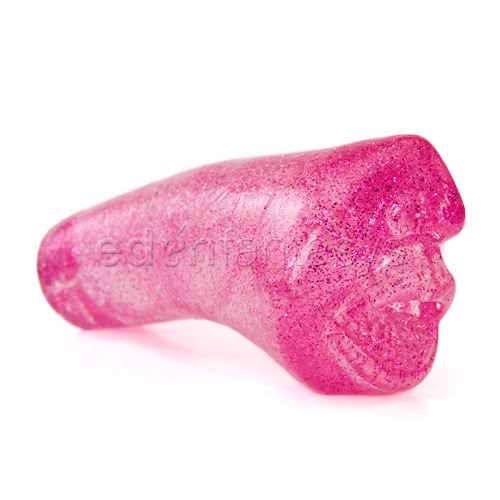 Wherefore the design inspiration? How about here:

Yeah. Star Trek. The original. Season Two, Episode 35.
The Doomsday Machine
. Both people gobblers.
"Fleshlight" is an interesting idea. A discreet adaptation. But precisely the sort of toy you'd end up hauling out of your toolbox after suffering a flat on a back road in Mississippi on a rainy night. At least there'd be something to do while you waited for AAA . Look at the lips.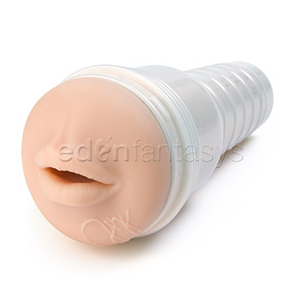 Seen them before? Hi Audrey.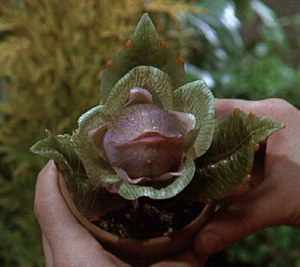 Some porn stars have graciously allowed castings of their nether regions so that manufacturers can create spongy dupes for our pleasure. Hey, if you can identify the star based on her privates, you've a finer eye than me, my friend. Forgive the slur, but they all look alike to me.

Alright. Playing Dicktor Frankenstein isn't such a great idea. Maybe a RealDoll? Maybe not: I have an un-hard time believing I'd be satisfied with a sexual partner that didn't bark out instructions, give me the evil eye when I suggest dinner at McDonald's and not Ruth Chris, complain it was too hot … and still steal the covers. Plus, we'd never have make-up sex. If we did, I'd have
other
problems. Then there's the matter of finding a spare six grand to plunk down. The $100 rubber dolls are just, I'm sorry, ridiculous. I could never fantasize enough to stop laughing at myself. I'm better with my eyes closed.
All this stuff is fine, just not for me. Yet, anyway. But then, I didn't buy my first vibrator until I was past the half-century mark. I'm kinda slow on the 'learning to let go' curve. For now I'll pass on personal plastic. Get my blow-jobs the old-fashioned way—by begging for them. Get my anal sex as before: never. And remember that as unfashionable as a real pussy may be, it is as unique and sexy as the woman to which it is attached.
That
turns me on. Batteries not needed.