The fact I'm a man, and until I hit 50, a pretty uptight one, hasn't helped widen my comfort zone when it comes to sex toys. And the ability of the female pleasure ones to outpace my own Mr. Happy in terms of length, width, movement and the ability to recite
Homer
and sing
Aida
all the while being self-directed without misinterpreted directions …
"Yes. There. No, a little higher. Too fast. What you were doing before ('I don't know what I was doing before') Almost had it. Wait. Okay, now harder. ('Like this?') Too hard. No, you know, right before. Use your fingers more. That hurts. ('I'm going to stop awhile.') Perfect. What you just did. ('Christ!') Oh … oh … no. Never mind."
… isn't all that endearing, either. I do see their utility, trust me. I just had no idea I was that inadequate.
My own love and lover's birthday is coming. Me/We/She already own two vibrators, so between the four of us we got three schlongy things to choose from. Throw in my hands and tongue and it seemed we had all the variety we need.
But that was the
old
me. What I found is that once you've made the great elastomer leap, not only does it get progressively easier to buy up, your expectations continue to rise with your libido. Just like in every other aspect of a free-market society dominated by holiday-only church goers, we're never satisfied. So, I've swallowed my pride, which hasn't near the bouquet of a typical evening with Ms. Right-for-Now. My neck muscles are probably going to go to shit, too. Oh, well.
I am determined, or at least resigned, to add a new, exciting Mr. Machine to our inventory. The hunt has begun, the choices body boggling. But I think I found the right way to say, "I love you," at the same time saying, "I can't wait for you to enjoy this," all the while thinking:
I just got to watch you use this thing.
It ought to be a riot. It's of the rabbit class, the "Total Ecstasy Triple Stimulator." (I added the hat.)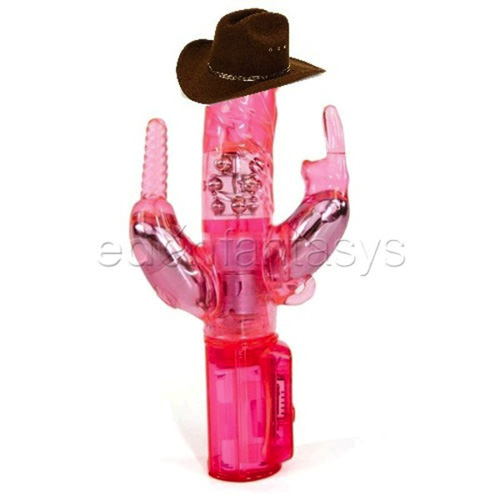 This little mother/girlfriend fucker ought to be able to vote. And have a part-time job as school counselor, or census taker. Reading the description of all it can do, I'm shocked it runs on batteries. If they'd had one in the '50s, it would need its own Eniac. And powerplant.
Even before it's doing anything, it looks like it's doing something: playing cactus; making an intelligent point with its left hand about the object it's holding in its right; giving everyone the finger. (I'd guess the latter closer to what the creator had in mind.)
The manufacturer uses these words to describe this "Chef of the Future:"
… features a bulbous head that tapers down gently into a ribbed neck, complete with raised veins on the shaft for an added dimension of sensual delight. This shaft also houses a series of metal beads set on various rotating platforms that will massage you deep inside as the shaft penetrates … the rabbit-styled attachment is arched forward for direct clitoral contact, and using its ears and face, this accent will provide endless amounts of vibration to stimulate your clitoris … the other side of the piece includes a swirled prong for delectable anal stimulation which can be used for minor penetration or just to massage the outside of the anus … the bottom portion of the shaft uses two sliders to control the speed and intensity of the vibration and rotation, allowing for multiple combinations of ecstatic potential bound only by your desire.
I mean, "Holy Shit!" This baby has more moving parts than my '68 VW. Probably more watertight as well. I'm going to be relegated to watching, the dialogue between her and it running something like:
"A little more rotation ('No problem') Perfect … More rabbit ear vibration ('Got it') Greeeaaat … Slightly more penetr … ('Like this?') Oh, God!!!

Pause.

"Been a pleasure serving you, Ma'am. Would you care for a massage?"
When he's done with her, maybe I can get him to work on my neck.