During my recent teaching tour of Oz, I sat down with Dee and Paul, of Uber Services to get the scoop on the steamier side of Sydney.
Dee is the matriarch and mastermind of the fantasy world called
Uber
. It's a fetish / BDSM venue for play, glamorous fetish dinners, avant guard performances and education. They also organize the biennial weekend kink festival called the Gathering, coming up again in 2012.
Paul is the crazy person who help make Dee's visions a reality through logistics and facility design.
Hidden behind a plain brick façade of a 1930's brick warehouse is a 4,000 square feet play arena containing an elegant central play area, a decked out medical room, a wood paneled "head master's room", lounge, changing area, and more. Dee and Paul abhor stagnation in design and visual boredom, so the space is constantly evolving with changing layout, art and toys. They host one big event each month along with specialty events. The festivities are made possible through the hard work of the Uber Crewe. They're a family like team of staff with training and talent in everything from dungeon monitoring, EMT, counseling and design.
If you're visiting, you can also rent the space for a bit of private play.
Paul, with his disarming smile tells me, "We're more than happy to meet up with people and take them through the venue if they're in town. If they want to spend a quiet afternoon beating each other up, we can happily accommodate!"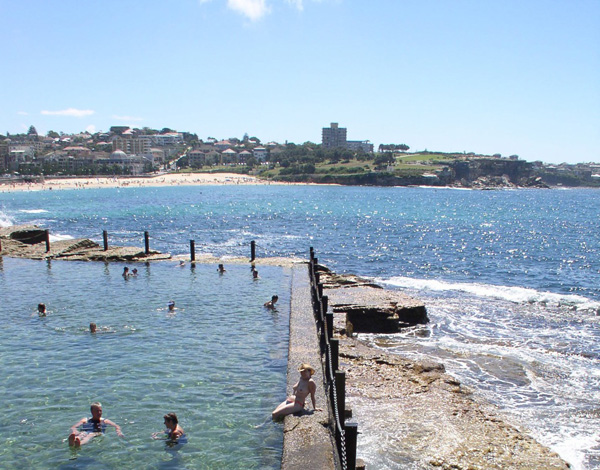 Coogee Bath in Sydney ©Midori
Once you've had your Uber tour and got your kink on, head out to town to explore!
Fetish nightclub:
Hell Fire
: with tons of wacky performances and sexy freaks.
Shopping:
Maxx Black
: Women and couples oriented toys and pervy clothes with friendly staff. It's a great place to pick up event flyers.
Sax Leather
: Leather boy shop that's friendly to gals too!
Funky places to hang out:
Newtown.
Eclectic artsy community with plenty of gay and lesbian presence. Great food. Quirky design and indie shops abound, including many Goth designers.
Swingers clubs:
Couples Club
Sin Sity
Gay sex club:
Ken's at Kensington
Traditional cruise house for the boys.
Queer & Drag fun:
The Imperial Hotel
A fun night out with special shows. The Imperial became famous for the opening scene of
Pricilla Queen of the Desert.
The characters in the movie were based on the real Queens here.
Queer Women, Lesbians & Dykes:
Check out the cabaret nights at the
Sly Fox
, organized by the lovely performance couple
"Fancy Piece"
Event Resources and Magazines:
Sydney Leather Pride Association
LOTL Magazine
(Lesbian On The Loose)
SX Magazine
& Gay News Network. Glossy boys mag.
Sydney Star Observer
. Gay mag
Mardi Gra:
The legendary huge rainbow party
. Known as a two week party and fuck fest. Annual event starting the last weeks of February through early March.
Nude Beaches:
- Three legal clothing optional beaches: Lady Bay (aka Lady Jane), Obelisk, Cobblers
- Coogee Bath: Women's salt water pool and beach. Clothing optional for women only.
Other useful visitor tips:
- Brothels or sex on premissis venues are legal! They can still be deliciously seedy, but they're not being chased down by the police
- The locals are called "Sydneysiders"
- "Salties" are dangerous salt water crocodiles. They don't live in Sydney.
Dangers of Drop Bears:
According to Paul, the incidences of Drop Bear attacks vary by the weather. "Depends on whether we've had rain or not. If it's wet the attacks tends to go up slightly. They don't like getting wet so they'll drop and steal your coat. If it's dry, they will drop on your head and steal your sunscreen."
Speaking of sunscreen… Here's a confession from Dee
The funniest thing you get to see around Christmas is English people ("Poms") straight off the plane, go straight to Bondi beach, lie down, fall asleep with jet lag, and come out looking like a cooked lobster. What's funny is if you write something on their back with sunscreen… oh, not that we'd ever do that!

Sydney beaches are phenomenal. It's a major city that's 15 minutes from the CBD (Central Business District) to a world class beach.
Last word from Dee and Paul: "If you're coming over, drop us a line and we'll put you in the right direction!"