The Tenugui is a thin cotton cloth, measuring around 1' wide by 2.5' long. Some are hand printed while others are machine dyed. The prints range from traditional motifs such as family crests, seasonal patterns, and favorite Kabuki performers as well as store logos, festival commemoration, modern graphics, manga characters and even Hello Kitty and
Star Wars.
The best ones are limited editions, silk screened by hand and sought after like baseball trading cards. Its use may date back to the Yayoi era (300 CE to 300 CE) but the big boom came in the Edo period (1603-1868). They even appear in Ukiyoe images of beautiful women and popular actors. Today, they're experiencing a huge resurgence in Japan as people look towards traditional wisdom for modern living solutions.
Here's some G rated Tenugui uses:
Below are some of my favorite sex uses:
• Trick towel, cum rag, clean up cloth: What ever you call it, sex is a wet and messy affair. Tenuigui is there for you!
• Insta Dildo: Layering two Tenuigui makes for a nice thickness. Fold lengthwise until about 2' wide. Then keep twisting until it begins to twist back on to itself, making a tightly coiled 'rope'. Tie ends together. Cover with a condom. If you put a vibrating egg in the middle, before twisting, it becomes a vibrating dildo.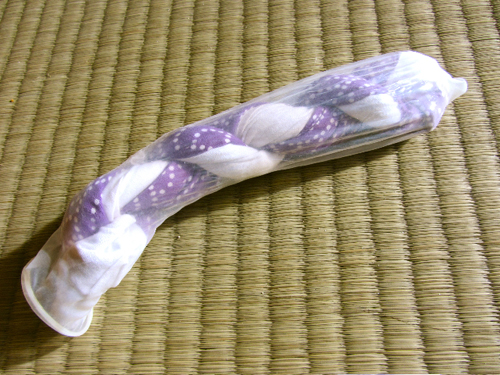 • Doggie Style Shagging Handles: Make knots on each end. Slide under your partner's hip and hold on to the ends for deeper, harder thrusts without embedding your partner's skin with your fingerprints.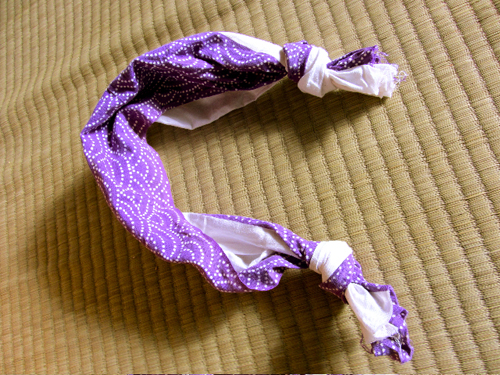 • Walk of Shame Emergency Panties / Brief: Tear off a thin strand or two, enough to make a waist or hip band. Use the remaining piece along the crotch or package.
• Blindfold: Fold lengthwise, cover eyes snugly and tie behind head.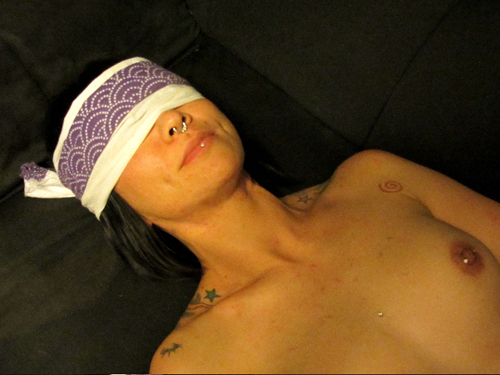 • Gag: Teeth friendly gag that fits even tiny mouths! Fold lengthwise. Make a big knot in the middle. Insert knot in mouth and tie behind the head.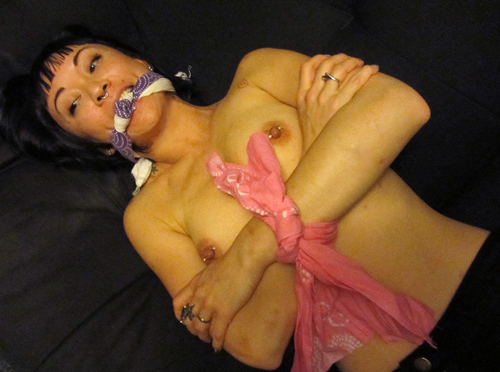 • Wrist or ankle Tie: Contrary to Western misconception, bondage in Japan isn't just about rope. In a culture of artful wrapping, why not tenugui?
• Dildo Harness variation 2: Though the Tenugui is a bit short for the full standard Midori Scarf Harness, you can still rig up a simple and functional alternative using two Tenuguis.
• Nejiri Hachimaki style Cockring! Just like the neat headband on sushi chefs, but on the other head. Keep the original tenugui size, or split it lengthwise for a thinner band. Twist into a very tight strand. Wrap around the base, behind the balls. Twist and tuck the ends or tie a simple knot to finish.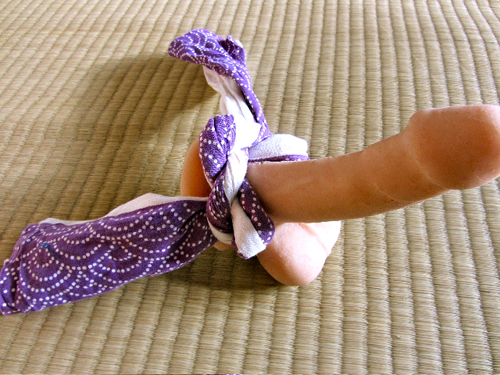 • Single Tail Whip: Wet it down, twist it, and snap it like a locker room towel.
Get a little Japanese with your sex with Tenugui. Come up with your own sexy uses and let me know.
Enjoy!
* Photos by Midori of her friend and piercing artist / performer,
Samar
.