In a dark corner, the very pregnant patient received a final bit of gauze bandage wrapping around her face. The battered nurse admired her big black shiner in a mirror while waiting for the blood splatter on her shoes to dry. Several naked pole dancers stretched while gossiping. The clown, with a headlamp strapped to her white masked face, examined the sharpness of the huge garden clippers and 20" handsaw. Colored lights swirled in through the thin curtain wall and the DJ spun dance tunes that shook the floor.
This was how I spent most of the night at the recent Japan Fetish Ball. This was vastly different than the previous Japan Fetish Ball I attended, where I dressed as a giant rubber octopus princess, while I partied, danced and beat a handsome boy in the playpen. This time I didn't get to play, but I did get to freak out a whole pack of pervy partiers.
Japan Fetish Ball
is an annual extravaganza hosted by the Tokyo Kink Society (TKS). It's definitely on my list of international kinky destination events. People really make a huge creative effort to dress up and show up, which in Japan, is no easy feat. Tokyo, the land of conformity, is not like London where big, Torture-Garden-style parties are public and the fetish look is, at least in some way, part of the social fabric. They're also coming from a fresh fetish and dress up sensibility heavily influenced by Anime and Japanese street fashion. TKS also hosts smaller naughty events frequently. If you find yourself in Japan, check them out. They're very welcoming to foreigners in a country where that's not always the case.
At this Japan Fetish Ball I didn't see much of the main party floor. Instead I partook in the various semi-naked shenanigans in the dressing room. While I enjoy attending sexy and kinky events, honestly, I prefer the backstage. I'm a backstage girl—not to be confused with a backdoor girl. I bet this is pretty common among many performer types, who are often quite shy. The backstage at fetish and performance events often has an instant sense of bond and camaraderie. It's a closed and exclusive space where the magic's being crafted, and that feels far more VIP than any VIP room.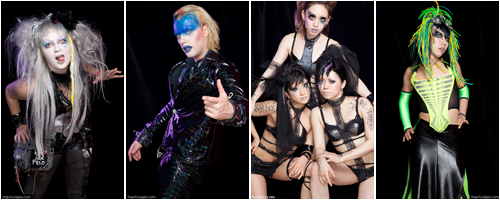 Ball Attendees—Copyright 2010 Max Hodges
So long as I didn't set the place on fire, the Japan Fetish Ball organizers encouraged me to do the sort of oddball freaky performances I like to do. They're bored with the overly serious and clichéd, black-clad, SM bondage performances —that are available any given night in so many of the SM hostess bars around town. They feel it's just old and tired.
I decided on a performance with the sort of erotic amusement that oozes up from the dregs of my sick little mind.
A psychotic clown nurse, clad in a white leather-hood with stitched up mouth, pushes a wheelchair bearing an extremely pregnant burn victim, who seems off her rocker and sedated to a state of delirious rambling. A battered and bruised nurse and two post-apocalyptic centurions accompany them.
The freaky clown? That's my alter ego. She doesn't have a name yet. If you, dear readers, would like to give a stab at naming her, that would be grand.
Curiously, there are some huge cultural differences in behaviors at fetish event in Japan. They are very polite but uncertain and unfamiliar with interactive performances. Unlike some events in the U.S., I don't have to beat people off from inappropriately inserting themselves or various other unwanted objects into my performances or performers. There's more than a bit of behavioral conformity that makes them reticent and retiring, which is funny considering this is supposed to be a counter–culture, rebellious space. While it's not what we'd call out-of-control wild and nasty, it's definitely deeply pervy, elegant and welcoming. Kinder, gentler freaks. That's my people for you!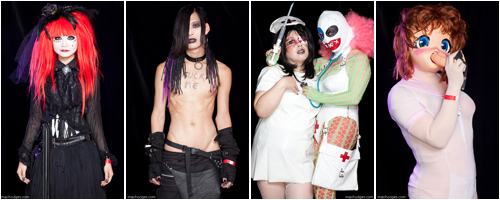 Ball Performers and Attendees—Copyright 2010 Max Hodges
I decided to push this reticence using bribes of balloons and candy. Who doesn't like balloons and candy? As I, the scary clown, pushed the stoned patient into the crowd, a circle of audience formed at a polite and safe distance around us. The soundtrack, my own sickening mix of Wurlitzer waltz, Christian camp songs with touches of porno screams and moans, hit high as I began to waltz with the patient in the wheelchair. The chair swayed with helium balloons attached to its handles. I held out a balloon to the crowd and several hands shot up, but no one dared to step forward. I pantomimed for them to perform acts of simulated sex with me in exchange for the balloon. Eventually a brave little Lolita tranny stepped forward to shyly kissed my cheek. She broke the ice, so I rewarded her with two balloons. Then a rubber clad Euro-perv boy who bent over for me got a balloon. Next, a long, lanky, Japanese domina offered her strap on. I gave her head and a balloon.
Ah the power of balloon bribes!
Now under my clowny spell, they followed me to the main stage, where I bound and suspended the patient like martyred saint, with the chair hanging below her. I signaled all the good, pervy children to sit on the floor. They obeyed the scary clown. Happy Christian children songs and porno moans came to a crescendo as I sawed her belly open. Her head rolled back and her belly popped open, bursting forth with candy and toys.
The audience didn't move, didn't scream, and didn't cheer. Nothing. They seemed frozen in place.
Then the nurse and clown grabbed handfuls of candy and tossed it into the audience. They broke out in cheers and rushed the stage.
Sometimes, it's good to take candy from shy strangers.