Just a stone's throw and a short town car ride away from the Upper East Side, hides an elegant gem of a kinky pleasure retreat called The Iron Bell Academy. It's a private membership based dungeon society catering to the aesthetically rigorous bondage and BDSM aficionado.
Housed in a former warehouse converted to 21st century hipster specs, where a quick ride up a nondescript elevator delivers you to a breathtaking loft space that could just as well be a playpen in
Eyes Wide Shut
. Enormous vintage chandeliers, rumored to have once hung in the prestigious Tavern on the Green, cast warm glow on the exposed red brick walls and floor to ceiling velvet curtains. The crystal chandelier draw the eyes up to the high ceilings; but then, the gaze is captured by dozens of heavy wrought iron cages and hefty implements of pleasure captivity, improbably suspended just beyond reach.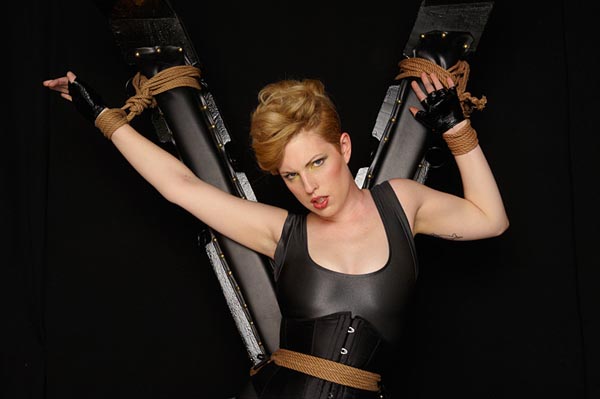 © 2011 Barbara Nitke
One of the most unique features of the Iron Bell Academy is this hanging garden of bondage furniture; every piece hung from multitudes of hoists imbedded in the ceiling. I tried to count all the electrical and mechanical hoists in the ceiling, but they were so numerous, eventually I gave up. These strategically placed hoists allow for any piece of furniture and equipment to be raised and lowered at will. One moment the floor may be clear and open for a dance, then the next minute whatever piece of exotic furniture that strikes your fancy may be lowered to be played upon. Of course, once captured and bound in an iron birdcage, a pretty Papagena can be hoisted back up to the ceiling with ease! Each piece of floating bondage furniture visible was custom made to suit Sebastian's exacting standards. Apparently, somewhere hidden behind the playroom is an entire backstage storage area secretly storing many more custom beds and cages that'll be rotated out in future occasions.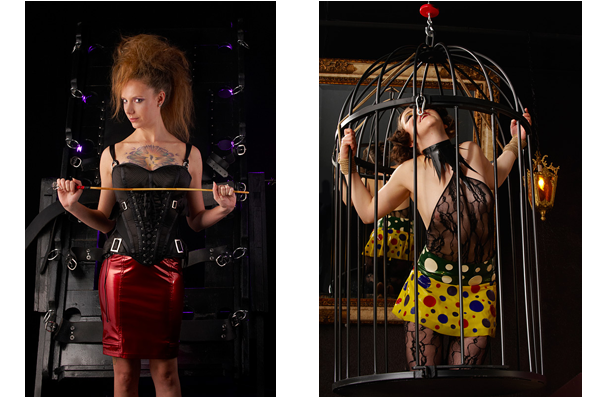 © 2011 Barbara Nitke
This space, originally created by Sebastian, as his personal pied-à-terre of bound delights, eventually became a private membership based space, now managed by him and Mistress Nona, a long established player in the New York area. In this new media age, they strive to balance between public access and creating an intimate tight-knit culture by providing classes and education to all, and elegant play parties exclusively for the members. A staff of "sissy maids," headed up by Head Sissy Maid Stephanie, tends to their private parties. Sissy Maids are a particular breed of service oriented cross dressing men who deliver precise and elegant hospitality worthy of any five-start hotel, while dressed in starched pinafores, petticoats and pretty bows. I do wonder, however, what is the proper collective noun for a group of sissy maids? Gaggle? Flock? Cackle or a horde?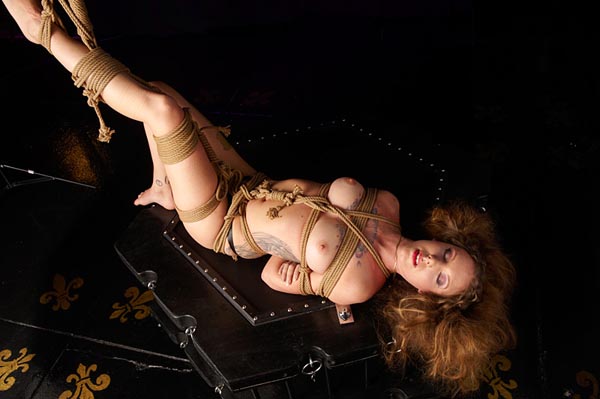 © 2011 Barbara Nitke
About once a month, I'm told, they hold a private party called the Iron Bell Training Chateau. Here the members leave their daily pressures at the door, and gather to play as wickedly sensual and demanding dominants and naked slaves, creating consensual games around obedience, sexual pleasures and service, endurance, erotic humiliation, power exchange, fantasy and surrender. I've yet to attend one of these parties, so my mind is rampant with some pretty wild images.
If you're an out-of-town visitor and want to check out this space, make sure to plan ahead and contact them early. You'll have to fill out a
membership application form
. Warning: Be prepared to provide your legal name, date of birth, and possibly personal references. This is part of their process of keeping a tight knit membership and growing very slowly and deliberately. They are quite aware that this is not a common practice among many kink social clubs.