We all know that great sex isn't just about excellent technique. It's an art and discipline that combines skill, communication, imagination, patience, passion and joy. Great sex is also enhanced by physical fitness, including endurance, flexibility, cardiovascular health, hormonal balance, and toning of sexual muscles and organs. Yoga, Pilates, bellydancing, pole dancing, meditation, spinning, and swimming can all enhance your erotic performance.
But honestly, who's got the time? Here are some activities you can
make
time for:
While Watching TV ...
The Ball Throne
: Sit on a yoga ball, beach ball, basketball or any medium- to large-sized ball on the floor. Focus on slightly pulling your navel towards your spine while keeping a good posture. Don't let your belly hang out like Homer Simpson or you won't get any fitness benefit. Your core muscles will get a nice mild constant toning. Bouncing is fun, too, and gets you in fine shape for bonking later. Bounce away—at least until you annoy everyone around you.
Of course you could just go bottomless and watch those reruns riding an
EZ Rider Ball
, but that might be awkward with guests or roommates around.
Ball Squeeze
: Take a baseball, softball, football, small balloon or even an inflated condom and place it between your thighs. Gently squeeze, hold and release, repeat 20 times. Start with two sets of twenty and work up to the entire duration of a movie. Keep your navel pulled in towards your spine for maximum benefit.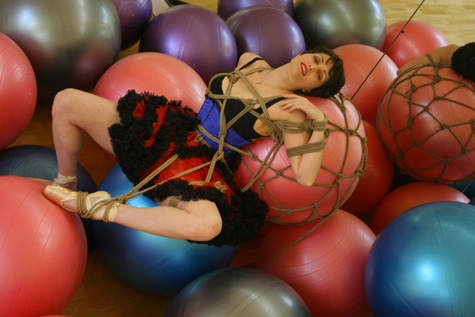 Sexercise is ... whatever you make of it. © Midori www.ranshin.com
While Gaming
Gamers' Tantra
: This one's particularly good for multiplayer games. Each player dons their favorite wireless remote control sex toy and hands the control to another player. The objective is to win the game by having exceptional focus and maintaining superb orgasm control while stimulating the opponent into distraction. Bonus points if you can win the game while having an orgasm or send the opponent into a state of helpless paroxysm of pleasure. Controlled breathing is key in winning the game.
Throughout, your body will be mastering subtle and effective sexual muscle control. Focus, pleasure control and deep breathing skills will help you last a
loooong
time in bed.
In the Bathroom
Master the Flow
: While peeing, play with the rhythm of the flow. See if you can play out the rhythm of your favorite tune. Controlled start-stop action of urine flow works those pubococcygeus (PC) muscles, which are so important for awesome sexual athleticism.
Everywhere, While Doing Anything, All the Time
Kegels, Kegels and more Kegels!
Do Kegels while walking, working, sitting, in the commute, at the gym, during boring meetings and certainly during sex and masturbation.
Men—You need to do your Kegels too. It's not just a chick thing. You'll have stronger hard-ons, last longer and better shooting control. It'll keep your prostate healthier Not to mention how impressive it is to a lover when you can cock-lift a wet bath towel. It's the same set of muscle motions as in "Master the Flow."
Women—Kegels keep the blood pumping and muscles of you good bits in tip-top shape and increase your orgasm intensity. Not only does our G-spot crave this, but it'll give us vaginal control so remarkable that you lover may swear you've got a set of magic fingers inside you. It's a bit easier for us to exercise our PC muscles than the guys, as there are several excellent insertible vaginal exercisers. We can wear these things around during the day! Use a little lube for insertion. My personal favorite is the
Fun Factory Smart Balls
.
A wonderful side effect: Kegeling will put a mysterious and sensually attractive Mona Lisa smile on your face whenever you're doing them.
Caution
: Do not start with the glass Ben Wa balls or the small metal ones unless you have massive muscle control. It was a bit awkward when I lost mine in the middle of a restaurant during a date.
Enjoy your workout … and get back to me with your results!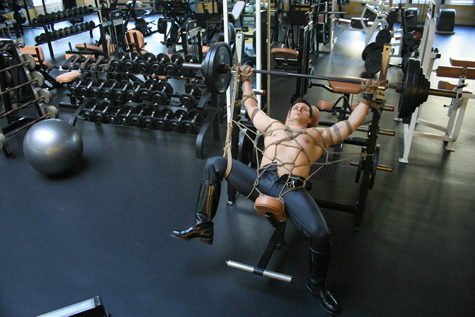 You don't need a gym for sexercise, gentlemen ... but it's always an option.
© Midori www.ranshin.com