It seems like the two recession-proof areas in life are technology and sexuality. Whatever else happens, we want our next-generation gadgets and innovative ways to get off at the end of the day. In fifty years, will we look back at today's sexy tech and chuckle the way we do today at the "soothing" vibrators of the 50s? Maybe, but until then, you might as well enjoy these tips, tricks, and services while they're still cutting-edge.
1. Free porn
Sure, this one isn't exactly "new," but the prevalence of relatively good-quality free porn sites is different from the virus-ridden dial-up two-minute skin flicks that were around a decade ago. Arm yourself with common sense and a script blocker, and you're good to go. Most free sites now offer a "favoriting" function, and if you feel like creating a mutual account with your partner(s), your "favorites" list can serve as a great jumping-off point for real-life shenanigans.
If you'd rather not make an account or your tastes run across multiple sites, you can use the previously mentioned privacy-friendly bookmarking site
Pinboard
to create a private list of bookmarks to share your favorite videos. This option even allows you to add notes to each link, just in case you'd like to make it clear you thought the guy's fetish gear was awesome and not so much his piss play.
2. GPS phones
If you and your hookup are iPhone owners, you've probably already figured out the joys of sexy FaceTime. A free location app, "Find My Friends," can expand your fun beyond the bedroom, especially if you're the "kinky scavenger hunt" type. Find My Friends allows you to see, in realtime, where your friend's iPhone is on a map. You can hide and reveal your location at will. It would be a great way to lead a date on a wild goose chase through town, or to subtly offer up hints that you hit up the lingerie store, the chocolate shop, and the kink boutique before your date — if, of course, they happen to be watching (A temporary setting is available if you happen to be hooking up with folks you'd rather not be privy to your every move for all of eternity).
3. Collaborative playlists
As more and more "cloud-based" music services pop up, more options for sharing and interacting around music do, too. For example, Spotify, a popular subscription-based music service that has just recently hopped the pond to the U.S., allows collaborative playlist making. You start a playlist, indicate who has privileges to change it, and you all build the playlist based on the service's extensive library of tracks available for streaming. It's the perfect way to make sure a make-out mixtape doesn't contain his breakup song or her bad-experience-at-a-concert track.
Even if you don't collaborate, public (or semi-public) playlists are a great way to expose a partner to new material before it really counts. For example, I maintain a Spotify playlist of tracks I find sexy that might wind up on one of my nookie-night playlists; it's visible to my partners so they can browse around what I'm gravitating toward and comment on it before they hear it while we're between the sheets.
4. Reading (yes, it's technology now!)
Whether you have an Amazon Kindle, a Barnes & Noble Nook, a Google Books-enabled iPad, or any of the free "reader" app equivalents on your PC, Mac, iPhone, Android, et cetera, you are book-ready at any time. Ebooks are booming in popularity, and the erotic ones even more so. You can "gift" an ebook to anyone, and ebooks often offer a much more private reading experience than toting around something with a lurid cover. (And let's face it, you'll get fewer looks taking your iPhone into the bathroom for a wank than you will with a rolled-up issue of Busty Boobies under your arm.)
If your tastes run less mainstream, there are still a slew of e-reader-friendly options. Many slash archives, for example, collect stories into PDF files which can be read in most e-readers. Use precautions; PDFs and erotic content are two of the most exploited items online for propagation of viruses and spyware. Should you be unable to find any prepackaged solutions, reading directly online via a browser is also an option — somewhat clumsily on Kindles, with a little light jailbreaking on Nooks, and simply through a brower app on phones. (There are also several "iPad-lite"-like full-color hybrid reader/tablets on the market, including Kindle and Nook versions, which will handle Internet content better. Watch for connectivity, however; some are Wi-Fi only, and your hot spot isn't always near a hotspot!)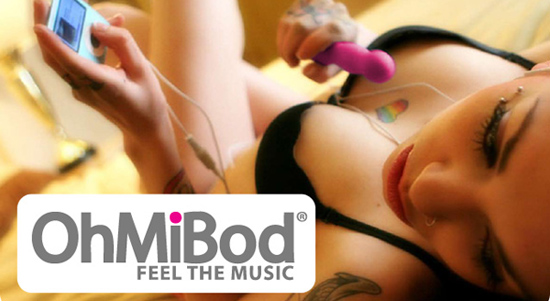 5. OhMiBod
No list of sex tech is complete without a mention of this delightful product (and maybe if I keep doing it they'll send me a demo one day...).
OhMiBod
: Wireless. Music-Driven. Vibrators. That's right. Buy a wired one for when you don't mind being quite literally plugged into your home stereo, or snap up their wireless version for a more bumpin' night at the club than usual. You can even control these babies using an iPhone app, with or without music — or use its built-in, non-musical controls if you're feeling quiet or retro. Though there's plenty to like here for a solo night, splitting the vibrator and its controller with a friend is a guaranteed boredom-buster. The variations, from fully musically-controlled vibration to self-programmed goodness, make this a terrific little toy for anyone who finds music the least bit sexy.