What is B Swish's mission? Are style and simplicity enough to crack the mainstream market? How does this chic company envision their inroads to the shelves of department stores and neighborhood pharmacies? How do you go from XXX to CVS?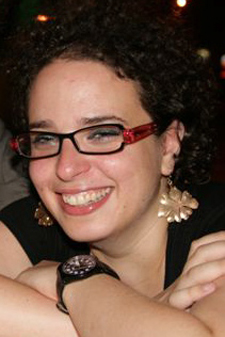 B Swish was started in 2007, by Claudine's brother, Carlo Seroussi. The company launched with three toys to start: bgee, bgood and bnaughty. Claudine came on board in 2008 as Marketing Director. Together, they are determined to have their products be more accessible and sold in retail stores everywhere. Adding the bwarm massage candle to their product selection is another step in that direction. They describe their push for better distribution and exposure as constant – from exhibiting at industry shows to making calls and sending emails to vendors. How has this been working, has it been enough to make serious inroads? What have they learned?

B Swish says their approach for consumers is simple – quality products, fashionable colors, stylish packaging and low to median price points. It's a strategy they hope translates to 'sophisticated yet affordable'. Let's find out what the biggest challenges are for a company that hopes to go from triple-x to Rx and beyond.

Working with family can be difficult. What are some challenges you have faced? Does working as a family in the sex toy business pose even more difficulties?

Surprisingly, in the adult industry, or at least my experience of it, many of the businesses are family run enterprises, or members of the same families work across the industry. The more time I spend working in it the more apparent it becomes. At least in Europe that seems to be the case. As for working with family? It's actually fun and less restrictive than traditional working environments. We grew up in a liberal household so very little is taboo at home. Even our father pitches in from time to time. He makes it sound like he is doing it under duress, but actually he loves working at the trade shows – Venus in Berlin is his favourite. He is already asking about the dates of this years show in Berlin! Don't get me wrong, it can be frustrating at times. The biggest difficulties Carlo and I face are the distance (and the 8 hour time difference), the European versus American view point (not all ideas or products are equally viable in both markets) and the fact that at times we still see each other as we did when we were in our teens, which, well if you have siblings you can understand. But we have always been close so it's exciting building a business together.

I notice your education includes the School of Oriental and African Studies. What made you choose that route of education? Has that worked its way into your products at all?

It has had no bearing on anything sadly. I tend to do things in rather convoluted ways. I did a degree in History of Art and Medieval Archaeology (useful huh?). Spent 8 years in investment banking, in the middle of which I did a post grad in Middle Eastern politics. None of it has had a direct influence on anything I have done. I know this sounds cliched, but I not traveled those paths I wouldn't be where I am now.

Victoria (host): "It's strange how a circuitous path can lead us to exactly where we need to be. I am sure that your experiences and education have made you very well-rounded, not to mention a very interesting conversationalist!"

Which is your favorite product and why? What about your brother, does he have an obvious favorite?

My favourites? Ooof, It's kind of like children. Hard to pick one a favourite without making the others appear less loved. I like our first three toys, because of their simplicity and the colours. The candle is pretty cool too - I love how tactile the holder is. I think my brother is most fond of the candle (and proud of how successful it has been).

Can you shed any light on future products? It's been a little quiet since the release of BWarm.

After Bwarm and the Bsoft, we regrouped a little to find out what we had learned from designing our own products. Fret not! The second half of 2009 is when we will start to roll out our new products. First off we are introducing a range of 3 smaller toys in time for the shows in LA in July. And then for Venus in Berlin we are working on expanding the Bwarm range, including some masculine scents and introducing refills, as well as introducing the prototypes of two further toys which we plan to roll out at some stage late in the fall – one of which will definitely be an external massager.

I remember waiting eagerly for the release of the Bsoft, ever since I saw it on your site. Your previous releases had been staple sex toys. What made you decide to take a more unique route with that one?

We chose staples to establish the brand and to find our feet. But we always wanted to move towards designing our own products. The Bwarm candle-holder was an in-house design as was the Bsoft. I agree, aesthetically Bsoft deviated slightly from the original three toys, but it I do believe it fits in with the overall brand aesthetic. To digress a little: Bsoft was an interesting experience, and an essential one for us. In retrospect it served two purposes. It was a showcase product for us and, although successful it did not sell in the volumes that our more basic toys sold, it increased our exposure to a degree that more than made up for it. Secondly. In terms of creating something from scratch, the pricing, the design, the manufacturing process, the choice of material and so on. We also learned invaluable lessons in how different the approach is for women who buy toys for themselves and men who buy toys for women, on the direction B Swish is to follow going forward (what works for our customers and what doesn't), on the type of products we want to develop and pricing thresholds.

Other sex toy companies like Lelo are becoming available in drug stores (and department stores have carried high end toys for a while). Do you think their progress will help or will it be hurtful competition, perhaps?

Competition is never hurtful. It is what makes or breaks any endeavor and drives you to strive to be better. We don't compete directly with Lelo or Jimmy Jane. We target a different price point and concept. However, I think Lelo and Jimmy Jane have paved the way for so many others. They have shown what is possible. Still, for all of us in the industry there is so much more ground to cover. On the topic of competition in this industry I do want to say that, unlike any other industry I have been associated with, the collegiate atmosphere is impressive. My brother and I speak with other manufacturers, share ideas and knowledge, ask advice etc. on a regular basis. There is, more often than not, open dialogue and support from all angles. I think that is why we enjoy what we do as much as we do.

Victoria (host): "I'm glad you mentioned the interaction and collegiality between manufacturers, it's a very interesting aspect of the business - as it's not very common in most industries. I think this is becoming more prevalent, particularly with newer companies over the last decade."

I love the colors for your toys. What types of material do you use?

Thanks for the compliment. I love them too. Choosing the colours for the toys is always an interesting experience. Everyone in the office has an opinion. We are in the process of choosing the colours for our new range of smaller toys and debate is running high. But vivid/striking colours seem to work best for our products. All our toys are made out of ABS plastics

Why is it that you and your brother are based in other parts of the world? How does this help business? What went into deciding where you would work from?

I know it sounds awkward being so far apart. Its just the way it happened. Carlo (my brother) moved to L.A., a few years back, to start the business and he made that city his home. Since I finished university London has always been my home, with a break here and there, so I am based here. Its worked out really well for us as it allows me to look after our European clients and he takes care of the clients in his time zone. Being in LA also makes it far easier to keep a closer eye on the manufacturing of our products. The only slightly irksome part is the time difference when we want to call each other - but its actually not that much of a drama - and the difficulties borne out of the rare mis-communications that sometimes result out of relationships that rely on email and telephone conversations.

How did you come up with the "b" for your company name and products? It's a catchy, and cute, way to name your products.

The "B" was accidental and really came down to the problem of finding a name that we could also register as a dot com. We originally wanted to call the brand "be chic" and ended up with derivative "Be Swish" which eventually became bswish.com, the graphic artist we work with said
"wouldn't it be cool the toys b something too?" and everything just flowed from there!


What motivated your brother to start the company, and what motivated you to jump on board?

My brother used to be in the restaurant business (he owned a small, but successful, chain of concept restaurants in Paris). As some of you may know, the restaurant business is really tough in terms of lifestyle. So, after several years he sold out and started looking to get into the fashion business - something we had grown up around. Fashion these days is an increasingly tough market to crack and while he was trying to find an inroad a friend mentioned something about the adult toy market. My brother was curious, did his research and decided that the industry was at a crossroads and was heading more in a commercial direction. He saw what he believed to be a niche for creating an affordable brand offering chic products and just went for it... As for me? I had quit my job in finance and taken 2 years to live, work and travel in Eastern Europe. Upon my return to London, having shunned returning to finance, I was trying to find something that I wanted to do and my brother asked if I wanted to join him. It seemed like a great opportunity. Fun too but also challenging. It started on a part-time basis just to help him out, but very quickly it became much more. Eighteen months on here I am. I really love it, as does he.

I think it's a great idea that you want to break into the mainstream!

What are some things that you're trying or planning to try to break through those barriers?

Have you had any success or are you close to succeeding in this so far?

Right from the start we believed that the adult toy market was becoming more commercial. We have been targeting the mainstream from the beginning, with the design of the packaging, the design of the first three toys (Bgee, Bgood and Bnaughty) and Bwarm. The majority of the retailers who stock our toys say that the simplicity of design, the packaging and the price-point make it the most popular brand for first time buyers or couples. It's a giant step in the right direction. But crossing over remains a tough nut to crack, beyond the high-end lingerie stores and department stores, where it's an established niche. Durex, with their disposable toys, paved the way. They flew off the shelves of pharmacies in the UK and Europe, yet what has followed in its wake has not been so successful (such as the Philips Intimate Massager which I think was too overpriced, and more importantly an object lesson in how being too indirect about what you are selling – in Philips' case labeling the products "relationship care" - can actually hinder you). Large pharmacy chains etc. remain wary of adult products, so it's hard to get your foot in the door, if you are not selling candles or games or erotic gifts such as lotions or body jewelry and so on. Let me be clear. We always recognized, as do most of our competitors, that not everything in our range would be viable in a commercial retail environment. The candle, and I think this is the case for Jimmy Jane, is the product that has had the most success in crossing over. But there are always going to be products, such as the Bsoft in our case, that are always very much a toy aimed at the adult or erotica market. So its a tough balancing at. Being able to target yourself at both markets without hindering yourself. Adult retailers, such as the more old-fashioned sex shops which remain prevalent in Europe (though they are slowly disappearing) complain that are no windows in our packaging and that we don't have more graphic images on our packages. That sort of packaging would never fly in a non-adult environment. Which leads me to the other hurdle most of the newer generation manufacturers face: distribution. As with all manufacturers we rely, to a certain extent, on distributors to get our products where they need to be. Traditional adult distributors and retailers often struggle with our products, how to market them and place them, and are often ill equipped to cross over, despite our support and encouragement. And new style distributors that successfully bridge both are few and far between. But it is changing all the time. Importantly though, in the background society is becoming increasingly receptive. Five – seven years ago when I used to talk about sex toys with friends and colleagues it was taboo, and I was often berated for being 'inappropriate'. Now those very same people are brazenly asking for samples to try out. Publications such as Time Out and Marie Claire are giving column inches to review products.


Victoria (host): "And of course, the links to the Bgood, the Bnaughty and the Bgee! Such vibrant colors and sleek designs!"

I'm really big into rechargeables. So much so that the toys I have that are not rechargeable, I've bought rechargeables for. Any chance we can see something rechargeable from you in the future?

Bsoft was our first attempt at a rechargeable. We learned a lot from developing that toy and we are looking to do more rechargeable toys. In fact at least one of our new toys to be released this year will be a rechargeable, most likely the new external massager. When looking at new products we always look into whether we can make them rechargeable, but its always a balance between keeping to the target price point, design, size and so on.

Victoria (host): "Curious about the Bsoft? Check it out here!"

The B Warm candles are full of natural ingredients other than the addition of "fragrance". Any chance future scents will come out that use essential oils as fragrance? Cinnamon, ginger, vanilla, orange, lemon, mint... any of these would smell fantastic and be a bit more edible and less perfume tasting -- and we all know massage often leads to kisses!

We are currently deciding on the next fragrances. The plan is to stick with more natural scents, and to stay as far away as possible from perfume-y type fragrances. We are also trying create a couple of more masculine scents to balance out the range, one of which includes ginger (a favourite of mine) and another being discussed has a more citrus base. We'll see what everyone agrees on, but the process of choosing is interesting as different scents seem gain different reactions from people.

Any chance of a B Swish rabbit coming out in the future? I am filled with glee when I imagine a toy named "B Hoppy".

Its not on the cards, but who knows. We thought that Jimmy Jane had the basic Rabbit covered with their usual suspects iconic collection. But who knows what we will launch next year.

So far B Swish has come out with a G-spot vibrator, a basic waterproof vibe, a bullet, a rechargeable massager, and a massage candle. At the very least, I see the bullet, basic vibe, and g-spot vibe as toy box staples. Are there any plans to revisit these basic types in the future? In other words, are the plans to just have one toy in each category, or more variations within each class?

What would you say are toy box staples?

Toy box staples are entirely subjective once you get past the most basic toys. I think that with the first three toys we have covered the toy box staples at the most basic of basic of levels. Maybe add to those a ring with a removable vibrating component and a butt plug. We are always looking to revisit our basic toys - but its a question of finding the right design that won't deviate from the path we have taken so far, aesthetically speaking. The thing I love about our first three toys, and the thing we are most careful not to loose sight of, is the absolute simplicity of them especially the clean and complicated silhouettes. . We are contemplating adding another bullet to the range later this year.

Your decision not to use Phthalates-containing materials is quite a fundamental stance. Phthalates are one of the big controversies now on the market. How did you come to this decision long before the industry debates about it began? From my opinion, this is an essential position which any manufacturer must have before even thinking about entering the mainstream markets.

I think for my brother it was an easy decision to make as he has focused as much on the quality of our products and the safety of them, as well as the aesthetic aspects. The Phthalates discussion had started around the time Carlo was doing his R&D, I don't think it was in full swing, but there was a lot of information about. He researched Phthalates issue in great detail, during his R&D phase, before he decided what materials he would use. Its a question of taking a stance from the start in a way that you mean to continue. Plus, we always found (and continue to do so) that toys that are made from Phthalates-containing materials are nowhere near as nice in terms of texture and quality and the longevity of them is also questionable.

Victoria (host): "I was especially glad to read this answer - it seems Carlo really did his homework before jumping into production! You are absolutely right about taking a stance from the very start and thus establishing the quality and reputation of your products."

I'm curious about what it's like working with your brother. Is there any sibling rivalry going on where you try to out do each other? If so, does it help or hurt your business on the path its taking? Have any products been inspired because of it?



In all honesty there is no rivalry. We are both very different people and chose different paths, but we have always respected each other and supported each other before we worked together. It helps that we are close in age (18 months apart). Also we have always been close. We traveled around a lot as kids and I think because of that we are a lot closer than we may have otherwise been. So, sadly no rivalry - not super exciting, I know. I think its helped the business as we have two very different approaches to business, borne out of nearly a decade of working in very different industries and together it works well.

Are there any plans to create toys for men? (i.e. prostate massagers, cock rings, etc.)

We actually talk about it quite often as when we go to shows, we notice that there is very little out there for men from the newer generation companies (by that I mean Jimmy Jane, Lelo, SinFive etc etc). Lelo has produced the two items in their Homme range, but that's about it really. I believe its an area/market that has huge potential. We are trying to flesh out our current range of products at the moment, but the focus remains female oriented for now. So no immediate plans to move into that market. However, a range of toys for men is something that we discuss frequently and I think is a distinct possibility for us in the not-so-distant future.

You said that Lelo and Jimmy Jane are not your direct competitors. Who do you consider your competitors to be?

Lelo and Jimmy Jane, SinFive, Touche etc are as close to competition that we have - they are our reference points when we want to see where the competition is heading. However, what sets us apart I think, and why we don't compete directly with them is our price point.

Do you have a favorite product? Or a product that has surprised you with it's popularity?

I've mentioned my favourites in an earlier answer. But in terms of surprising us with its popularity it has to be the Bwarm candle. We thought it was going to be successful, but we were totally take aback by how successful it has been and the avenues it has opened up for us.

Victoria (host): "For those who haven't seen the Bwarm candle - it's at this link. The candle holder is quite unique and the Fig Leaf is my favorite fragrance, it smells delicious! We have 3 scents to choose from."

You mention in one of your answers above that you have had difficulty with distributors, and that they struggle to place your toys. How do you see this situation changing? Is it one of your major obstacles to following through on gaining more mainstream exposure?

I can only speak about our experiences in Europe, but traditional adult distributors find it hard to place never generation brands. They struggle to get the point. They are ill equipped in terms of mentality and vision, I guess, to break into the newer markets and are often too cautious to strike out and move away from their traditional Adult client base who are more in the market for a bullet that retails for $5. Its hard to convince them to move out of their comfort zone. In turn their traditional client base doesn't know how market the new generation of brands. There was a distributor in Europe that carried all the key brands, Bijoux, Lelo, Jimmy Jane, us (B Swish), Pink Sin Five. They had a great stable of brands and most of the exclusively. It was a real coup. They came from the tradition Adult distribution background. Thought that the new brands matched with their extensive database of loyal clients would mean little effort for large returns. The old clients didn't want the new, sophisticated toys as their retail client base wasn't prepared to fork out $50+ for a vibrator. Sadly, this distributor waited until it was too late to break into new markets, try different avenues, despite the encouragement he got from the brands in his stable. He folded and left many of the brands high and dry in terms of lack of representation for several months. We learned a lot from this experience its tempered our choice of distributor going forward. We've found, at least in Europe, that its important to have a mixture of distributors, to create a layered network: those that are geared towards the traditional adult market and those that cater to lingerie stores, department stores, drug stores and so on.

What's the biggest or weirdest perk of being a sex toy entrepreneur? Conversely, what's the most wrong assumption about being a sex toy entrepreneur?

Hmmm. Biggest perk? To be able to meet and do business with the most diverse range of people. From large, very corporate companies (be it manufacturers who do millions of dollars of turnover a year) to former strippers who own a tiny shop in the middle of nowhere in the middle of Russia. Its crazy, the diversity, yet fascinating. I thrive on it. The worst assumption that I have come across is that to be in this business you are inherently a raging pervert of some sort - its so bizarre the closed-mindedness and prejudices that you encounter at times.

You say yours is not a "mom & pop" business, but I'm wondering how your parents feel about having their kids in this line of work. Was yours a traditional upbringing, or something more exotic?

Our parents are very liberal so there is little that shocks them. They have been very supportive, pitching in - our Dad loves helping out at the shows and our mother is happy to give her opinion when asked. We had what some may view as an exotic upbringing, but it was pretty normal to us. We traveled a lot and were lucky to live in several different countries, our parents encouraged us to be adventurous when we traveled to experience all we could, to ask questions and to be interested and curious. But yes, nothing was taboo at home - OK so drugs weren't tolerated, obviously. A lot of our friends were often surprised at, but also loved, how laid back our parents are/were. Even our grandparents were a times, surprised. I remember when I was 7 and Carlo was 6 - to keep us entertained one afternoon my father planted us in front of the TV to watch Benny Hill, "Animal House" and Fellini's "Amarcord". My grandfather was very displeased when he found out. I suppose it helped that our parents were young when they had us - they took us everywhere with them from when we were babies. Don't get me wrong, there were rules and discipline and we had to do well at school - the usual stuff.

Do you have any funny/crazy/silly stories about your job or B Swish in general? Something along the lines of learning the hard way or having a something ridiculous and unexpected happen?

The crazy stories come from the people we meet when we are at the shows or are on the road on a marketing trip. You meet the most bizarre, but very cool people in situations like that. For example the nymphomaniac septuagenarian couple who had trouble keeping toys (several brands were named in their rant) for more than a couple of weeks because they used them so much and so hard that they would break. Very funny - all the more because they were so serious about it. The legendary old lady who shows up at Venus in Berlin every year bent over her zimmer frame and carrying this huge old camera and takes pictures of everything, especially the virtually naked porn stars. I am a great people-watcher so its the people I encounter that make for my funny stories.

B Swish so far has used ABS plastic for all of their toys. Have you guys considered using other safe materials to increase your product line?

We like using ABS plastics because you can get several different finishes from it and its durable and most importantly its Phthalate free. Silicon is also something we like - its incredibly tactile. We've only managed to use it on the Bwarm candle holder so far but we are looking to use it on some of the new products that we plan to roll out this year.

How do you determine what the next types/designs and colors will be? How heavily are your plans influenced by things like fashion week and magazine trends?

We listen to feedback from the people we have met and our clients. We found, at least with our current plans that feedback has had the strongest influence on our choice of new products. We had a vague idea of where we wanted to go and what kind of products we were looking to add to our range, but feedback is what has helped us refine our decisions. As for the colours, its a mixture of picking what we like, but also seeing what sells and what doesn't and adding new colours or removing colours based on that.

What is your primary resource for feedback about new products in development? Do you have anyone who serves as a focus group/sounding board of sorts to try out a product while it is still being tweaked?

Its a cross section. We don't have a focus group per se, when we develop new products we ask friends, clients and so on. We travel around and visit stores that stock our products, speak to the retailers and see what works and what doesn't and then there is always the feedback from people who write to us or who we encounter at shows. We listen to it all and try and factor it in to whatever we do next. Feedback is essential no matter what form it takes or whether its good or bad.

I work in an adult store and have been selling your products for a good many months. I must say that overall, they have been rather nice products and have had a positive feedback. The packaging is very classy looking and only adds to the overall effect, but as a retailer, we have enountered a problem. With higher chance of product theft these days, we put "hard tags" on all of our products, but the packaging your products come in aren't exactly friendly toward that. Has the B Swish company considered packaging changes for retail stores looking to increase product security?

Our packaging is something we are very conscious about. It has changed since we first started and comments from retailers has been the driving force. We have made it much more slimline (the boxes are half the depth they used the were originally) so that it doesn't take up too much shelf space (a common issue early on), we have added hooks so that they can hang as well as stand on shelves. We have to wait for an opportune moment to make a global change to our packaging so the reaction is never instant. Yours is the first comment about security and I have noted it, as has my brother - so thank you for that.

This is the most simple question, but I'd really like to know: what made you want to do this interview?

A mixture of things: Curiosity - to see what the feedback would be about our company and our products. Opportunity - it was flattering to be invited to do this interview as my brother and I like this site a lot and regularly read all the interviews and look at the comments made on products (not just ours). Simple really.

When it comes to eventual expansion of accessories, have you considered eventually bringing in BDSM items? The color choices you guys have tends to be stand out much more compared to the pinks and purples that most of the industry uses, so I'd assume blending that into such accessories would definitely go noticed.

We haven't considered BDSM yet, but its a very interesting idea. We have a target of how we want our basic range to look - the amount of products, the scope the range. As we are nearing that target (we should be a good ways there by early next year) we are starting to think about where we want to go next. One thing we have discussed is male oriented toys, but BDSM accessories is definitely something to consider.

What are the rewards of working in the industry? What do you find to be personally rewarding?

I like the diversity and the creativity that comes from working in this industry. There are so many ideas, and people talk and share them. Its always interesting. The collegiate atmosphere too of the industry I find very fulfilling. Its interesting, no matter how small you a company you are, there are many "competitors" who are willing to share ideas or take the time to discuss experiences or give advice. In an environment such as this its rewarding creating a business and watching it grow.

Would you care to share any mistakes you have made as a company? I think there's a lot to be learned from our mistakes and I'm curious what you might try to avoid in the future.

My brother often complains that I am too open and honest, so I'm going to be a little vague in answering this. Setting up a company like this was a steep learning curve and much of it was trial and error. In developing Bsoft, although we are happy with the final product, the journey from design to finished product was a bumpy one and there are many things we have taken from it and applied to new product development. From the design process to the managing the production process and selling the product. We have learned from it the immeasurable value of feedback at the design stage and prototype stage. In terms of production we have learned all about the molding process, how to manage it in future, how best to work with and utilize our producers. Mistakes are invaluable. In establishing our distribution network outside America we made a few wrong turns along the way. We are more than happy with where we are now, but the errors of judgment along the way have meant we now have a much greater understanding of our market and our products and what works for us and what doesn't.

Victoria (host): "Excellent answer! I couldn't agree more about mistakes being invaluable - that's how 'best practices' are made."

You said above that candles or games or erotic gifts have had the most success in crossing over into the mainstream market. But while they're adult in nature, these are not sex toys. How have the toys followed?

Its the two extremes in toys that have successfully crossed over. At one end of the spectrum you have the disposable toys produced by Durex, that were found in most pharmacies stacked next to the condoms, that sold like wildfire. Lots of people who wouldn't have ordinarily dared buy an adult toy happily bought these in multiples. Maybe it was the Durex brand that made them do so, maybe it was that they were within easy reach of the condoms and lube, maybe it was because they were cheap and disposable. Who knows. The other end that seems to have proliferated the mainstream, though to nowhere near the same extent, is the high-end, design driven toys. Jimmy Jane's Chroma, Lelo's toys and the Bone by Tom Dixon for example. I think that's more to do with cachet. Because they are deemed "designer" and because of their price they are less difficult to place. Toys that fall somewhere in between have had a tougher time crossing over and I think, beyond the lingerie shops and boutique erotic stores its going to remain an uphill journey to some extent. That being said Amazon is starting to stock adult toys, ebay too (unused of course), catalogues in the UK at least are making limited concessions to erotica - it will be interesting to see how far they will go.

If you could describe each of B Swish's current products in one word (besides the product name minus the B), what word would you assign to each product?

Good question! We have never really thought about this as the b came accident and everything just flowed from there. I asked Carlo and we agreed that in any other circumstance we would have given them girl's names....but I can't think of any right now as their current names fit them so well.

I like to know more about product design and marketing. What inspires you to take a product from concept to market? Once that product is picked how do you find the path from R&D to store shelves in both the main stream and the adult industry.

It's a multitude of different factors which are constantly changing. Much of the marketing inspiration was done at the conception of the B Swish which makes things a lot easier as there is a set format to work from. Initially we focused on industry standards when we started our initial R&D and today our R&D focuses on a broader catalogue yet the cornerstones remain the same; functionality, aesthetics and price. Since our inspiration comes from fashion our path to the mainstream and the adult industry has followed a similar trajectory.

Yay! Another staples question! So It's understood that the main items from your company cover a descent portion of staple items. However as stated in a previous answer, there are a couple of other staple items that your current line doesn't carry. The male line (rings, etc) was already discussed, but what of basic anal toys? that's more of a unisex item.

I agree. I think that once we get done what we have targeted for this year we will move into staples which have more of a crossover appeal. Anal toys are a good place to start. We have a lot of comments from gay men that our products are too female oriented. Plus anal toys open us up to new materials such as silicone which is fun to use and which offers lots of design possibilities. Watch this space...

We have a little tradition of asking everyone we interview to finish this phrase:
"Sex is_________________________" ...so, Claudine, would you please?

With the troubles you have encountered with distributors, why haven't you moved on to selling directly to your retailers? What kinds of things are obstacles when considering selling direct? Is it possible to have it both ways?

It's not so much problems but a question of finding the right fit. We're a small company and so to distribute worldwide is a huge task which logistically we're not able to undertake. Plus the value of distributors is that they are able to open doors and get brands into places that would ordinarily takes us far longer to get even a toe in. Even though we use distributors, which we find invaluable, we also remain active in terms of working with them to develop brand awareness and targeting retailers which we would like to be involved with. For us working with distributors has allowed us to find a happy middle ground, and also it keeps our distributors happy.

What do you think is the biggest obstacle that precludes sex toys being widely accepted in society? How do you see retailers and manufacturers working together to this end?


I honestly believe there is only a limited amount that retailers and manufacturers can do to increase society's acceptance of sex toys. We can make them more palatable and less intimidating than some of the traditional adult toys (the very cheap very phallic dildos and vibrators for example). I think its society itself that drives the change. Its becoming increasingly acceptable to admit that you use and own a selection of adult toys. Ten or twenty years ago, even 5 years ago it was far more taboo - nowadays we see talk shows in the UK, for example discuss the Cone before watershed - and then the public flocks to buy them. Look at the effect "Sex and the City" had on the sales of the Rabbit!! The thing is, and you see this repeating in history, as society becomes increasingly liberal, there is also a part of society that becomes increasingly puritanical. Its always a struggle between the two. The Victorian age, which was infamous for its straight-laced society, was also an period where much of is sold on this site originated: butt plugs, early vibrators and so on. No matter how liberal society becomes there is always going to be an element which curtails it, which reigns it in.

What can you say about European societies: are they more tolerant about seeing sex toys in the chain retail stores? How do the European and American adult markets differ in this capacity (you already mentioned above that European and American POVs are quite different)? Which market - European or American - is the most lucrative for Bswish?


I think the US is far more advanced when it comes to chain retail stores. I don't think Hustler would work as well in Europe. Europe seems to prefer the boutique approach, aside from the traditional adult stores in the red light districts such as the ones you find in Pigalle in Paris for example. Its strange. In the US the adult industry is more commercialized - I think, but the Americans I meet are far more conservative in their outlook... or they come across that way. In Europe, especially in Germany, France, Scandinavia and the Netherlands and the UK are far more liberal in their outlook, far more open about a lot of things, unapologetic about their preferences, predilections. In terms of retail outlets its still developing and growing and moving away from the more traditional format. For B Swish the most lucrative is the US, but I think thats because we are more established there. That may very well change as Europe is a big territory and we are relative newbies.