Just who is Cole Riley? And what kind of life lead him to write about the streets in such vivid and sometimes gritty detail, while weaving in steamy sex and believable intimacy? Surely there are great stories, from his apprenticeship to beloved mentors, to his start at Holloway House publishing, to his current anthologies and projects.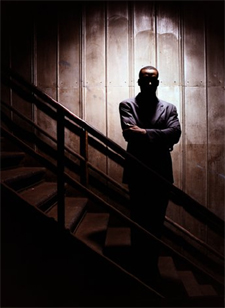 Back in the 1970s, Cole Riley says he was a lost soul. A young black man who used to run the streets, hang out with the bad guys, and do things that were a thugs' foolishness – these are his words. But it was from those people, whose lives he shared, which formed the substance of the stories Cole Riley would later write. Cole discovered reading and writing, he discovered his love for words, and language and the art of storytelling. He apprenticed with some great people and got his life straightened out. Two of the people who helped Cole on the road to erotica were Dian Hanson, and Peter Wolf with Cole's job at Oui Magazine.

Cole became well known for his brand of urban fiction, and gained a portion of the large and dedicated fan base there. In his recent book, Making the Hook-Up, Cole Riley explores the depth and variety of black sexuality. Cole is inspired by the writing that makes you feel, the old masters and the young rebels. He finds that his imagination sets him apart from some writers; he approaches everything from a creative slant and with the goal of going further each time than he has before. Cole's mission, through his work, is to inspire the readers.

Now in his fifties, Cole has seen a lot and lived quite a life. His experiences only serve to make his writing richer, more detailed, and more provocative. As he pushes the envelope further, Cole is changing the way African American erotica is written, and thus opening up new possibilities for the genre as a whole. What will the next offering from Cole Riley bring? Let's find out!


You've been doing this for a few years and I'm wondering what you're observations are about how you approached writing as a younger man. How has your writing evolved over the years?

Yes, I've been doing this for awhile. My writing in my younger years consisted of producing carbon copies of the authors I had read. I was fascinated with how writers could make you feel emotions that you were not used to feeling. I felt a knot of sadness with Hemingway's The Old Man And The Sea. I remember reading Dickens with his book, "Oliver Twist" and identifying with the waif falling in with a bad crowd. When you're young and impressionable, you look for guidance and wisdom in some peculiar places. I knew exactly how he felt. The despair, the innocence, the hopelessness. I knew a bunch of Fagins in my life. And the dialogue, the descriptions, the setting. I started to read books, really read books and noticing everything. One book that knocked me for a loop was Richard Wright's "Native Son." Powerful. Another book was John Steinbeck's "Grapes of Wrath" because my father, a Mississippi refugee, told me about the painful life under Jim Crow and how men traveled to work and send money home to their families. Steinbeck made me angry and want to do something with my life.

As I got older, my taste in literature changed. I read more of the old classics. I read more of the European and Latin American writers. I fell in love with Marquez, Cortazar, Llosa, Bambal, and all of those folks. Reading kept me out of the streets. Reading kept me balanced. I learned from these writers and read interviews of these people in writers' mags. It slowly changed and I found a style.

I read your comment, during the Naked Reader Book Club discussion, about mainstream publishers shouting down your ideas - could you elaborate a bit about what obstacles you've hit with publishers, why you think it's happened, and what has changed?

Many mainstream publishers want to keep their product in a cubby hole, try to keep it in a category. For them, labels are a good thing, because it allows them to sell. They think the public are a bunch of fools. They don't give them much credit. Their reluctance chokes creativity. It kills the freedom of the writers and the imagination. When I was younger, I would take ideas and proposals to editors. They would say the Black community is not ready for that. Or the mainstream market would turn their back on something like this. I think that is why the increase of self-publishing is going full throttle. And I think the digital publishing such as e-books will make the mainstream publishing rethink their unwillingness to take risks. I'm happy that the independents are taking over. They are making the old guard sit up and take notice.

Now, I'm dealing with editors and publishers who welcome new ideas and creativity. I'm going to make the most of this opportunity. A new day has come.

LicentiouslyYours (host): "It seems like the digital publishing of books and music has forced those comfortable with the old school way of doing things to have to step out of their comfort zones and deal with the idea that authors and writers of creative work are going to have more control over what type of material the audience gets to read and hear—how exciting!"

I'd love to know more about your job with Oui Magazine. Was it a positive experience? What did you do while you were there?

I was looking for work one day. I went into the Times Square area where there used to be a slew of magazine offices. I went into this building on W. 43rd St. and rode up in the elevator with Peter Wolf. He was talking about needing an editor and a writer. I believe in the old adage about being in the right place at the right time. We talked and I got the job. Working for Oui was an incredible experience. I didn't know much about porn except for passing the tawdry movie advertisements. I saw the results of the shoots of the models, worked with the editorial end. Wrote fantasies or answers to the editor. Damn, it was fun.

And Dian and Peter were great. I learned a lot about writing and hard work. And the Oui crew were special. Also, I got to talk to some of the porn stars. Interviewed them. A great bunch of people who just wanted to put some food on the table and keep a roof over their heads. And they loved sex, sex, sex.

What is your favorite book?

My favorite book is a strange one, "Beauty and Sadness" by Yasunari Kawabata. He does things in that book in terms of language, style, plot, and character that still puzzle me. The other books close on that book's heels are Ralph Ellison's "Invisible Man" and John Steinbeck's "Grapes of Wrath." Sheer gems of imagination and creativity.

When did you first decide you enjoyed writing and what made you pursue it as a career?

I've always read. I started writing poetry. I read Amiri Baraka, Lucille Clifton, Pablo Neruda, Robert Hayden, Elizabeth Bishop, Gwendolyn Brooks, Langston Hughes, Sylvia Plath, Anne Sexton, and Robert Penn Warren. I loved Charles Bukowski, his poems and prose. I loved Langston's stories as well. Fun as hell. I loved toying with words and rhythms. I read novels but I started writing short stories first. Short fiction is much harder to master. Writing a novel allows you to hit and miss. However, you learn a lot, but in writing a short story, you must be on point. You cannot let down. When I was in my late 20s, I submitted short stories and they came back rejected. I think everybody knows how that feels to be rejected. I was determined. I had a ritual of burning the rejection slip and sending the story back out again. My first novel, "Hot Snake Nights" was rejected almost 20 times before it was accepted.

When it was accepted, I partied for several days. I knew I could do this writing thing. I couldn't give up.

LicentiouslyYours (host): "Wow—I know few people who would preserve, sending out the same story 20 times. That takes a real belief in what you do and in yourself."

When writing a new story, do you find that you plan out where the characters are going and how they will evolve, or do they just jump out of your head and onto the page, fully-formed?

You can get inspiration from anything or anybody. Being in New York City, it is a wonderful thing to walk on its streets among the people. The crazy locals. On the subways or the bus, you hear snatches of chatter and make up stories. You walk into a shop and somebody's acting out. Life is a trip in this place. However, I will read something in a newspaper or in a magazine and it will trigger you to write a story. Or make some notes. It can be a book of photographs and an image will transport you into a scene or a story.

You write one paragraph,setting up a plot, characters, and the action. Sometimes you plan with a little outline. Sometimes not. However, sometimes the story explodes and takes on a life of its own. That is when it is bliss. Often I dream difficult passages. I keep dream journals. I have done this for a long time. Dreams make sense of my life. Writing is an adventure. It is a journey into some very strange places in yourself. Other times, it can bring you so much pleasure.

LicentiouslyYours (host): "I think a dream journal is a great idea. I have often dreamed of something really interesting and woken up fascinated by the story I've got in my head, only to have it be mostly gone a few hours later. If only I'd written it down..."

What do you think about the "explosion" of urban fiction. What does it say about our culture, today's readership?

The "explosion" of urban fiction means a limiting of options. The publishers have put the lid on the creativity of the books. Some of the early writers in the genre were totally realistic and raw. Iceberg Slim and Donald Goines were originals. Some of the current ones have taken up the mantle of the pioneers but a lot of them are a dim copy of those writers. Now, the books reflect the youth culture with the rage, hopelessness, and despair. Most of the youth in many areas of our cities have no education. Most of them have no hope of gaining access to the larger society. They read the books which mirror their lives.

I was lucky. I had a plan even though I was crazy for a long time. I read those books but I knew there was something more.


Do you think being African American ever changed how people viewed you as a writer?

Being an African American, I knew nothing would be easy. The confusion of my early life tripped me up. I learned very quickly that life is a long race. I took the defeats, rejections, and slights as a matter of course. I pressed on. I didn't feel anger at those who would wish me a terrible life. I found those souls who looked at me not by my race but judged me as a person. And there were many. They provided me with so much knowledge, so much wisdom. Sometimes I would rush headlong into things and there was always someone who slow me down and tell me to think carefully before acting.

Most people are just that, people. Some African Americans think everything is stacked against them. Not so. Writing means hard work and determination. My grandfather used to say: some folks are busy with their lives, working to get ahead, while you're asleep. Be like them. Work hard and take risks.

LicentiouslyYours (host): "Great advice for anyone."

How do you end up getting inspiration for a book? I know it's a totally ununique question, but I always have problems with it.

I answered that in another question. Writers live in this world and that is the food for their work.

Have you thought about changing the genres of your writing?

Oh yes, I have done that in my other life. But this writing is very near to my heart. I love erotica. I love sensuality and love and lust. Some of the greatest works I've read have had some of the most erotic themes. Sometimes I think that I have dual personalities standing on both side of the road. But then writers wear many hats.

Growing up, did you ever think you'd become a writer at any point in life? Is there something else you wanted to be when you were a little kid?

I had many fantasies while I was growing up. I wanted to be a doctor, a scientist, an artist, an architect, and a fireman. I hate dentists. I would never be one of those people. Only when I got in my twenties did I think I could be a writer. I was a poet. From that, I evolved into a writer. Writing saved me. It gave me life.

From the description of your youth, it sounds like it was a pretty rough time. How did your interest in writing begin? Was there a particular event that you can recall that started you down this path?

As I said, I was always a reader. I would haunt the bookstores along with the record stores as a teen. I loved soul music but especially jazz. Across the street, there was a man who controlled the numbers game in our neighborhood. This was before the lottery. I used to work for a woman who had a couple of girls working for her. I ran errands for her. She didn't need a guy and she always said that to me. The girls were low maintenance and brought in their traps. The cops looked the other way when the girls plied their trade. She had a great collection of jazz. Monk, Miles, Bird, Ella, Lady Day, Bud Powell, and Sassy. I loved Miles and Monk. My folks loved Motown and the blues. And a little of Johnny Taylor, Al Green, and Sam Cooke. Also, she had a great paperback library, all of the old pulps you would get from the bus depots and dime stores. Crime capers, wanton women, killings for insurance money, and the like. She would loan them to me and I'd read them and give them back. She gave me my first drink and my first cigarette.

She was a big James Baldwin fan, really big. I read Another Country and that blew me away. Maybe that started me to thinking I could be a writer. It put the original seed in there. All I knew was that I was not going to be a factory worker like my father. The work was hard. He was tough on us. He was beat down by life. I knew there was another way.

LicentiouslyYours (host): "This actually sounds like the good basis for a great story... it sounds like you've had a very interesting childhood!"

Have you thought about changing the genres of your writing to something more mainstream?

I have been reading autobiographies and biographies. It is astonishing how many obstacles and challenges that human beings can overcome. Some of the things I've read have amazed me. I think I have a good story and maybe one day I will write it. It is nothing compared to a few of the books I've read of great lives. However, I've been totally disappointed sometimes. So much of the world is about intolerance, greed, hate, suspicion, and distrust. Look around us.

Maybe I will write a memoir one day. I don't know. It's been a wild, wonderful ride.

Since we're reviewers here, what thoughts go through your head when you read a bad review? A good review? What's the best/worst review you've ever received?

I read bad reviews and take them with a grain of salt, unless they make valid comments about the work. Sometimes reviewers get personal and try to score points. Sometimes they try to get cute and go off in all different directions. Everybody likes a good review. Everybody likes to have their work approved. Still, you can learn from a bad review if the reviewer is honest. Often the reviewer, if he/she is egoless, can point out defects and deficits in your writing. I always welcome that.

My novel, "Guilty As Sin, got panned because the reviewers said it went over the top. They said convicts do not act like that.
Prison warps you emotionally, sexually, and spiritually. I have schooled people who have done time. I showed how warped the men were sexually, and how it impacted on how they lived their lives outside. Also, the publisher screwed up on the packaging and the readers were pissed about that. Just a bad experience. However, some of the folks, especially those who had been inside, loved it. I got letters to that effect.

The best reviews were for "Hot Snake Nights" and "Rough Trade." The former novel was written when I was listening to my father and his friends talk about Mississippi in the good ole Jim Crow days. I'm a good listener. Also, I was in the throes of reading Faulkner. I read "Sanctuary" in a day and "Intruder In The Dust" and "The Sound and the Fury." I went down there and it was not a picnic for Blacks. The other book, "Rough Trade," came from a guy who was dating a transexual. The guy was a thief in LA. He was seriously in love with her.We had some good talks. I never knew how much transexuals suffered before then. I got some great letters from that. That book is a crazy study in code noir surrealism. Too much Fellini, too much Bunuel.

And then there is "Making The Hook-Up," which exceeded all of my expectations. The reviews and letters from my friends and readers have been marvelous. Violet Blue got the ball rolling with a rave. I'm a big fan of hers. Cleis deserves all of the credit. I want to do another one for them. As Adrienne of the ERA says: Cleis is the top of the line in erotica. And that is true.

I'm wondering about the stories themselves. Do you start with a general idea then the story just does its own thing, or does it take conscious thought about where the plot will go? Does it depend on the specific story?

That's a great question. Anything can spark a story. Sometimes I will hear about a news story or something will happen to a friend or a relative. Or a striking photograph will snatch my attention...and it can all go into a story. My story in "Making The Hook-Up" came from a botched interview with the daughter of an traveling minister, which you used to find in great numbers in the South and the Midwest. I imagined what would her mother, the minister, do when confronted with the moral question of sexuality. Can being a woman with sensual needs supercede the oath of salvation? Would she give in? Would she bed him? I imagined a bad boy to tempt her. All women love a hint of corruption. The story just exploded and all I did was to connect the dots.

Often, I map out the broad outlines of the story and let it percolate. Rarely, I plan and execute a story rigidly from beginning to end. It robs the story of juice and all naturalness. Writers are storytellers or should be. You have to love words and language. I love a good story. Some of the old masters, men and women, were great storytellers.


Did you have a hard time getting people to read your work as a black writer?

Not really. I think "Making The Hook-Up" is an excellent example of acceptance across the board. Some of my white writer friends have complemented on the scope, message and writing of the collection. That is special. They said the stories touched them without any racial or social barriers. With my next book, I hope to increase that audience who will honor the stories and not any racial images.

LicentiouslyYours (host): "I have to confess, I worried just a small bit when we chose your book for the Naked Reader Book Club. I hoped that people would enjoy the choice, because obviously, we loved it and wanted to share it—but I did wonder if some might be reluctant to read it, feeling it wasn't relevant for them.

Happily I found this not to be the case at all!"

What is your most memorable moment? Why?

My most memorable moment has been my forgiveness of my father in the past year. He has been sick. He was not a nice man. The illness softened him a bit. As I forgave him, I forgave myself. Forgiveness allows you to not carry around the rage and bitterness some people and events generate in you. I accompanied him to the hospital after he collapsed in my arms. I sat beside him when the doctors said it was touch and go. I was the first person he saw when he came out of it. His eyes said he was sorry about the way he treated me but he couldn't find the words.

I know I did the right thing. I feel better already.

How do you think being a black writer sets you apart from other writers?

I don't think being Black sets you apart from anyone. We all have stories to tell. We have stunning stories that each and every culture can learn from. If you read some of the fine works of other writers in other cultures, there is a lot to learn. I have always been open to read works in translation. Writers must be a part of the world. Not isolated or enclosed in that culture.

I regret some of the decisions and choices of my youth. Mistakes are to be endured and examined. You can learn plenty from your mistakes. It's human to screw up.

You mentioned in another answer that you started off writing poetry. Was any of it every published? Do you still write poetry? Do you have a favorite poet?

Yes, some of my poetry has been published under my real name. Yes, I do but I don't publish anymore. I have four favorites.
Langston Hughes, Elizabeth Bishop, Derek Walcott, and Ai. Ai just died recently. She wrote poems as monologues, almost like raw and bold literary film shorts. She wrote about morality, gender issues, sexuality, power, political arrogance, and lust. I loved that about her. Bless her soul.

What's your favorite place in the entire world?

Paris. That is one incredible place.

Every writer experiences writers' block at some point in their career. What do you do to overcome it?

I never get writer's block. Sometimes I linger before putting pen to paper but it always comes. In my other life, I'm always under a deadline or two. If I come to a point of indecision, I refer to one of my notebooks. Or dream books. It's like putting a key into the ignition.

Have you ever read any of your work live or personally recorded any audio versions of your books?

Yes, I have read my works publicly. I've never recorded any of my books.

LicentiouslyYours (host): "I think it would be a great idea to consider. I love listening to books when I am driving on long trips and have always enjoyed most, the books read by the authors rather than by actors or stand-ins."

What is your favorite quote, by whom, and why?

I saw something on a T- shirt worn by a beautiful young Latina sista. I loved it.
It said: IF YOU AIN'T HATED ON - YOU AIN'T DOING SHIT."

For me, that says it all.

What do you like most, and least, about being an editor?

Being an editor, this is a job I take seriously. I know that writers put their blood, sweat, and tears into their work and it would be foolish to just dismiss their toil. When you read a story that clicks, it is like opening a Christmas gift when you were a kid. You go into their world. You never know what you will find. You never know what you will learn. I learned a great deal when I edited the Cleis collection, especially about the women writers. Reading something new is like going to school.

The least thing I like about editing is rejecting someone's work. Often you can see the hard work the writer has put into the story, but it just misfires and fall flat on its face. Also, usually an editor is or has been a writer, and he/she knows how it feel to be rejected. Not good.

If you could live your life over in any other race, how do you think you would handle it?

What a zany question! Can you imagine me telling you that I would like to come back as George Bush or Sarah Palin or "Little Kim, the ruler of North Korea?" Or Paris Hilton? Or Mel Gibson? Or even Clarence Thomas? That's nuts.

Was it hard to tell your family you were now writing Erotica?

Some in my family know about me "writing sexy stuff." One cousin said it shows that I have a mind of my own and have broken free of the old rigidity of my folks. I did that a long time ago. Broke free. I remember one of my relatives found a tattered copy of Selby's "Last Exit To Brooklyn" in my briefcase. I had a helluva time getting that book back from her. And she was a real church woman. When I got the book back, it had pages folded back and passages underlined. All I could do was smile. I guess she found it a good read despite the book's raunchy passages.

When exactly did you start writing erotica and what led you to it?

I began writing erotica when I started writing my first book. Sex plays a important part in there. The main character is in love with a lesbian. That was pretty bold in those days in the Old South. The woman he loves plays both sides of the street, but she tells him very plainly that she prefers the ladies. I think this was the reason the book, "Hot Snake Nights," had such a difficult time finding a home with a mainstream publisher. They wouldn't touch that sexual dynamic.

Do you see yourself continuing to write erotica, in, say, 15 years? If you ever get to the point where you no longer want to write erotica, what genre would you choose?

I don't know what I will be doing in 15 years. I love what I'm doing right now. I hope my writing will evolve and reflects where my consciousness is at that point.

Coming from running the streets as you did, do you ever feel the urge reach out to some of the young people making the same mistakes you did, like a charity or an outreach program?

I have taught and counseled young "at-risk" people. I have worked with young brothers and sistas right out of the joint. I have worked with kids in the Job Corps. I can relate to them at their level. I warn them about the perils of the streets. I warn them about doing "stupid shit" that will catch up with you later in life. Being young can be confusing and troubling as hell, especially now.

When I read something mentioning A-A Erotica I always wonder why it isn't known simply as erotica. What's the difference between African American Erotica and other erotica? If no one knew the writer was African American would their books still be considered part of the genre?

That is the mission of "Making The Hook-Up." It is to get the reader to accept that feeling sexual urges and drives is a human experience and not a Black experience. African American men and women have the same sort of emotions as the rest of the people in the world. They are not freaks. They are not special beings with hyper-sexual cravings. Historically, this was used to separate African Americans from the "so-called humans" with their freakish, grotesque sexual natures. These images are myths. They are stupid stereotypes and we must discard them.

Again, that is why I was so happy that the collection enjoyed a crossover audience. So completely happy. Nobody has a monopoly on love and lust.

Do you find it hard to have two types of ... I guess work styles? Like oh oh this would be something more in the lines of ---_____ would say not ______. Because you mentioned you have books publish under your real so its it hard to separate yourself? (none of my RL friends or family know about my Naughty side and my online ..... shenanigans)

My friends know who I am and what kinds of things I write. Unfortunately, in this civilized world, there are those who still look down on anything of a sexual nature. Hell, some people cannot decide whether young girls can take birth control pills, although the majority of them are sexually active.Conservative courts still make decisions if a guy uses a condom then it is not rape. That's a bitter joke.

It is not hard to do either thing, to write one thing or the other. By doing what we are doing, the society will change. The old will be replaced by the new. Stale, conservative thinking will be replaced by fresh, vital thinking. The 700 Club or the Tea Party will not hold us back. Just remember what happened to Anita Bryant....

We must endure. We must prevail. We must fight for human rights for all of us. Period.



OK, I just noticed I missed another answer where you talked about poetry, especially the poets you read. I love that you mentioned Charles Bukowski. He is my favorite poet. But now for my question: As an African American male who writes erotica, have you ever experienced backlash from other African American men?

Bukowski is still one of my favorite poets. He doesn't pull any punches. He is what he is. When I was a teen, one of my teachers gave me a copy of Jack Kerouac's "On The Road." That book ignited my mind with a sense of freedom and the outlaw spirit. . I loved the Beats. During my young years, I read Ted Joans, Frank O' Hara, Diane di Prima ( loved her free love awareness), Allen Ginsberg, Bob Kaufman, and Leroi Jones. I later interviewed Leroi (aka Amiri Baraka) for a magzine article and found him incredibly sharp. Since I loved jazz, I loved John Clellon Holmes' work. And William Burroughs...his "Naked Lunch" novel was something I used to re-read and re-read over and over. The man was totally mad.

As for the main part of your question, I have not experienced any backlash from other African American men or writers. They are happy that a male should try to jump-start the dialogue about love, lust, and other relationships.

Do you think that Erotica has become less taboo from when you first started writing it?

I think erotica is become more mainstream. It's in everything including the most vanilla romance novels. Sex sells. Even the more mainstream films are opening up to the themes of sex and intimacy. No, I think sex and erotica will be continue to sell as long as people can make money on it.

Which one of your stories made you say "Man, I would really like to see this on screen played out by (name the actors you thought of)

I haven't thought that far ahead. You threw me a curve. I really don't know.

I think it there is something erotic knowing that a Vanilla person like for example your church going relative is curious or enjoying what the Church and Mainstream consider wrong and taboo. Ever thought about writing a book about a Vanilla person with a secret desire to let her inner ..... freak out?

To answer your question, everyone has their secrets. Everyone has something that they keep hidden from others and sometimes even to themselves. My aunt had that side to her too. We never talked about the book or what she thought of it, but I would have loved to have heard her opinions. Think of these priests, teachers, and politicians crossing the line and doing things that they know will get them into a position of shame and ridicule.

I never considered that idea of a vanilla person with a yen to let their inner freak out. Sorta like a literary version of the films, "Night Porter" or "The Conformist." But those folks were tainted from the get-go, right?

I'm reading Making the Hook-up right now, and can I just say I love the inspiration behind the book, and the stories you chose.

I live in a predominately black neighborhood, and a number of my neighbors are waiting for me to finish reading Making the Hook-Up so they can read it. A couple, though we are friends, have expressed surprise at seeing me reading a book of erotica written by and about black people. They say that most white erotica readers will never read it simply because it's written by black people, about black people, giving the impression that it's for black people.

I'm just wondering what, if any, opinion you have on this?



Thank you, Ms. Rayne. As I said earlier, I had several white friends who were delighted with the book. They bought it for their friends. And I was very pleased. You must understand that desire is not the sole property of Blacks but a human process. Sex is a catalyst for most humans and it can trigger love, passion, lust, anger, sorrow, pain, indifference, cruelty, tenderness, sweetness, and betrayal. Once you accept that, then you can enjoy the stories in the collection completely and sink your teeth in them.

Once we get over that we come in different shapes, different sizes, and different hues, then we can go about the business of living and loving. Unfortunately, everything is a label. Everything is a category. Everything is a brand name. Right vs. left. Black vs. white. Straight vs. gay. Christian vs. Muslim. That division and intolerance are killing our country. They are killing our world.

LicentiouslyYours (host): "It's very thought provoking to think that examining our basic desires and appetites, like lust, can help us all appreciate just how much alike, instead of how different, we all are.

I'll be honest, I have rarely expected that the erotica I read will do much more than turn me on sexually, but reading and talking about Making the Hook-up was so much more than that."

What is your prefer way to write when you are writing for one of your books? Do you sit down and put pen to paper, jot down thoughts idea or even write in a notebook you carry with you or do you sit yourself down at your desk and type away on your computer ?

Sometimes I write longhand on paper. Sometimes I write on the computer. It depends how soon the deadline is coming. It is also depends on what kind of project I'm writing. It depends.

What kinds of books do you enjoy reading? Is there an author or book you consider a "guilty pleasure"?

Ok, I'll let you in on a secret. My guilty pleasure are the nervy books by Patricia Highsmith. She gets the suspense and tension up to high flame and doesn't let you off the hook. She puts the reader inside the head of her characters. Completely. You cannot get out. That's a real feat. It's like a nightmare which you never want to awake from. Check her out. The Ripley novels. The Price of Salt. Strangers on a Train. The Cry of the Owl. The Black House.

Also, read her short stories...deliciously dark. Spooky. And she's a crafty wordsmith. I would have loved to have one of her pupils.

LicentiouslyYours (host): "Oh, these sound like a must read... but my pile of books to read is already sooo high!"

First off I have to say that reading "Making the Hookup" was an amazing journey into the heart of sensuality. I admit that I was a bit reluctant to begin reading it since I am hopelessly white and I was afraid of the pap that passes for sensuality amoung mainstream publishers especially where people of color are featured. Instead of the same old same old I was blown away by the sheer POWER of the stories, the color issue faded away and it became a human experience.
To my mind that is what makes a truly great story, when it can appeal to anyone regardless of their race, color and creed. What makes a truly great story for you?

Again, thank you for that complement. What makes a great story? A story is a way of knowing of what we think and feel. When you think of it, we are all connected through our emotions. Forget the critics. We are not really different. There are very few boundaries in the world of emotions. There are very few boundaries between human beings. When I issued the call for stories for "Making The Hook-Up," I said I wanted strong characters, solid situations, complex conflicts, and sizzling sex. I didn't want to have the reader leer at our characters like they were on a tourist bus or at caged animals on exhibit in a zoo.

I wanted stories of human beings. Real people in real situations. I also wanted some themes in the stories of acceptance, tolerance and worth. I wanted stories of real people the reader could respect. That's a truly good...or maybe even great story for me.

LicentiouslyYours (host): "Ha— earlier I said I didn't get any reluctance to read your book by my book club members and then I get to this comment (Airen is one of our book reviewers). :) Still, it makes me happy that she took a chance to read something she didn't think she would be interested in and found it truly enjoyable.

(Keep that in mind, book club members, and take a chance on books you aren't sure about and you might be rewarded!)"

All artists have other artists that they admire and that have influenced them in their own art. What authors have influenced your style the most?

You're right. I'm influenced by fellow writers, photographers, and filmmakers. First, I've been influenced by Hemingway, Langston Hughes, Richard Wright, Jean Rhys, Flannery O' Connor, William Faulkner, James Baldwin, Hunter Thompson, Patricia Highsmith, Truman Capote, Eudora Welty, Gayl Jones and Toni Morrison. Whenever I read these writers, I see something new in their styles, narration, vision, and dialogue. Also, I'm influenced by the composition and art of the artists with cameras such as Walker Evans, Avedon, Irving Penn, Gordon Parks, James Van Der Zee, Margaret Bourke-White, Edward Weston, and Tina Modotti. Sometimes when I see their images, I can sense how to compose a scene or set the action.

And I'm a movie buff. I taught film at The New School, which was a great time in my life. I love all of the usual people: Hitchcock, Sirk, Ford, Huston, Cukor, Whale, Fellini, Powell, Reed, Welles, Truffaut, Bertolucci, Antonioni, Kurosawa, and Bunuel. Their vision and creativity always moves me. All of this goes into my writing style. All of this goes into how I see things, how I experience things.

Are you ever discriminated against by fellow writers and/or publishing companies because you write erotica?

I have never discriminated against by my fellow writers or the publishing companies. Sometimes the work is not good enough. Or the market is just not there at the time. Writing is a business. That is why you must never submit any work that is less than your best.

What is your least favorite quality about yourself?

My determination. I can be very stubborn.

LicentiouslyYours (host): "We should also ask what is your favorite quality about yourself!"

Have you ever had writer's block? If so, what do you do about it?

It has been rare that I've suffered writer's block because I always have deadlines. I'm conditioned to meet the clock. If you do, I would suggest that you just write through it. Persist. Don't give in and quit.

LicentiouslyYours (host): "I've always found the biggest obstacle when I have writer's block is to just get the pen on the paper (or fingers on the keyboard). Even if I am writing "I just don't know what I want to say..." it tends to be true that babbling long enough about nothing eventually produces something worth saying."

What is the last book you read?

"Exposure" by Kathryn Harrison. She's very provocative. I recommend her book, "The Kiss." It will turn your world upside down.

I'd love to know which public figures / famous, infamous, or semi-famous people (living or dead) that you admire most?

I admire Dr. Martin Luther King, Gandhi, W. E. B. DuBois, Paul Robeson, LBJ, Susan B. Anthony, Ms. Stowe, Eleanor Roosevelt, Miles Davis, Duke Ellington, Stravinsky, Phillip Glass, Bono, Kofi Annan, and President Obama.



Do you have concerns that the advent/upswing of new urban fiction will lead to the destruction of the value that the writing is meant to convey?

The new urban fiction is starting to pull in new writers, who are still novices to the craft of writing. A lot of the writers have served time. Many of them didn't finish school or have no formal training. Some of the books are not so good. Their characters are slipping into the same stale, tired stereotypes that were trotted out before. However, there are some writers who want to tell good stories and give the world a slice of their lives in the Hood. When you read these books, it is like venturing into a terrain that is still evolving and growing more sinister and lethal. Life is hard out there.

You mentioned reading many biographies and autobiographies and I wonder, excluding yourself, whose biography you like to write?

I would love to write the biography of actor-activist Harry Belafonte. What a life!

What are the main differences in the actual writing of an erotic story versus a non-erotic story? I mean, besides the fact that one has sex and one doesn't. What about the differences in the writing process, word choices, and how easy it is to write?

The difference in the writing of an erotic story and one without the emphasis on sexuality deals with what area the writer wants to stress. Often, the writer wants to highlight a moral lesson. Other times, the writer wants to feature a dominating facet of the character's personality. Or the writer wants to feature a historical setting or time. Many great stories have nothing to do with sex. They have to do with racism, sexism, class, religion, or profession. "Moby Dick" or "Crime and Publishment" or "Madame Bovary" or "To Kill A Mockingbird" do not have sexual themes. These novels must have been hellish to write.

While novels such as "Tropic of Cancer" or "Women In Love" or "The Story of O" are considered classics, it must have taken a tremendous amount of effort to write them as well. Character, conflict, dialogue, emotions, and plot are vital in both of these genres. That is why writers must always read, study, and analyze. That is why I re-read books until I understand all of their nuances and shadings.

How does your family and friends fell about the way you write? Do they read everything you write?

I just reconnected with my parents a short time ago. I had been out of their lives for a long time. It was very hard to forgive them for what they had done. (And this is not the venue to spell that out.) Their absence branded much of my early life. I missed them emotionally. There was a hollow space inside me. Whenever I had a triumph, they were not there. Whenever I had a tragedy, they were not there.

Fortunately, I had good friends. They were family. They saved my life. I had wonderful mentors. They gave me love and guidance. They read all that I wrote. One of my close friends said to me: "You're a self-made man." I think that's bull. Nobody can exist without the assistance of others. I learned that early on.

Do you hear from your readers much? What kinds of things do they say?

Sure, I get letters. They would tell me how much they enjoyed the books. They would tell me how much the stories meant to them. And I have got ugly ones as well. I don't get those as much anymore. Also, the focus of my work has changed. When I was troubled, I wrote some disturbing things. I've mellowed. I'm much more at ease with myself.

What is the importance of grammar for a writer?

First, grammar is everything to a writer. The rules of language and words are the tools a writer lives by. Anybody can scribble down something. That something must make sense to a reader. The reader must enter the world of the writer in a comfortable and untroubled way. Reading someone's work should not be heavy lifting.

LicentiouslyYours (host): "This is an interesting topic for me, as an editor. There seems to be a grammatical trend to adopt new rules and standards based on the idea that enough people simply "do it that way" so let's recognize that as correct or now "ok." I struggle with being comfortable with the balance of a language's need to evolve and just going to far with the idea that "everybody does it wrong so it must be right.""

If you could have dinner with one person, dead or alive, who would it be and why?

There are two people I would love to have dinner (and maybe drinks if allowed): Jesus and Mohammad. Oh baby, I would pick their brains about the original intent of religion, their views on the subjugation of women and sexuality, their views on intolerance and morality, their views on political and spiritual freedom, their views on holy wars, their views on evolution, their views on salvation and the afterlife, and their views on the limits of art and creativity.

I would wish for a long dinner so I could get all of my questions asked. No X-File questions (as one of my former students mentioned.). There is too much confusion with this religious mania.

LicentiouslyYours (host): "Can I get an invite to that dinner? :)"

If you had to choose, which writer would you consider a mentor?

Probably I would choose Hesse or Steinbeck as a possible mentor. Both could teach me many things. And maybe Virginia Woolf for her sheer creativity but not for her instability.

What question are you never asked in interviews but wish you were?

I can't think of any. All of you are doing pretty good in this interview. Nobody has asked me about my shoe size.

LicentiouslyYours (host): "So... what IS your shoe size? ;)"

What's a common mistake writers make when creating a sex scene?

A common mistake with writers is going full tilt when describing sensuality. Their scenes become too graphic, too mechanical, with not enough poetry or beauty in them. When reading erotica, the reader should not feel filthy or like he/she needs a shower from the grit and vulgarity of it. Everyone knows what goes where in lovemaking. The art of erotica should involve all of the senses and the emotions as well. Read some of the passages of the masters. Nin, Miller, Lawrence, Abe, Harrison, or Kawabata. Sheer bliss.

The words of sex and sensuality should speak to the reader on every and all levels. Sensual splendor.

LicentiouslyYours (host): "That phrase all by itself... sensual splendor, is just delicious."

Are there any new authors that have grasped your interest?

Like someone said in this interview process, my "must-read" stack of books is very high. I've been compiling a list of authors to read during the fall and winter months. I've been reading male authors for some time so I decided to read a few female authors now. Some of them are new to me: Angela Carter, Janice Galloway, Jeanette Winterson, and Emma Tennant. Why would I read these ladies? One, I want to think outside of the box. I want to make myself comfortable with a wholly new awareness. I've read many of the African American and Asian women writers but these names are new to me. Last December, I read some Kathy Acker and loved her. And Joyce Carol Oates. She just churns them out.

I'm working on a collection of short stories. I've read Baldwin's short stories. I'm going to tackle some stories of Sherwood Anderson ("The Triumph of the Egg"), a collection of Roald Dahl, some Dani Laferriere, Nam Le ("The Boat"), and a collection of Paul Bowles. I want to do something special. Short stories are the hardest thing to do. I imagine building on my Black lit foundation and taking it somewhere new. Like Miles' "Bitches Brew" or Hendrix's "Electric Ladyland."



Do you outline?
What is your writing routine?
Which comes first? The character's story or the idea for the novel?

I wrote earlier about outlining and overplanning. With your second part of your question, I edit and revise during the day and write during the night when it is relatively quiet. New York City can be noisy during its active hours but it is fairly quiet at night. The last past of your question has been discussed before. I'll add this: once the idea of the novel or the short story takes over, then you lose control. You are its servant. It takes possession of you. And it won't let go until it has run its course.

Your first SexIs feature "Got MILF," an expose on "Mommy Porn" goes live on Thursday. In it, you mention an erotically charged encounter from your youth that influenced you. How much cross-over is there in the erotica you create between your own personal desires and what appears on the final written page? Can/do you write about things that aren't personal turn-ons?

In my first piece, I talked about my attraction for older ladies when I was young. Some of the things I write about are based on fact, real life events. And other things are sheer fantasy. I'm curious. I find someone who has done a thing or is in a certain lifestyle and I pick their brain. Ask them questions. Certain things are beyond my realm. However, I'm tolerant and open-minded. Sure, I can write about things that are not personal turn-ons. Writers write not only from their experience but from the experiences of others.

Who do you credit most in the adult entertainment industry for breaking through the barriers regarding portraying inter-racial sex in movies in printed media?

Back in the day, Vanessa Del Rio broke all kinds of barriers in the adult entertainment industry. When I worked at Oui, I got a chance to talk to her. And her sidekick, Susie Nero. I liked Susie with her kooky self. VDR was one hot woman. She was sizzle personified. She took on all comers. At one point, the industry had a color bar but she and a few others broke that. I remember Angel Kelly, Jeannie Pepper (I saw where she made a MILF film), Sahara, Sade, and the lovely Shari Stewart. Oh man, yum! These women were pioneers. Now, everybody can sex anybody and nobody thinks anything of it. And that's how it should be.

In erotica, I think Cleis is making some progress. It's demolishing labels and categories. Some of the e-book publishers are doing a good job as well.

How are you (and your works) marketed? And who has control over this aspect of your career? My best friend's mother writes novels, and she can only be found in the "African-American Section"--this is solely because she is black; her writings are not racially targeted. I find this to be pretty damn discriminatory, and as a minority, it upsets me. Isn't this just another form of segregation? As a Latina who aspires to become a cultural and literary critic, I'd love to hear your thoughts on representation within the publishing and marketing worlds.

When I was a younger writer, Holloway House did all of the promotion. They sent the books to all of the Black and minority bookstores. You could find them in some drug stores, bus depots, and the like. Now, I have control over promotion of my books.
And Cleis as well. I'm truly thankful because they have taken great care of me and my book. In my other life, I've always had my books promoted by the promotional arm of the mainstream publisher. However, some books are segregated by race, but others are not. Book buyers want to know if the book will sell. That's the bottom line.

Also, a writer's got to hustle and find new avenues to promote their work. Blogs, Facebook, My Space, reading groups, and book clubs. Ads in publications of all type. And get in a tweet or two. There is a recession so all of the publications need cash. They will take your ad. Seek out websites catering to books of your type. Your friend need not be racially targeted. If you're a writer, fight to get your work seen and read. Nobody will give you anything. This is not that kind of world.

LicentiouslyYours (host): "This is good advice for any writer. I see many of the most successful erotica writers that we've worked with out there doing a lot of their own PR work, knowing that the more they get the word out, the more people will read their work."

Where do you from here? What is your next creative challenge? What are you working on? What do you wish you were working on?

Where do I go from here? I'm working on several projects. I'm writing a collection of short stories, which I love to do. Also, I'm reading a great number of memoirs and biographies. I'm thinking of doing a memoir.

I had no idea that you taught film. I can certainly see how an understanding and appreciation of the visual arts would translate positively in your writing. As a side question, what's your favorite Kurosawa film?

I know everybody thinks of the film, "Seven Samurai" when they think of Kurosawa. He made a lot of films during his career. I love two of them, "Red Beard," which explores the essence of Man scientifically and spiritually. It takes place in a clinic with an older doctor and his young charges. I've had mentors like the old man. So wise, so humane. And then the other one is "High And Low," which is based on a novel by Ed McBain, one of my favorite crime writers. It's about a kidnapping which goes horribly wrong.

Kurosawa was a master storyteller. You can view his films over and over and still find revelations in them.

LicentiouslyYours (host): "My first Kurosawa film was The Hidden Fortress. An ex boyfriend instructed me to watch it and figure out what movie had pulled key elements from it. I immediately recognized R2D2 and C3PO from Star Wars in two characters in the film. I suppose that was my first taste of just much we are influenced by people's work."

In your opinion, what is the hardest part of writing erotica?

The hardest part of writing erotica is finding a story worthy of your characters, where they can live their lives and have sensual fun as well. It's a tricky balance. You must not let the sex overpower the story. Still, you want to make the action hot and smoldering. Be suggestive. Be raw and provocative. Make the reader sweat.

There have been many reports about black women being the least desired women in America, based on marriage rates. Do you think that this trend plays a role in the amount of African American erotica that is marketed nowadays or do you feel that readers are attracted to good erotica regardless of the ethnicity or culture of the main characters?

I know the reports about the forgotten Black women. However, I know many Black women who do not feel that way and have men and families in their lives. They have loving, productive lives. Nobody highlights them. It's better to accentuate the negative.

I remember when I sat in a panel on just that topic. Some of the women were very angry and felt that they were being ignored by their men. A few people, mostly the elders, on the panel reminded them that it was not always that way. The Black community has dealt a wicked blow by the society when most of the images in the music and literature and film always feature the worst stereotypes of a race. Some of our writers do that as well. And I will be honest. When I was a young writer, I did it as well but I saw the damage it could do. I still tell like it is but I now I see all sides of the issues.

"Making The Hook-Up" began a new phase for me. A truce must be declared between our men and women. Our survival depends on it. Love is a beautiful thing and it can heal. Sex can be a healing thing. We must cease combat. That is why I had such high hopes for the book. It has accomplished its mission. Good erotica can be attractive to all regardless of the race or culture of the stories in a book.

I am gonna go personal here because,well,I'm dying to know.
Have your own sexual experiences defined your portrayal of erotica?
Have you ever used your own specific encounter in your writing?
Do you find,as you get older,your definition of erotic changes or is it basically the same as when you were younger?
What is the most erotic thing you have ever seen,read,heard?

Yes, I have used some of my experiences in my work. I think everybody does. Sex can be a joy or a torment. There is something about that feeling of overpowering sex, that almost carnal obsession, that intrigues me. I have put it in my work. Women know the sexual power they have. Some women use it to full advantage.

The older I get, the more defined the sense of the erotic becomes. I notice things now in a new way. The size of the nipples, the curve of the ass, the softness of the skin, the temptation of the pouty mouth or the beautiful shape of her sex. When I was young, I was in a hurry and didn't notice just how lovely women can be. I love looking at them. All shapes, all sizes, all colors.

One Saturday afternoon years ago, I was fishing with my friend and his wife. We spotted a couple in the grass. making love. The man took such great care to please her and the woman was so eager. They were well-built. The woman was incredibly beautiful. We stood there and watched, from start to finish. We were transfixed. It was one of the most wondrous things I've ever seen. Very, very erotic.

What do you consider erotica?

I think I answered this question already. I wrote about the difference between erotica and porn. I spoke about the mechanics of one versus the other. Erotica is a collection of images and words that speak the sexual imagination. Porn simply appeals to the carnal urges.

If you could be any animal, what animal would you be and why?

I have no idea. Animals are out of my realm.

What makes African American erotica any different that any other type of erotica?

I addressed this earlier. I answered an earlier question where I said there is no difference. Emotions are common to all humans. Love and lust are common to all of us. African Americans are no different than any other race on earth.

When you sit down, by yourself to read for pleasure, what type of material do you like to read the best? Also, what other authors' do you love so much that you can't wait until their next piece is released?

Other than the autobiographies and biographies I mentioned, I like books about history and the decisions that changed the civilized world. I'm very curious about how we got to be like we are. Why are so many negative character traits rampant in several of our world leaders? We worship power, greed, malice, and violence. We degrade the poor, the hopeless, women and children all over the world. How did we become like this?

What authors do I love? I love Joyce Carol Oates. She reinvents herself with every book. And Jonathan Franzen. He is a mirror to American life. Michael Ondaatje, the cat who wrote "The English Patient." He is a poet too. And Walter Mosley. He always surprises me. All of these writers amaze me and I await each of their new books.

The erotic experience you brought up has intrigued me so I'm just gonna ask some random questions about it lol. Did the couple you watched making love know you were watching them? Did you all just go back to what you were doing once they were done like you hadn't just watched two people having sex? Some people would feel embarrassed or uncomfortable with having witnessed it. How would you react if you realized someone was watching you have sex?

I don't know if the couple knew we were watching them. They were caught up in the bliss of their lovemaking. My friends talked about it after we left them. My friend's wife, I think, was more excited than he was and I bet they had a great night after that little show. I've been on display, without my knowledge, while having sex. In New York City, if you forget to close the blinds, you can bet somebody is watching. But to answer your question, I thought it was a beautiful moment with the couple.

LicentiouslyYours (host): "I can't imagine, living in the Midwest, where we've still got plenty of wide open spaces and like to spread out.... that just having the blinds open means someone can be watching you. I know places like NY people are just closer together and it just makes it easier to watch others...doing anything. I think I'd be paranoid all the time, wondering of someone across the way was watching me cook dinner, watch TV... have sex."

How much, if any, do you take from your real life when you write? I mean are there things that happen to you and you just know that you need to use that in some way in your writing?

As I said earlier, writers always use real life events to spark their writing. When writers sit down to do the story, there is always some editing that happens, unless the work is a memoir. I've used parts of real life events in stories. It makes it personal. You have lived that event or met that person. The feeling is immediate. That's why the old timers say: "write what you know."

Are you a morning person or a night person?

I edit and revise in the day and I write during the night. It's the most quiet during the night. No cars, no screams, no noise. I love the night. The characters come out at night. In this city, there are a lot of characters. The city never sleeps.

Have you ever googled yourself? Are you ever surprised by the results?

Google is something I avoid, unless I'm looking up something.

You mentioned your father wasn't nice as you were growing up, how do you think you turned out as a person because of this? How has this affected your work?

I think the actions of my parents affected my life, rather than my work. I must admit that once I got some things straightened out that my life and work went easier. I made peace with myself.

Where did you get the inspiration for your anthology based on blues? Is it based on certain blues songs or the era of the blues? I love blues music ever since I watched Black Snake Moan and I think it's pretty cool that you would do erotic stories based on blues because blues music is pretty powerful music, it sort of free's the soul (to me anyways).

My publisher suggested it. She knew I loved blues and jazz so she felt I was the perfect person to do the project. It's based on some of the more suggestive blues tunes of the 1920s - 1970s. I have collected about 70 stories so far. I was raised with the blues. My father is from the Mississippi Delta and loved the blues. I have had so much fun doing this project. The blues are hot, poetic, flirty, edgy, and right on target. This project affirms why I became a writer.

LicentiouslyYours (host): "I think it makes perfect sense to base an erotic anthology on a music genre. Over the years, I've felt a connection between the music someone listens to and how they make love. It's not always there, especially with people who listen to anything and everything. Jazz is particularly erotic and sensual to me, so I have to imagine it's inspired some spectacular erotica."

As an amateur writer still in school, I've been told time and time again that I need to learn how to detach myself from my characters in order for the story to flow as it should. To what extent do you find this to be true in your own writing and in erotica in general? Or, are you able to allow yourself to form an emotional attachment to the characters and still produce a piece that connects with your readers?

As a writer of fiction, you see the entire picture. Almost as if you're looking down on them. You don't want to control the characters like puppets because the reader will pick this up. Sometimes you will read a novel where you know everything that will happen. It's very predictable, too familiar. Too cold. You want to get involved with your characters emotionally because that is when when the element of surprise occurs. It's like jazz. The musicians learn the tune and then start to riff or improvise on its theme. Allow the story to have its turns and twists. It should have its surprises. Get involved with the story, all of it. If you don't feel anything for your characters, then why should your readers?

First off, hi! Welcome, I'm really excited to have a writer here for once! Thank you for answering our questions, I'm pretty thrilled about this! I have a question that I would love to hear your response to.

The odds are often stacked against people of color in the arts, as simple numbers have shown us over the years. Of 2789 Academy Awards given since the creation of the ceremony, only 26 were given to Black actors (cite, Black Film Center of Indiana University.) As of 2000 (most recent numbers I can locate) out of 11,825 members of the Directors Guild of America, only 350 of those members were Black (cite, Melvin Burke Donaldson.) BlackBoard African-American Bestsellers List was founded in 1992 when Faye Childs (a Black author) could not find a publisher for her books because "black people don't buy books" (cite, Publisher's Weekly, 2001.) I studied literature as an undergrad in an excellent school with a reputable program, but had to take special classes ("Caribbean Literature" for example) just to read Black authors, as their texts still predominantly exist in the margins of canonized academic literature.

All of this is obviously not for a lack of talent or effort, but a predominance of structures that do not invest in and nurture Black talent, be they African, Caribbean or other. Many artists of color, once they have reached success in spite of the odds, attempt to right this by investing back into their communities. Directors like Tyler Perry and Spike Lee are examples of this, both of whom gave young aspiring Black actors work when they were trying to establish themselves. Some have said most of the progressive change we've seen in creative industries has come from withing communities of color.

My question to you is, as a successful and well respected author, do you feel it's important to find ways to help other artists of color that are struggling to reach success? Or are there other priorities that should be addressed first? Thank you so much for r

It's like this. You must give back. I've taught on the college level and in the correctional institutions. Some of the young people have tremendous talent. I look at them and see myself. I was a raw, unschooled person before my mentors showed me another way. Blacks buy books. Blacks need writers. But also the world wants to see what we are thinking and feeling and it's not just one sad, terrible note. It's not just about the urban life. You cite articles from 1992 and 2001 but a lot has changed since then. African American writers are publishing everywhere. If the work is good, you can still get published somewhere, even if you have to submit your work abroad.

The priorities are to learn how to write, to read widely, and to observe everything . Don't just read in your culture, but read other writers from other cultures. Learn as much of life as you can. Put all of those things in your work. Then the work will speak for itself. And that goes for all artists. You must be determined. You must endure. You must not quit. If you do, you will lose your dream.



LicentiouslyYours (host): "I think giving back is a must for any successful person, regardless of culture or race. Odds are, someone took the time to reach out to us, teach us something or give us a hand along the way and without those moments in our lives, reaching our goals can be nearly impossible."

Has any of your fans ever recognized you on the street ?

No. I've kept a low profile. But I see them reading the books. That makes me happy.

Sometimes when I write, I love just picking up a pen or pencil and writing it on paper. Do you prefer typing your work or writing it out first? Why?

I do both. I will write something down with a pen. I keep notebooks full of ideas and potential projects. But I also write it out on the computer when I know what direction to go, the words come fast and furious. I'm a fast writer once I get up to speed.

Do you enjoy sex toys, such as ones offered here at Eden? Would you write reviews for them if you had any?

I used sex toys before. It depends on the partner. Some people do not like them. Others do. I have not written a review for a sex toy.

LicentiouslyYours (host): "Well if you ever decide you'd like to ... I suspect Eden Fantasys can find you something fun to try. :)"

Silly question, I guess, but being an author, editor, teaching film... How does all that leave you feeling about television these days? How do you feel about television now vs television in, say, the 80s?

Television sucks. Everything is based on old formulas. They are rehashing the plots of old shows. At least, television had a rebellious edge back in the 70s and 80s. It challenged the minds of the viewers. The reality shows...yuck! I saw an article where the young folks wanted Snooki to run for State Senate...oh man. I don't watch much television except Robert Redford's channel, TCM, and sports.

LicentiouslyYours (host): "I think there are some good, edgy works on television today, it's just that you have to go to cable to find them... what you find on the networks, the reality TV stuff, is so SO awful."

What is your favorite way to relax, de-stress, and chill out after a hard day? Do you find that writing is more of a release, or something that is stressful?

I love music. I love to go to blues and jazz concerts. I love old movies. Here in the city, I just saw Metropolis. Incredible. I love lounging at the cafes with my friends, drinking and chatting. Sometimes I go to concerts of different musicians from other cultures at the Merkin. Writing is something I do every day. It is not stressful. It is a gift.

How did you first begin writing erotica?

I started writing erotica when I worked at Oui Magazine. It was a part of the job.

Are your erotica stories mostly based on actual encounters?

Some of my erotic stories are based on actual encounters but many are not. Some of them come to me from newspaper articles, dialogue heard on the subway or talks with friends. And many of them come from my imagination.

Have you ever thought of making your own page on wikipedia?

No, I have not considered doing a page on wikipedia.

Do you find yourself suspicious that people are only trying to befriend you because you're a published author? How do you distinguish between people who genuinely like you, and people who like you just because you're an author?

As my friends will say, I'm a fairly accessible person. I will strike up a conversation with anyone, on the train, at the market, on the street. At the conventions in my other life, I mingle and chat people up. I like people. I'm not suspicious by nature. You choose your friends. That is under your control. I let people into my life because they have a spark of decency, boldness and honesty. As an old pimp said to me one time, you don't need people who can drag you down.

Since you are both a writer and an editor:

As a writer, what is the hardest part about having your own work edited? What advice would you give writers who are new to the process?

And as an editor, what is the most challenging part about shaping someone else's work?

As a writer, I would say to protect your work, to protect the quality and integrity of your work. I have worked with mainstream editors and there is a certain game that it is played with them. As a writer, you have to remember that you retain final control over what is published carrying your name. Still, I suggest a new writer should cooperate with his/her editor. Learn from that editor.

Well, editing is more than just doing rewrites, revisions or checking for bad grammar, factual errors or repetitions. The best editors try to get to the jewel hidden within the work. Good editors work with the writers to craft, texture and layer the work. Since I have worn both hats, that can sometimes be hard. The partnership between an editor and a writer is often a compromise, a negotiated truce, where the writer submits to the process and the editor is sensitive to what the writer is trying to say. Both of them are working to enhance the impact of the work, to make it stronger, more interesting to the reader.

For someone who has only written a few Erotica stories for a blog what do you recommend they do next? Obviously the fans of the blog will say the short stories are great. So what will you tell them is the best way for them to see if they truly do have an act writing Erotica or not?

If you're interested in writing erotica, find blogs where erotic stories are published. I recommend the Erotic Readers Writers Association (ERWA), which is a friendly, positive place to start your process. There are some gifted, capable writers and critics there.They can teach you the ropes. Also, they have a board of submission calls where your stories can be submitted to independent and mainstream publishers. If you google online erotic publications, you can find several of them so you can get your work out there and get paid. And, best of all, get noticed.

In your film course do you discuss erotica? Are most students comfortable watching it amongst there classmates and discussing it?

In my film courses, in my other life, I don't discuss erotica. We discuss the art of film, writing, screenplays, storytelling techniques, actors, and directors.

What was the biggest disagreement you, your editor and publisher had over your work?

I've been lucky. In both of my jobs as a writer and editor, I've never had a real big disagreement over my work. I've published several books with large mainstream publishers. I'm always open to talking and suggestions. I want to learn. I want to make the work better. To give you an example, I have a older friend who was called into the camp of Muhammad Ali, the great boxer, and there was a concern about the fighter getting hit with too many left punches. He was one of the best but my friend said he was so humble trying to get the defense to that deadly left hand down.

I'm not Ali, but I have that attitude. I want to learn. I want to be taught, so I never raised a fuss.

mentioned watching a couple out on the grass and in the open at first I thought no way was that NYC but then I remember there is Central Park. Can you picture an erotic scene ever taking place in NYC subways a la Risky Business film or is that really pure fiction?

You're right. Watching that couple didn't happen in Central Park. But anyway, an erotic scene can happen anywhere. A writer has to imagine that it can happen anywhere. In a sun-lit apartment, on a roof in the moonlight, or a darkened movie theatre. Anywhere. Imagination is the stuff of fiction.

Being that you had a tough up bringing are you involve in any youth organizations or charities? Do you mentor aspiring writers?

As I noted earlier, I taught and mentored young writers. I have taught and mentored writers from "stir." I love turning them on to new writers and new books. I recall myself in that role. It's a joy to teach. However, I have not been involved in any charities.

Wish one of your books if any would most likely make it to Oprah's Book Club?

The closest occurence was when the great critic and writer Violet Blue was on the Oprah show talking about erotica. It was the same time that she had given this glowing rave on "Making The Hook-Up" and that kicked off my current campaign to get the book to the readers. It was featured at the top of her website. I loved it. It was a gift.

LicentiouslyYours (host): "Oh the power of Oprah. :)"

100, 200 years from now, what would you want to be remembered for?

The second part of that question is--if you had to be remembered for one piece of writing you wrote, which one would you want to represent you as an author, as a person in literary history? Which of your works do you believe represents you and your whole body of work the best?

I would have asked our traditional "Complete this sentence: Sex is ____" interview question, but it seems you've already answered it in your reply to Rayne's question when you wrote, "Sex is a catalyst for most humans and it can trigger love, passion, lust, anger, sorrow, pain, indifference, cruelty, tenderness, sweetness, and betrayal." Sneaky... but what a wonderful answer!

In 200 years, I doubt whether there will be books as we know them. It will be probably deep in the digital revolution where Kindle and those devices will be popular. I hope "Making The Hook-Up" does my name, Cole Riley, proud. In my other life, there are several mainstream books that I know will do the trick. My whole legacy is to get people to rethink cultural and racial myths and stereotypes. If I do this, then I will be happy with what I've done.

By the way, as a sidebar, I love that you read Cortázar! My focus was Latin American literature and he is one of my top three Argentine writers. "The Pursuer" is absolutely haunting and one of my favorite short stories of all time.

Yes, Julio Cortazar is one of my favorite writers. An original. There was a great film, Blow-up, which featured Vanessa Redgrave in it. Along with great skill in short stories, he did "Hopscotch" and "62: A Model Kit," two of my favorites. When I was a high school student, one of my Spanish teachers hipped me to these writers and I still have a sizable collection of their books. Borges, Manuel Puig, Severo Sarduy, Alejo Carpentier, Guillermo Cabrera Infante, Marquez, Jorge Amado, Marquez, and Laura Restrepo. Latin American writers are very imaginative, talented, and groundbreaking. Read them and you won't be disappointed.

If you could address the people who look down or weird at those of us who enjoy reading Erotica and are more in touch and exploratory with our sexual side what would you say to them? So in other words if you were on a talk show what would you say?

Some people will not accept the art and beauty of erotica. They see it as smut. They see it as sex and porn. If I were on a talk show, I would not defend erotica because they just don't get it. You must have strong feelings about your sexual awareness and freedom. I remember when I was on an abortion panel with some of the more staunch pro-life advocates ever. I used every argument to shake the rigid views of the opposing side. Nothing I said mattered. It was either or....

Stay true to your values. Stay true to your beliefs of sexual freedom.

LicentiouslyYours (host): "It's true, most people will not be swayed in moral beliefs they've acquired over a lifetime. The best to hope for is that they will respect your right to have your own beliefs and live your life as you choose."

As someone looking to break into the erotica literature world (I've done my fair share of erotica writing over the years), what do you suggest for someone with very few contacts in the publishing world? I would love to be published at some point.

I suggested a young writer could join one of the groups teaching erotica. Also, there are some venues which publish short fiction. Google some of them. One thing there is no one who shun a young writer in this area. If you're determined, you will be published.

What would you consider to be your greatest success in the writing sphere? Being published? Or something more subtle?

Getting published is always a writer's dream. It was for me. Yes, that was simply wonderful.

How do you go about developing ideas for your stories? Also, do you find that ideas come to you in certain places (for example, in the shower, on a hike, driving the car, etc.)?

Anything can spark a story. Any image, any word, any event can fuel imagination. I talked about putting ideas in notebooks. I talked about collecting dreams in dreambooks. Writers have different techniques and processes. What works for me might not work for you. Develop something that is comfortable for you.

LicentiouslyYours (host): "Wow... I am so pleased by all the questions that were submitted and thank you, Cole, for taking the time to answer very nearly every single one (only 1 left I think, as I type this)! I've truly enjoyed reading everybody's questions and Cole's answers!"

I saw where you said you've used your own sexual experiences in your writing. So I guess it would be fair to say your personal experiences have an effect on your writing. What I want to know is, does your writing ever play out in your sex life?

When I was younger, my writing and sex life overlapped sometimes. But no longer. I am wiser.