Je Joue is a relatively new manufacturer who is becoming well known for thoughtfully designed toys for women. With the SaSi on the market and the new G-Ki launching, what can Alicia tell us about Je Joue's future? Will we see more intuitive toys in the coming year?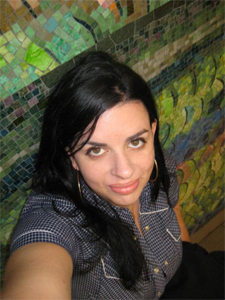 Je Joue was originally formed in 2004. After many months of research, testing and development, it was clear that there was enormous opportunity in the toy market to make luxury, innovative and female insight driven designs. Je Joue developed the SaSi, a toy that uses movement as well as vibration, combined with a unique 'learning' function, which launched in 2009. The SaSi is award winning and has gotten rave reviews. Where do you go from such innovation? Upward and inward, apparently! The all new G-Ki is a dual stimulator meant to unlock the g-spot with toy's ability to bend and be locked into new positions, making it a fit for the preferences of so many women.

Behind this new product launch is the US Sales and Marketing Manager, Alicia Kay. We've seen Alicia before in other roles; working for an adult retailer in NYC for 10 years, as an advocate in both the San Francisco and New York adult scenes, and being mentored by her dear friend Annie Sprinkle. How does Alicia see the industry now, compared to her first impressions? What are her goals for Je Joue? Alicia does assure us that we will be seeing more frequent new products, as often as twice a year. We can only imagine what those new toys might be able to do!

How did you first meet Annie Sprinkle? How much of an impact would you say she has had on you?

I met Annie Sprinkle when I was 18 in Santa Cruz, California, she is one of my mentors and a day to day inspiration. It was life changing for the better meeting her and now lives around the corner from me which is a bonus. She has taught me to treat everyone that you work with equally and fairly with respect. I am who I am, very much because of her kindness to me and I wish that more women treated younger women with the same love and compassion ( in this industry especially).

I meant to say would you ever consider designing products for couples or for a male audience. Sorry for the typo

I know that your products are designed for women, but would you ever consider designing partners for couples, or for a male audience?

How are the fellas responding to the G-Ki? Have you gotten some prostate stimulation feedback from men?

We have many things in the works.. wink wink.

This toy can work with the prostate, (our anatomy works so similarly in some ways, we all start the same right?), it's really incredible. The fellas have been pretty enthusiastic about the G ki, which works well for what I would say to be the more experienced prostate user, as well as used anally for women. Relaxation and lubrication being the key for anal use !!

I think that the G ki is also a great couples toy along with the Sasi, our toys seek to encourage the user to discover things their bodies and sensations, they may not be used too or experience and not to replace anyone in a couple scenario, but rather enhance it.

One of my favorite Sasi stories (for those of you familiar with the Sasi being the closest thing to cunnilingus or oral or fingertip sensation on the market) is the Sasi was purchased by an American GI who gave one to his girlfriend before going over seas and she called him up to play tracks back to her partner, saying " Honey, I know exactly what I want you to do to me when you come home", learning what she enjoyed externally to enhance their sex life !! I hear stories like this all the time, which essentially keep me going and motivated.


What one piece of advice would you offer to women who are looking for their first sex toy?

I can still remember when I stumbled upon my first sex toy, and I have been loving them ever since. I am always looking for the next best thing. What was your first sex toy?

My first sex toy was a butterfly G string type toy that barely worked. It lit a fire under me to want to make better toys. I will say I LOVE the pocket rocket style vibes

Dancer

which was probably my second toy. One of my favorites ever made by Vibratex.

Fun fact:

This toy was originally designed as a disposable face razor for men in Japan sold in vending machines, the top was removed and ta da... One of best vibrators out there...

My advice to anyone looking for their first toy is educate yourself, spend what you can afford and choose something aesthetically pleasing that you would feel comfortable using. With so many options, and the education available (love Eden Fantasys for that) it is much easier to do now, although it can be overwhelming with all the choices.

Je joue products were especially designed for first time toy users in mind. We did extensive market research asking first time users what they wanted in a toy, the G ki and Sasi are a direct result of that.

Victoria (host): "We totally agree - read about the products, know your body and shop smart! Great advice!"

Do you feel that making luxury toys that are designed to really fit with each woman help bring more a more positive image to the adult industry?

Absolutely. The changes I have seen in 15 years in the adult industry all around are incredible.

I think that toys that pay attention to a woman's or man's anatomy and have research behind them are really important.

It used to be pretty common that a bumps, ridges, etc... were placed on a toy for no apparent reason and were supposed to provide stimulation to a woman, (a fair amount of these toys being designed by men or people that never would actually use the toy).

I think that more companies are paying attention to their consumers and making toys that really work with the body.

This is an incredible toy that I am really very excited about! Probably the best innovation I've seen recently. So, speaking of innovation, what was the process that you and the designers went through in creating this toy? As in, throwing around ideas, deciding "what women want" in a toy, even "testing" the toy, haha.


Hi! I have a few questions.

First of all I would like to know what, or who inspired you the most to become such an incredible icon in this business? It must be amazing to have the opportunity to work in this fantastic industry.

Also, how did the design team for the G-Ki come up with such an amazing idea? I have to know. I am constantly looking for something to blow my mind with enthusiasm and this takes the cake.

Was it a woman, or a man trying to please a woman? Was it an idea proposed by an average person? I'm very curious, although I'm sure it was a female

How long did it take for the designers to 'perfect' this unique toy. How much effort was put forth into it? Do you know how many prototypes were made before it was announced as a success?

I'm sorry I have so many questions. I am just incredibly interested in this product seeing as how amazing it is.

I am in love with the flexibility of the G-Ki, and the passionate purple it is available in. I look at the picture and imagine myself owning one.

Whoever thought of it is sheer genius. Thank you, and I mean, thank you whomever you may be you absolutely mind blowing, sex loving, g-spot orgasm-ing, person you. Women all over the world truly appreciate your brain.

How much testing went into your products? Any funny stories from the days of testing? Any "Eureka!" moments that changed a design or function? Who tested?

What are the most important factors you consider when designing a new toy?

I noticed that you mentioned introducing about two new products a year. So I am curios of how much time actually goes into developing a new sex toy?

What testing and steps are taken to model a toy such as the g ki to be able to reach the "g" spot. Are scientist/doctors/women involved in the creation process?

Jejoue has a really interesting development process.
The Sasi was born out of research panels mostly based in Europe,
from non toy using women and what they ideally wanted in a toy.
The G ki was born from a plea from many people in the industry/customers asking it to be made, it was a dream of mine to have a g spot toy that really worked with a multitude of shapes and sizes of bodies and I like to think that I was pretty instrumental in the toys conception.
The designer had access to gynecological data of over 10,000 women to base the sizing and contour of the toy, plus he consulted with numerous G spot experts in the field ( including myself to refine function and design).There are always limitations that one runs up against in creating a toy and being perfectionists also makes it hard to settle on a design. I love working with Jejoue since I know the process intimately and that we really care about feedback and function.
There have been many versions of the G ki since its creation and there will probably be more over time. I can't give away everything, but keep posted and keep the inquries coming !!!

Victoria (host): "That's a lot of data to consider! It is very interesting to hear first-hand how anatomy was considered in the design!"

Are there any other things you do in the adult industry such as modeling, porn, etc? Or do you stick to marketing toys?

I have done a lot things in the adult industry just about every job you can imagine, but my primary focus in the last years had been product development.

Both the SaSi and the G-Ki have very catchy names. Who gets to name your products? Does everyone at the office get to submit suggestions, or is there a special naming department? Were there any names that were considered for the G-Ki that you could share with us?

There is a long naming process and you would be surprised at how many names of toys are already taken out there. It is probably my least favorite part of process ( though I have done it for years). We settled on the G ki after lists and lists of names, trying to capture something that suggested the nature of toy ( key to G spot) and went with brand guidelines.

I noticed that you worked for an adult retailer in NYC for ten years. How do you decide that this was the industry that you wanted to work in? Was it the income? Was it the field? Are there any moments when you ask yourself, what am I doing?

Do you have a family? Do you have children? If they are not old enough now, what will you tell them in the future that you do for a living?

All of these questions are a major curiosity to me also because I work in the adult industry. What do you tell your children you do?

I know how my sexually-open family reacted when I considered working in sales of adult toys. It was quite the oposite reaction of what I had expected. I am curious to what support, if any, you get from your family regarding your job and how long did it take for them to accept your choice of careers?

Did you always know that you wanted to work in the sex toy industry? How did you start working for Je Joue?

I'm wondering if you were brought up in an environment that fostered openness in sexual matters or if you were left to do your own research?

I consider myself an artist first and a sex educator second on a good day. I worked for a restaurant company (Buca di Beppo) as their lead designer simultaneously to doing sex education and retail. I have done illustration ,scenic, window, costume and floral design, to name a few. All of these things influence my work for Jejoue and as a product developer.
Being a sex educator in a retail environment is an incredibly taxing job, you're a sex therapist without the paycheck and telling people what you do often leads to full disclosure of their sex lives outside of the work place. Some days I welcome it and some days I loathe it.
I was brought up in a pretty conservative home with lots of sexual overtones from the men, I credit being the oldest in my family of a Sicilian father (with tons of boy cousins my age) a lot to do with my career. My family also owns a 63 year old floral business, I grew up around color and a similar concept of pleasure/romance in retail I guess and sales from a very young age. So retail and romance, sex have always sort of made sense to me. Unlike some academics in the industry who never touch commerce or play at business and seldom get their hands dirty, I believe in a real hands on approach to sex education and product development.
I am with Jejoue because of their dedication process of creation of toys. I brought the Sasi in exclusively through the retailer I formerly worked for and then joined their team full time in May and have closely worked with the designers for almost 3 years now.
I have many kids in my life, though non of my own at the moment and most of my family is aware of what I do. I am proud of the work I do and over the years have been surprised by many people's positive responses, like I said before, sometimes I limit who I tell just to limit their responses or rather T.M.I.

Victoria (host): "Buca is fun! I love the Pope room. So, the daughter of Sicilian florists? That definitely explains the color stories and the passion behind your approach!

I think we have all experienced the TMI floodgates when sharing with someone."

I love the fact that you put special care into toys for women. And who better to do that than another woman? I am curious if your company will be introducing any toys for men? Also the G-Ki looks absolutely astounding. I am excited for the contest you are sponsoring. And even though we "women" recently found out that "we do not have a g spot, and that we are imagining things!" I don't care. I would be glad to run a test on the G-Ki for you and let you know whether or not I really do have a g spot. I guess that springs a whole new topic! Alicia Kay, do you still believe you have a g spot after this article was posted? http://www.edencafe.com/the-g-spot-is-a-myth-i-cant-believe-you-thought-it-was-real/

I absolutely believe the G spot exists, I've seen it in action too many times not too!

I love Je Joue toys, but they're more targeted towards the upper sex toy market due to their prices. ;P

I know that quality often comes with price, and I have no doubt that your toys offer the highest possible qualities. However, are you open to design and develop some toys which might be a bit more affordable as alternatives to the more expensive silicone toys ?

Both the Sasi and the G ki are both silicone. Do you plan sticking to silicone products, or to you intend on introducing other material products?

I can't reveal too much... but, we are looking to expand our line in many ways with a target of several toys a year in potentially various price ranges. Honestly, the mechanics of the Sasi and G ki that make them more expensive to produce. We will only work with body safe materials, but there are many ways to offer things in different price ranges... Stay tuned !!

Why was the original Je Joue toy discontinued? It was obviously a predecessor to the Sasi- but it also had pretty positive reviews and a decent userbase. Will something like that, programmable with sharable content, ever be available again?

I think the original toy, the 'Jejoue' was ahead of its time and as folks get more comfortable with technology we may revisit it's technology in a more affordable way.

What other types of customizable toys are you considering? Perhaps something that moves similarly to the G-ki but automated- kind of like being fingered by a toy would be awesome but probably hard to do.

Once upon a time there were textured sleeves rumored for the Sasi- is this still in the works? Will we see something similar for the G-Ki? For example, rippled or soft, skin-like sleeves to make the G-ki both MORE customizable and more tailored to that particular users' tastes?

Lots of things in the works, sleeves for the Sasi will definitely be available down the road. The G ki is made and sealed slightly different than the Sasi so that it is waterproof, so it would be something added on to the toy.

Victoria (host): "Sleeves sound really fun - I am definitely looking forward to those!"

The names are pretty unique - do they have a meaning?

Jejoue is a double entendre in French meaning "I play" or "I Cum" , Sasi and

G ki, are fun playful names that worked with brand, G ki was meant to signify 'key to the G spot'.

have you ever had a design that just couldn't make it off paper? If so, what was it?

Je Joue always comes up with such innovative products, with features no one has imagined. But have there been any crazy ideas which the company has tried but which didn't work out?

So many things in the works...I have seen so many things come and go over the years, I am trying to inform from my experience the best of what I've seen and our designer works closely with many different industries and many new technologies so I can safely say that nothing is too crazy, some things just take longer than others to manifest !

Wow, so many great questions already. So I am going to grab the traditional question we ask in every interview on Eden (I think I may be the only one left who hasn't asked it)...

Please complete the following sentence:

Sex is...?

fluid.. every changing and a constant discovery !!

Victoria (host): "Great answer! Sex *does* change, even in long term relationships. Ebb and flow!"

When a new product is designed, produced, and ready for a trial process, are you a part of that?

So this one is going to be a little off the wall. And I know this is crazy, but I was just in the shower a few minutes ago dreaming about the g-ki and this series of questions just cam to mind. I decided when I was done I would come straight here and ask you personally.
Most companies host annual parties. They usually have the employees as guests to a really fancy place that includes entertainment that varies and gifts. It basically is a token of appreciating done annually to thank the employees for all of their hard work. So, does Je Joue host an annual party? And what kind of entertainment and gifts do they offer? My imagination could run with this all day. I can see it all now, and believe it would be one hell of a party. Including grab bags with the latest goodies from the company, Yay!

The next question I have is, and I am not sure if anyone has asked this yet, but I don't believe they have...
Do you have a G ki yourself? What do you like about it? What do you dislike about? I realize that most marketers are required to use and experience the product they are marketing, and so were you given that opportunity? Were you given a handful or just one? Are the Sasi or the G ki in your favorite sex toy list?

I'm the solo girl in the company right now, so I am very much involved in the development process of the toys. G ki is one of my favorite products and I have been involved in all the stages of its development. I gave feedback on the SaSi from its original design that I saw in 2006 and brought it into the US on an exclusive basis, because I believed in the innovation of the product.

As for annual parties, we have always thrown parties at trade events, primarily celebrating many of our friends in the industry and our customers, no annual company party as of yet ( we are really small and spread all over the world).

You've been working with adult toys for many years. What would you say were the top three lessons/experiences you took with you when it came to running your own small business?

1. Treat everyone fairly and with respect that you work with as you would like to be treated.
2.Stay organized, have strong time management skills ( I struggle in a small business always).
3. Be educated, never assume you know everything. Take advantage of all the resources around you, I am really dedicated to knowing the history of the business I work with and the people that have come before me, I have learned some many valuable lessons from people who have worked long before I in this industry.


Victoria (host): "I think this advice is SO TRUE and could be applied to working anywhere. Great points, Alicia!"

Je Joue is clearly one of the most innovative companies in the sex toy industry. From incorporating sensations of oral sex into your line with the Sasi, to creating the G-ki, a truly customizable dildo, your commitment to fostering the the art of self-pleasure is obvious.

However I noticed that your line is geared towards female clientéle. With only a few luxury sex toys specifically designed for the male anatomy, there is definitely a demand for the "next great thing" in male masturbation. How do you see Je Joue products fitting into the male market? How would you customize the Sasi design to suit male preferences?

Dear Sophie 2229,

Thank you for your compliments, I think that I covered the answer to this in a previous question and I contractually bound to not disclose too much of future developments, but I can say The G ki has been well received but a more advanced pro- prostate male audience. Some men say the like the Sasi on the perineum or the taint or nipples. I think that a lot of other companies are making wonderful advancements for male anatomy and down the line it may be something we are more focused on.

Thank you !

The G-Ki and the SaSi have been reviewed on EF already, complete with the Pro/Con sections. Has anyone had the chance to look at this ideas/comments an address them on the drawing board?

Dear Mr. Sauce, Thank you for your thoughtful question. We value the critiques of our products very much and since we are a small company we intimately discuss them. We try to make advancements in the refinement of existing product design and definitely take things into consideration for future product development. Its hard to make everyone happy with one or two products. A additional challenge that I have found is because these products are sold globally so regionally I think we get a lot of different opinions on the products as well and different culture values or varying degrees of openness around sexuality. We will always be open to feedback and always take it into consideration.

How long does it take to go from concept to realization of a product? Are there years involved or do you pretty much know what you want and just go for it? Something like "Here is my concept, show me my toy!" haha

I have both SaSi and G-ki. Love them both. They're amazing. The only way to make them better would be to put the rolly ball from the SaSi on the neck of the G-ki...

Speaking of...

Where DO you go from here to advance innovation? Does it ever seem like you can't top what's been done? Is there something in the works already?

It seems like you put a fair bit of time and work into designing your toys. Je Joue isn't mass producing toys like other companies but I imagine that it must be pretty exhausting once a new toy is finally released. Will you take a break before applying yourself to the next design or hop right into it? Do you already have an idea for the next Je Joue toy or has there been no room for that when developing G-Ki?

Dear Carrie Ann, Adriana, and Pretty Power Tools, Sorry for the delay on answering these questions, I found them to be some of the harder questions to answer...

I am contractually bound (as most manufacturers are) to not give away too many secrets about future developments, but I can tell you that projects are always in the works, G ki was a relatively rapid turn around in its creation, but there will always be things to improve on. (It still took a good year or more to come up with the product we released). Our designer is in China working hard on a laundry list of ideas we have discussed in the past and doing Research and Development for our next product. Our goal is to release 2 more products before the end of this year.

I think that we are constantly learning more about anatomy and sexuality is ever changing. There are always new technologies and new materials come forward on the market which makes it exciting to work in this field and with improvements on existing technology and materials. It behooves our company to exist in many different areas of the market so we can all contribute experience and expertise and our customers teach us so much. It is an exhausting process from start to finish, but exciting too. I love to see products I have designed weather the years and be improved upon. I know this doesn't answer everything you've asked, but I hope it touches on some of your inquires.

What can you tell us about some of the projects you have in development? Future sex gossip is always good.

Another question: How do you answer that question "What do you do for a living?" especially when it's from strangers. I know some people keep it private, but I'd imagine that as soon as you told people the truth, they'd have tons of questions.

Dear Mistress Kay,

I think that I answered your questions a little in previous answers and sadly I am not able to give away too much future gossip, but I wanted to elaborate at the second part of your answer.

I definitely feel out people when they ask what I do, if I am able to read the person I talking with a get a good vibe about them and feel that they are open minded, I will tell them details, but some people often use it as ground to disclose intimate details about their sex lives, if I can answer something constructive great, if it is merely for titillation I tend to steer them away from what I do. I think that it has become more and more acceptable to talk about sex toys so that makes it easier for me at times.

I love when I can answer a burning question or truly impact someone's sex life for the better !

What would your ideal sex toy consist of and or look like?

Dear MuffysPinguLove, My ideal sex toy is the G ki! It is a dream of mine to have something that stimulates the G spot correctly with decent vibration on the clit, this toy was a collaboration of years of my experience and the designers expertise. I may not always be in the mood for it, but it is at this time my ideal toy !

How do you decide what color combination's you are going to use on your products?

We have a color palate that is determined in our brand guidelines, the purple is out signature color, the black and pink have been good sellers in different regions and the rose is the newest addition to our line. We have to limit our color selection for production, but who knows what the future holds ? Purple always sells well in sex toys in my experience.

Victoria (host): "Purple is a good unisex color, for sure - but I have to say, I'm loving the Rose!"

Thinking about the creative process makes me smile! I know how creative minds think, and seeing that you are quite the creator, I would like to ask:

Where is your happy place, how do you form your ideas and in what medium do you record them? When and how often do you brainstorm, or do you get an idea from something around you and spring to record it?

(Can't wait to hear what you say .)

Dear Pretty Power Tools,

I love your questions!! The creative process is what keeps me going, working with one of the best designers out there to actualize the mechanics of a toy is really incredible. Sitting down with our designer is what is most inspiring to me right now,we just fire off ideas and it is amazing what we come up with. I typically draw out ideas with him. Sadly this happens too rarely, he is living at China at the moment overseeing everything in production and I travel all over the USA. He comes from an industrial design background (designed kitchen wares previously among other things) and I come from a varied background based in the adult industry, but have worked in many different creative fields. Art, fashion, color, music, food, all inspire me. I have always had a slew of notebooks that travel with me that i draw and design in. It is fun to look back and see the visual stories that unfold.

I really admire your business and your career sounds amazing. How wonderful to be friends with Annie Sprinkle! It seems like you have an interesting perspective on the adult communities from coast to coast and their intersections. How do you think the sex toy industry interacts with the sex community and other adult industries, and what is your vision for the future of that interaction?

Dear The Wolf,
I personally think that the sex toy industry and sex communities influence each other greatly, I know that as a brand Jejoue depends on the experience and expertise of many sex perts/educators, sex workers, and sexologists for their feedback. I think that manufacturers who reside in the design world or ignore the 'sex communiity' sometimes, practice aesthetic over function and run the risk of missing the mark of functionality of their products, but not everybody has the same goals. We will continue to heavily solicit experience from non toy users and experienced toy users alike, hopefully we come up with products that work for various groups of people.
I would love to work closer with a larger part of the medical community and I see small steps being taken, but their is A LOT of work to be done there.
Thank you for the thoughtful question.

Do you feel that your toys can be used by women who are inexperienced with solo play?

I think I answered this a bit in previous questions, but I would definitely say that our products work for people inexperienced with solo play. The Sasi was primarily designed with inexperienced toy users in mind, there was a focus group done asking women who had never used a sex toy, what they wanted in a product. The consensus was that they wanted something that remembered what they liked in bed. The Sasi was developed to simulate oral stimulation and be customizable for each individual's preference.
I think the Sasi is great for inexperienced users because it provides movement and vibration. It really has a lot of possibilities for the user to explore.
The G ki has the same principals of self discovery built into it and I also think can be used as a solo toy.

All of your toys have been so innovative, it's astounding. However, "new", "innovative", and just plain "different" can sometimes be hard to sell at first. What has been the biggest challenge with marketing and selling your products?

Dear Luscious Lily, Thank you for your question and compliments. I was just thinking about some of your points while trying to answer another question. As all new technology can be daunting at first and not for everybody, Jejoue's products aren't the easiest things to use in the world. But my Ipod, phone, computer, social networking, etc... were not easy things to use at first and yet have quickly have become second nature to me.

Our products are never going replace some of the best easy to use vibrators out there, but I love having them in my arsenal and I love seeing new approaches to pleasure be refined, challenged and developed. I love that there is a large part of the industry focused on changing traditional sex toy manufacturing (this has NOT always been a consistent).

As a buyer I used to have to wade through mountains of crappy products to find quality ones (I don't miss that) and now there is a far greater percentage of consumers that are paying attention to what they put in their bodies (love it!).

Education is the biggest challenge to communicate to the user of our toys. And not everyone is up for education and using a more complex toy. I believe that all I can be is honest, educated and aware of what other people are doing and help people make the best choices for them.

Sex toy products are well-known within the adult industry and websites. Does your company plan to expand into more mainstream media to sell to the everyday woman.

Dear Awakening Tara,
I think that sex toys are more and more recognized in the main stream. We see sex toys often featured in popular media, television shows,etc... We sell our products in lingerie shops and boutiques and many companies sell product at the mall and even bigger chain stores carry sex toys in their stores these days. I will always press to have our products in places that reach as many people as possible, but also in places that honor our pricing and provide education with the purchase of the product.


Why do you think it took this long for someone, anyone, to create a toy that bends and changes position (while keeping said position) like this?

Dear Dangerous Lily,
I love your questions and review, I went straight to China to our designer Duncan for the answer to your question and got this wonderful response:

I gotta say I really don't know why it hasn't been done before, lucky timing I guess. G-spot toys are a relatively recent development, a lot of different concepts in g-spot toys have come out in the past 3 – 5 years. When approaching the design I remember looking at the market and being utterly confused by all the shapes for g-spot toys, how does a girl (or a guy buying for a girl) know which one is right for her? We asked groups of women to look at what was available and tell us what they would choose and why. It was hardly surprising that all the women were completely confused by the different sizes, shapes and configurations of gspot toys.

Dual action or not?
Size?
Angle of head?

The idea came about from the desire to do 2 things, one was to offer a toy which could be used as a solo hands-free dual action vibe which could fit any woman, the other was to be manipulated into a g-spot toy for couples to explore the g-spot. We were very lucky to get hold of some excellent data from a gynecological research centre, we actually employed a medical researcher and a statistician to help us make use of all the data that we gathered. We then went about mapping out the difference in vaginal angles relating to the clitoris. Position and inward protrusion of the pubic bone, length and position of clitoris and width of the labia.

Then to the enigma which is the g-spot, there is some scientific data gleamed from ultrasound about the position of the g-spot but in our experience nothing is better than testing it yourself. That's what we did, we tested it, tested with different women, some who have not trained the g-spot and others who know it well.

At this point I should flag up how absolutely hilarious I found the recent press about women not having a g-spot! They are kidding right?! I agree some woman don't get off on it as much as others, but then some guys get off on having pressure on their perineum and others who do not, it does not mean it does not exist as a sensitive area which should be explored! Whatever next!? If we start calling it the p-spot is a scientist is going to take a huge group of twins and tell us that the p-spot does not exist because one brother feels sensitive there and the other does not? Maybe in the industry we need to actually get away from calling it a 'spot', as it is an area, not a spot, and it varies hugely in size, location and sensitivity.

The final dimensions of the toy were pretty much exactly the same proportions as an average male finger which was very interesting for us. Is that co-incidence? Only god knows I guess.


Victoria (host): "What a thoroughly awesome answer! Yes, I think everyone at EF agrees - there IS a G-spot...but the information about the design and what factored into it was really illuminating! Thank you Duncan and Alicia!"

Again, another question about the inventor/creator, if you were to know this answer, just like my other crazy question, lol...perhaps if you overhear or you have knowledge of... Aside from the creation process, is there a concept that is held so high that it is held back for future release? Kind of like a secret holy grail?

Dear PPT,
Love your questions and the answer to this one comes from our designer in China Duncan also:

yes there is one. We discovered it during the research we did for Sasi, honestly the market is not ready for it yet but we have applied for the patent and look forward to releasing it next year. we cannot say anything else, apart from that it is our dream to have it on the market by mid 2012.

What other materials are you looking into for your new sex toys? What made you decide to go into making such innovative new sex toys?

Dear Sea of Neptune,

For the answer to the first part of your question,
I checked in with our designer Duncan for the answer to this question:

We would like to used medical grade PVC because it is recycable and as safe as silicone. The problem is the industry is not ready for it, everyone thinks PVC and they think cheap toys with pthalates, this is not true, they just got bad press, a good PVC is as safe as silicone.


Victoria (host): "Whoa - that's something I have not heard before. We definitely need to learn more about medical grade PVC. Very interesting!"

I actually envisioned a dual stimulator which locks into place a while back but wasn't in any position to create it. Did you consider any alternatives to the locking mechanism with G-Ki? Was it intended to lock from the beginning or is that something you 'discovered' along the way?

Dear Adriana Ravenlust,
Thank you for your thoughtful questions,

From our designer Duncan:
We tried a number of mechanisms for the adjustabilty, the ability to lock was something we wanted to try but were not sold on it until we got the feedback from users

Which toy do you prefer - Sasi or G-ki?

I like both for different reasons, depends on the day !

I love that your toys are rechargeable! Is there a limit to how long the G-Ki can be charged/can it be overcharged?

You cannot over charge a Jejoue toy! Recommended charging is 2 hours for both toys to fully charge.
How do sales of sex toys in the US differ from the rest of the world? I'm referring mainly to quantities sold and types of toys sold.

What in your opinion makes Je Joue the best sex toys on the market and what would you change about Je Joue toys to make them better. Also same question about the industry - What makes working in this industry the best job ever and what would you change?

Do you plan on taking the user reviews to make any improvements to the SaSi or G-Ki? Or make a different version that is not a replacement but an addition to the line?

Now that we've officially entered a new decade, how would you characterize adult toys and the roles they play as we move farther into the 21st Century?

Where do you draw your creative influences from in terms of marketing and launching your products?

Who are some other influential people in your life? How have they inspired you or supported you?

You mentioned above that you have worked in various part of the adult industry. What three pieces of advice would give to someone wanting to enter the field? Feel free to answer the question from the perspective of the adult business in general, of adult product development or any other area of the industry you have experience with.

How would marketing a sex toy be different than marketing any other product? Have you had to deal with anyone making inappropriate remarks (as in at the workplace/while traveling for work, not among your friends)?