Your success has been immediate, so how do you maintain a private life when everything you do is so public. What does it take to market yourself all the time, and does anyone ever get to know the real Riley Steele?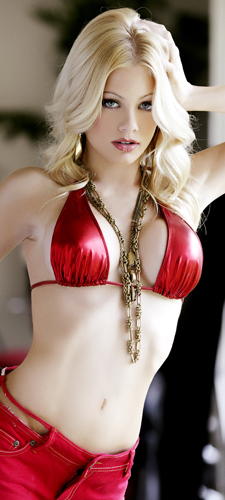 Riley is a classic California girl. Born and raised in sunny San Diego, she grew up on the beaches or working her butt off in the ice rink at one of her earliest passions, figure skating. Never one for convention, Riley decided early on that she was destined for something a bit different. It was after meeting Jesse Jane at a Hustler promotional event for the film Pirates that inspiration struck and she knew what she wanted. Riley Steele had the full intention of being a sex symbol. After debating for a year, she made up her mind and phoned Digital Playground--the rest is history. Her first shoot was for the adult blockbuster sequel Pirates II, and she has not looked back since. Now Riley is currently filming a major Hollywood production for Dimension Films, Piranha 3D, with director Alexandre Aja, all in one short year.
How do you feel about the recent HIV scare in the adult industry? What, if any, extra precautions does it have you taking?

Being in porn, that is a risk that is always on my mind with every new project. However, no other job requires STD testing, though they probably should.

Everyone in the industry has to be tested at

least once a month. Being a contract girl with Digital Playground, we can demand performers are tested within 2 or 3 days of us working with them. You have to treat this job as a business, and your body is your tool. You have to take care of yourself, and be safe in your personal life as well.

When you first started, were you self conscious at all or were you always comfortable with your own nudity in front of the camera?

Not at all, I have always been very secure being naked. I feel more turned on knowing I'm being video taped, and that people are going to be watching me have sex. That's the biggest turn on for me, knowing that I'm inspiring someone else's sex life.

A couple questions:

When you finally decided to go into the adult entertainment world, did you tell your family/friends? Or did you wait till after you started?

How has this life choice affected your family life?

A couple of my closest girlfriends knew. But I didn't tell anyone in my family until after I had already started. I remember I was on set for my first feature showcase with Digital Playground, "Riley Steele:
Scream", directed by Celeste, and I told my dad I was going to the water park...but it turns out the water park had not even opened up for season yet!! So it wasn't too long after that he found out. He was really upset, and tried to make me get out of it. My dad spoke with DP's owners and they explained how the industry works today and that they were looking out for my best interests. When I got the role for "Piranha 3-D", is when he started to see that I'm not limiting myself to doing only porn. Digital Playground gives you the opportunity for mainstream success as well.

In reference to affects on my family life, It hasn't at all. They are my family and they will love me no matter what I want to do with my life. I'm sure they would have rather seen me grow up to be a Graphic Designer, or something else, but that's just not me. They know who I truly am, and this is what I want to do with my life, so they support me.


Do you think aspiring adult stars should attempt to break directly into high end cinematic-quality films -- or are amateur style shoots a legitimate way to get started?

I don't think you should ever limit yourself. If you can get into a huge film, then go for it, but no one should ever think that just because you started off doing amateur doesn't mean you can't end up doing something high end. Especially in today's society. Porn is becoming much more accepted everywhere you look. TV shows are becoming more relaxed with sex, as are movies and billboards. Sex is everywhere, and everyone has sex. I think it's weird they will show people being gruesomely murdered, raped, and beaten in movies, but people freak about watching two people have sex.

Those male adult stars appear to be universally quite well endowed. What sort of shocker was the reality of that when you did your first scene? And how about now? Does it simply become normal? And how does that affect relationships with non adult stars who may be less well endowed?

It was amazing!! My first scene was with Ben English, and after that Eric Everhard. Both guys are very big. I had never had sex with someone who was so big before, so it did take a few minutes to get used to, but then after that it just feels so good. The only way I can think of it affecting my personal relationships is on the guys part. Usually guys freak themselves out knowing I'm a Porn Star. I think it
makes them nervous. But you'll never hear me say "I won't have sex with you because it's too small!" No way! I love sex too much to be worried about if you're smaller than the last guy.

If someone farts during a scene do you keep going and redub it later or do you cut and start all over?

Usually you'll just laugh it off and then keep going, unless you're so hot and heavy into the scene that you can't stop. Sometimes it's easy to get so involved in the sex that you aren't aware of anything else
happening besides your own orgasm.

Do you watch adult films in your down time? I'd love to know what types interest you.

I watch a lot of the "Jack's Playground" series, which Robby D. directs and are hysterical. Also, I love the "Island Fever" movies by Joone. I get all the Digital Playground porn I want for free now, so I'm a very lucky girl. I really like watching straight gonzo porn; it just feels kinkier. It's really personal and like you're right there in the room with the performers.

What do you like most about what you do?
What do you like least about what you do?

Well most, I love that I'm in control of my career, and I have choices. I don't have to worry about being treated like crap, or not being comfortable in my scenes. I like that I get to pick and choose who I work with. Lately I have been hosting more parties all over the country with Jesse Jane, which is so much fun! Traveling is my favorite part right now. A couple of years ago, I never thought I'd be in places like
Germany, Australia, and Alaska. Wow!

And least, I wish I could work more! I love to be busy. When I'm not performing I try to stay caught up on all my social network sites. I love talking with fans on my Myspace page, www.Myspace.com/
RileySteeleDPgirl, and my Twitter account, www.Twitter.com/RileySteele.


"Piranha 3-D", is a remake movie from the 70's. Basically, piranhas have been set free by an earthquake and are killing people. Since it's spring break, we're out there partying it up, going wild on the boat, and having too much fun to really care or notice that we are in danger. My character, Crystal, is a Wild, Wild Girl who helps Jerry O'Connell recruit girls to get topless on camera. It'll be funny and
bloody, but I also think it's going to come out so beautiful because of the 3D filming of some erotic underwater scenes with Kelly Brook and me. I can't wait to see it. It was a lot of hard work, but it'll
be worth it.

You've done adult films and now you're doing a regular film, do you feel that the line between the adult industry and mainstream film industry is beginning to fade?

I think we've crossed that line a long time ago. People are just too afraid to admit that it's happened and let it be. Just because you are a sexual person doesn't mean you don't have other qualities or talents to bring to mainstream roles. I want to be a sex symbol, not just a porn star. Digital Playground makes icons, and that's what I want.

Do you plan to forever be a contract girl?

For as long as I can be. I don't want to be old and still doing porn, but while I'm still performing, I can't think of a better company to work with than Digital Playground. I have a lot of ideas and a lot of
things that I think will be ground breaking. If I want something, I won't stop until I get it. There are still so many things I want to do with my career.

How has making adult films affected your personal, romantic relationships?

I had a boyfriend when I first started doing porn. I dated him before I got into porn as well, and I think it really hurt him to know what I was doing. I would travel a lot, and be away. It's really hard to date
and do porn, because not everyone understands how to deal with it. I'm happy not dating anyone right now becasue I need to be really focused on my career. It's the most important thing to me, and something I've wanted for a long time. Right now I can't have anything distracting me from succeeding.

Do you ever feel pressured to do things in adult movies that you aren't comfortable doing? How do you handle it?

Not at all. I have never been asked to do something I'm not comfortable doing. I can tell Robby D. what my fantasies are and he'll make it happen in the next movie. Its great!! I never had sex in the
shower, so in the last movie I filmed, we did it. It was awesome!!...well, Robby is always joking and trying to get me to do anal, but I want to save that for some time in the future. LOL!

Do you have any regrets about your experiences of breaking into the Adult Industry?

None at all. I'm very happy with how Digital Playground has been guiding my career, with mainstream movie, TV, and modeling opportunities. Patience was the key when I first started, but over the past several months, my career has exploded! This is something I plan on doing for as long as I can. I'm in good hands and am very lucky to have so much opportunity.

In the American movie industry, it seems that any graphic violence and torture can get by with an R rating, but steamy sensuality is almost always slapped with an NC-17. What do you make of that?

I think that it's so ridiculous. They are showing people being tortured, beaten, torn in half, raped, stalked, shot, but recorded nudity and sex is banned in a lot of states in the U.S still. I don't understand that at all. Sex is something that promotes all that is good in people. Violence does the opposite.

How do you think the couples' market will fare in the adult video industry over the next few years?

I think couples porn already has a huge market and will continue to grow. Digital Playground offers so many sexy, couples movies. Celeste is great at those. They are very intense and sensual. I get a lot of
emails every day from girls who say the first porn they ever watched was "Pirates II: Stagnetti's Revenge" and they loved it. I know of a lot of girls who will only watch the high end movies with their boyfriends. It makes the woman feel like she's not watching something trashy. High end is what Digital Playground is known for.

>>> How do I get an autographed photo of you for my Wife??? Sorry it's not a serious question!

I'll send you one!! Send me a Myspace message at Myspace.com/RileySteeleDPgirl and I'll hopefully get it. I do get a ton of new messages each day though. A better way for you to reach me might be
through my publicist at Digital Playground, Chris. His email address is chris@digitalplayground.com. He'll pass the message on to me.

You're so young! Do you feel like this has positively or negatively affected you in the industry?

I think I came in at the perfect age for me. I'm happy I didn't enter the industry immediately when I turned 18 like I wanted to do. I was still so young. I've got my head on straight now, and I know that this
is what I really want to be doing with my life. I think being younger definitely helps, because you have such a limited time in this industry, so you have to be very smart with the time available. As I get older, I can't wait to see how my career changes.

What has been your favorite film to make so far?

I had so much fun on the set of "Teachers", which comes out at the
end of September. We were shooting for about a week in a historic
building that production transformed into a school. It's famously
haunted, so when we weren't filming, we'd run around and go ghost
hunting. They told us that the 7th floor is haunted by an old woman,
and at night people say they can see her looking out one of the
windows. So one day a bunch of us went up there, and instantly when
you walk in the door it smells like old woman perfume. It was so
creepy. Then we walked around the boiler room, and there were cold
spots everywhere. It was so creepy, but it was also a ton of fun. I
got to have sex in a giant orgy on a big, yellow school bus too, which
has been a fantasy of mine for a long time.

Is there anything about the adult industry that really surprised you?

It's really cut throat. You have to watch your back because there are
some girls who will do anything to tear you down. When I first started
with Digital Playground, Jesse told me to be careful with who I hang
out with because some of the girls are out for themselves. They're
not trying to make friends. So, I mostly hang out with my contract
sisters. We have a great time touring the country doing signings at
adult stores, headlining adult conventions, and hosting parties. Come
and see us!

With this year halfway over, can we expect a few more films from you to come out?

Yep! I have a lot of releases coming out. I'm so excited! "Riley
Steele: Scream" just came out a week ago. I have "Jack's POV 14"
coming out the last week of July (it's a point-of-view movie where
it's like you're having sex with me!), "Jacks Teen America 23" is a
gonzo coming out in August", "Teachers comes out at the end of
September, and "Riley Steele: Honey" is a couples vignette movie by
Celeste coming out at the end of October. I'm also on the cover of
the October issue of Club magazine!

How is it working with Aja? He has made some tremendous movies. How did you get cast for the part?

Digital Playground sent me out. It was my first audition for a
mainstream movie. I thought I blew it after the first audition. I
really didn't think I'd get it, especially being a porn star. But then
I was called back for a second audition which I also wasn't sure
about. A few days later, we got the call that I got it. Working with
him was a great experience. He is such a nice guy, and he knows
exactly what he wants in each shot. It was such an honor working on
that project. I learned a lot about myself while I was there. We would
have 14 to 15 hour days sometimes out on the lake in the heat. It was
physically demanding, but I loved the challenge.