Look what I just pulled out of the oven, everybody! You can't imagine how good my house smells... because this lovely white, wheat, and rye bread rose is filled with homemade sundried tomato pesto.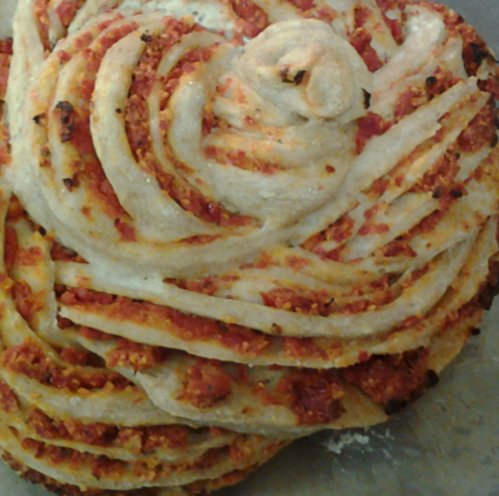 I feel like I don't even need a lead-in this month because of how pretty the outcome is, but I am excited to share this recipe anyway. I bake a lot, and I usually don't do baking meeting with Eden Cooks because there is a lot of hands-on knowledge to bread that can be hard to talk about.

But this recipe is so forgiving! I made it around December, and after the potluck I brought it to, two novice bakers asked the recipe and how I did it, and were able to make beautiful breads even their first time. Making a stiff bread is not too hard, and after it sits in your refrigerator over night... you have no idea how simple it is to create the rose design (pioneered in Russia). You'll have a great success your first time too---and this will look beautiful as a centerpiece, right next to real roses, or as the main gift for your lover on a special evening!


Eden Cooks is a cooking club for any interested members of the Eden community. We will meet on the forum to discuss everything from tips and pointers for less well-equipped kitchens, explanations of cooking terms, and important techniques. There will be a featured recipe each meeting, with pictures taken as I prepare it for you. I will cover some ingredient substitutions to make each recipe more friendly to people with dietary restrictions.


During the meeting, five $10 gift cards to EF will be awarded to the winners of a trivia contest from information that I will provide during the meeting, and to those who share wok tips and chopping tips of their own.


This beautiful Rose Bread is a wonderful way to show you care. I'm so happy with how easy this recipe is, and I'm even more happy to share this simple shape and other baking tips with you, so I can't wait to see you in this very thread on Monday the 18th at 8pm EST!