Welcome one and all to this month's EdenDIY meeting!

I must confess that this month I had other plans for the meeting but life has a way of making you take unexpected detours. As some of you may know I manage five rental properties for my mom. We had a renter move out unexpectedly and mom decided it was time to remodel the apartment.

One of the projects I am doing is to refinish the kitchen cabinets. I thought this would be a nice way to show how easy it is to change the looks of your kitchen with minimal work. For the most part I am just repainting them and adding new handles and knobs. This kitchen has about six coats of paint on the cabinets and just looks crappy.

Well, see for yourself.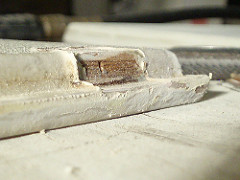 So, sure hope to see y'all here for some "refinishing 101". As always everyone is welcome to attend and learn. Also, we will have some trivia, GC to give out and my plans for next month's meeting-just in time for the holidays.