Part two of my discussion will be on how to change a egg/bullet from one controller to another.
Well you found a bullet that has some great thumpy vibes to it, only problem is the controller that drives it only has two settings. You have another controller that is infinitely adjustable but the egg sucks bad. Or maybe you could not fix the battery problem with your controller.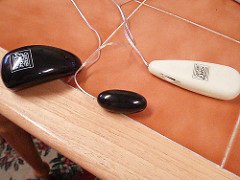 Guess what, your buddy Tim has an answer for you. Why not splice the egg to the controller you like?
Let's look at how that can be done. I am going to take the egg from the black controller and spice it to the white one.
We will need the following supplies-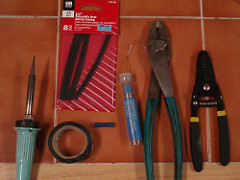 A soldiering gun, flux core soldier, black electrical tape, some type of wire cutters, shrink tubing, butt connecters', wire strippers, and a crimper (for the butt connecters').
For those that do not have a soldiering gun, I will show how to use Butt connecters to splice the wires.