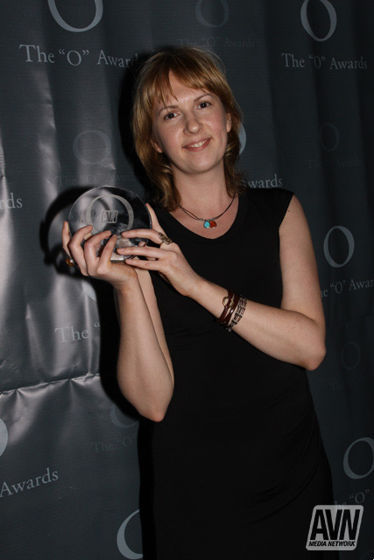 We had a great time attending the "O" Awards at the beginning of July, and we received a wonderful surprise too! This year,
EdenFantasys won the Outstanding Online Retailer award at the "O" Awards
! We're so very proud of everything that we've achieved in the past year, and a lot of those achievements are because of the great contributors,
like you
, who help make this sex-positive community a thriving and fun place to be. You've helped us create the clubs where we've seen lasting friendships, and you continue to wow us with your creative and informative video reviews that allow everyone to experience products in a new way. We want to thank you, our contributor, for helping us make EdenFantasys a place that can win such a distinguished award. You can see Rufina, our Vice President, above, accepting our award, which is a picture from the
AVN Gallery
.
The "O" Awards honor outstanding achievements in the adult industry, and it was wonderful to see all of the great companies that have truly stood out this past year:
Outstanding Boutique: Come As You Are (Toronto, Canada)
Outstanding Retail Chain: Romantix
Outstanding Online Retailer: EdenFantasys.com
Outstanding Distributor East: Nalpac
Outstanding Distributor West: Entrenue
Lifetime Achievement: Larry Garland
Outstanding Marketing Campaign: RealTouch In-Store Promotions, AEBN
Outstanding Packaging: Shag Factory Line, Lovehoney LLC
Outstanding Supplement or Enhancer: Embrace Tightening Pleasure Gel, Intimate Organics
Outstanding Lube, Lotion, or Potion: Sliquid Sea, Sliquid
Outstanding Debut Product: Pjur Man Energy Glide, Pjur
Outstanding Apparel or Accessory Brand: Hustler Lingerie
Outstanding Innovation: Reversible Battery Pack, Papaya Toys
Outstanding Non-Powered Product: Ami, Je Joue
Outstanding Powered Product: Icicles Vibrating Mini Twister, Pipedream
Outstanding Product Design for Men: Aneros Vice-T, Aneros
Outstanding Product Design for Women: Form 3, Jimmyjane
Thank you so much for helping us win the award, and let's celebrate our win and the win of the other companies too! Here's to another amazing year!