Hidey Ho, Edenites!
Did you guys get a look at our awesome new product, the
Mete-Oh-Rite
?
I know, it sounded too good to be true, especially for the science junkies out there who have been panting and drooling all weekend.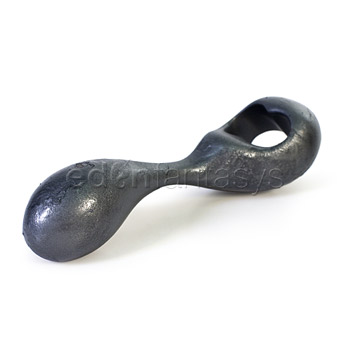 My inner nerd has been very conflicted all week, because while I SOOOO wanted this to be true, I had to make believe!
So, Happy April Fools Day, all! We had a blast putting together this joke for you guys, and we were all breaking out popcorn and snacks on Friday to watch over the comments. It was a super fun activity for everyone at EdenFantasys to take part in, and we want to thank you guys for sharing in the fun with us!
Here are a few details about how this prank went down.
1st. Come up with a toy.
We wavered between a diamond encrusted vibe, virtual reality sex goggles (thank you, Sylvester Stallone and your impact on my childhood in Demolition Man), and an orgasm inducing thought machine. After reading an update on the
Kepler project
, it dawned on us: A Meteorite Dildo!
2nd. Make Said Toy
We decided that a wooden toy would be the best to craft with, and the Fling Ergonomic Two Finger from Nob Essence fit the bill. After a lavish coating of metallic dimpled paint, and a little gravel for texture, voila, the Mete-Oh-Rite!
3rd. Sell it. Sell it. Sell it.
The glorious team of designers in Moldova whipped up our super sexy Mete-Oh-Rite page and banners,
Ilya and I created a demo video
(scroll to the bottom), and the incomparable
Kindred stepped up to do our descriptive review
!
We can't thank him enough
, and our gorgeous little toy is headed his way as a trophy. You might notice there are photos in his review that compare the toy to the Goodfella. Those hands belong to Ilya. J
Stormy created a
fabulous post on the forums
that directed you guys to all of our info,
including a letter
from Rayne, our Sexis Editor, that hinted about the little start up company that approached us with this crazy new toy. We all did the research on the best way to make this toy sound *just* believable enough. Resident astronomy guru and customer service superman, Brandon, offered lots of advice about how this process might just be possible, ie meteorite plating instead of solid meteorite, which just made it more exciting.
4th. Release, Sit Back, and Enjoy!
On Friday, March 30th, the Mete-Oh-Rite product was born, and released to our amazing community here at EdenFantasys! We added our own little comments to the buzz, to try and keep the mystery alive, and even contacted Nob Essence to let them in on the joke. It was hard for everyone to keep from checking in on the progress of our little prank over the weekend, but come Monday, we were ready for the reveal. If you haven't checked out the Mete-Oh-Rite presents page or the sneak peek video recently, head that way! The presents page now includes a snazzy little popup reveal, and the sneak peek video includes a new ending, featuring the Atlanta team!
I hope you guys have enjoyed our little prank! It was a welcome bit of fun here, and I hope this inspires you guys to join us again next year with more April Fools Fake Product Reviews! Take a gander at the awesome submissions we received this year.
Thanks again for being the kind of community that pushes the team here at EdenFantasys to embrace fun, humor, and creativity in this wonderful world of sex toys. We love you!
- Jaimes