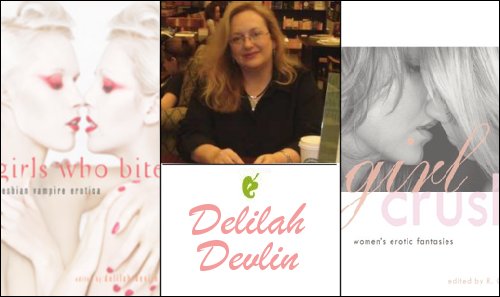 Let's welcome Author and Editor, Delilah Devlin, to Community Interview!
Delilah has written over 20 erotic books and has been featured in multiple erotic anthologies! Her stories have been featured in
GirlCrush
,
Fairy Tale Lust
,
Carnal Machines
, and more! Recently, she branched out into editing with the release of her
Girls Who Bite
book with Cleis Press in November! She'll be continuing to bring us fantastic erotic stories as she's currently working on two new books and editing another erotic anthology.
Do you have any
questions
to ask Delilah Devlin? This is your chance to ask them while she's here on Community Interview!
What is her editing process? How does she come up with the ideas for all of her books? What was her favorite book to write? What is her writing process? How does she keep coming up with such innovative erotic story ideas for so many books?
Feel free to ask as many questions as you have in mind, and if you want to blog about the interview, we'd love to hear your thoughts about it!
Of course, to celebrate having Delilah Devlin on interview, we're going to be giving away three different prizes! We'll give away prizes for Delilah's top three favorite questions!
The prizes are...
1st
: A great "reading buddy": the
Luv Your Body
massager!
2nd
: For a fun Holiday getaway:
Lovers Rendezvous Kit
!
3rd
: A copy of Delilah's book,
Girls Who Bite
!
The
interview with Delilah Devlin
is open today,
November 15th through November 21st at midnight
for your questions! Let's give Delilah a very warm welcome for joining us here on EdenFantasys Community Interview!