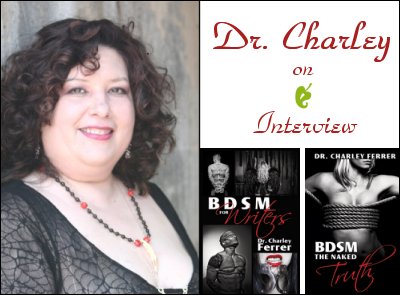 Let's welcome Clinical Sexologist and Author, Dr. Charley Ferrer, to Community Interview!
After Dr. Charley treated a couple who was having sexual problems because of their hidden desires to engage in kinky play, the philosophy for her private practice was born: to help her patients learn and explore the possibilities of human sexuality. Years later, Dr. Charley is now the only Latina doctors of human sexuality in the United States! Her practice is constantly evolving as she writes for magazines, websites, blogs, and newspapers, and this upcoming year, Dr. Charley is planning on taking a trip to Peru to study the ancient Moche tribe and their sexual behavior.
Dr. Charley has certainly been busy lately as she just recently released two new books: BDSM for Writers and BDSM: The Naked Truth. This is in addition to the four other books that she has previously published. Along with these new books, Dr. Charley is the
only
Latina Doctor of Human Sexuality in the United States, and she's the Sex Expert for Fox News Latino and Telemundo. In 2006, Dr. Charley was recognized as a "Groundbreaking" Latina Leader for her work in the field of Sexology!
Do you have any
questions
to ask Dr. Charley? This is your chance to ask them!
Where did she get the inspiration for these innovative books? What is it like having her own television show? Does she have any advice for aspiring authors? Did she encounter anything out-of-the-ordinary while she was doing research for her books?
Feel free to ask as many questions as you have in mind, and if you want to blog about the interview, we'd love to hear your thoughts about it!
We're also going to be giving away some good prizes during the interview.
Dr. Charley will be giving away three prizes for her top favorite three questions. These prizes will be announced on this thread after the interview is completed.
The prizes are...
1st
:
Fantasy Kit
to try out all of your newfound ways to pleasure!
2nd
:
Intima Silk Blindfold
to experiment with new bondage sensations
3rd
:
Lover's Prisoner Kit
for those who want everything they need for their first kinky try!
The
interview
with Dr. Charley is open today,
September 13th through September 20th (at midnight)
for all of your questions!
Let's giving Dr. Charley a very warm welcome for joining us here on Community Interview!