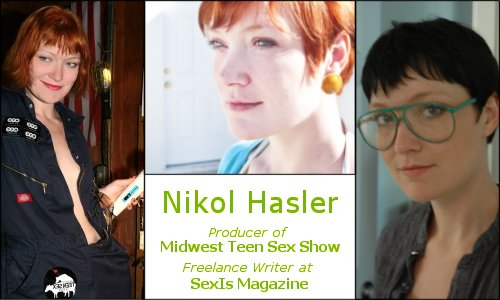 Let's welcome Producer, Freelance Journalist and Columnist, Nikol Hasler, to the Community Interview!
Growing up with Nikol's background could not have been easy. She was constantly moving and became pregnant and homeless at the age of 18. Dropping out of college on a full paid scholarship after becoming pregnant, Nikol then turned to three separate jobs at a time to support her family. Now the mother of three boys, Nikol takes her early life experiences and uses them to connect with teenagers in an innovative way that other sex educators don't or just can't. How has her past influenced the type of topics that Nikol teaches about?
How does she come up with inspiration for her books? What about inspiration for the different shows Nikol hosts? How did it feel to film a pilot episode with Comedy Central for her Midwest Teen Sex Show? What interesting experiences has she had since she's moved to Los Angeles?
I bet you've seen Nikol Hasler around on
SexIs Magazine
as well. Nikol writes and films a monthly video column called
"So What Did We Learn?"
which is named after one of Nikol's partially animated shows. The show was born after Nikol was interviewed by The Bloggess (for SexIs), and Nikol created her show to discuss the things she's figured out about sex, her body, and dating as a twice-divorced woman in her 30's who is actually dating for the first time in her adult life.
Do you have
questions
for Nikol? Now is your chance to ask them!
You can ask as many questions as you'd like; feel free to post about and link to the interview on your blog as well. We'd love to hear your thoughts.
Of course, we are definitely providing prizes!
Nikol will be giving away great prizes for her three favorite questions. We'll be announcing the winners on this thread on April 15th.
The prizes are...
1st
An amazing
Hitachi Magic Wand
!
2nd
A small prize bundle:
Pulsa Bath Massager
, the
Wartenburg Wheel
, and the
System JO H2O Lubricant
.
3rd
A $25 giftcard to EdenFantasys
The
interview
is open for questions from today (April 5) until April 11 at midnight.
Please join us in giving a very warm welcome to Nikol Hasler!