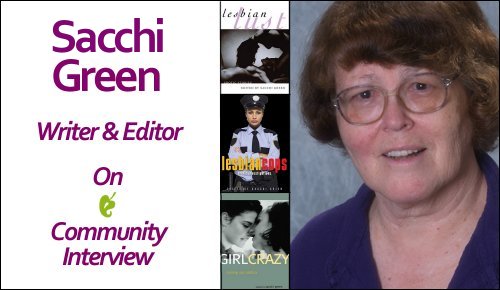 Let's welcome Writer and Editor, Sacchi Green, to Community Interview!
Sacchi joined the writing career later than most, and she started off by writing science fiction stories. She even wrote a couple young adult stories, and she wrote enough science fiction stories to qualify for the Science Fiction and Fantasy Writers of America as an active member. When she just happened to submit an erotic piece, she was seduced by erotic stories, and she has been writing erotica ever since. Since her first erotic story, she has even branched off into editing anthologies as well!
What types of science fiction does she write? Does she have any tips for aspiring writers? Has writing changed since she moved into doing erotica? What anthologies is she planning to edit in the future? What types of flowers and vegetables does she grow?
Have you seen some of Sacchi Green's books as well? Sacchi Green edited
Lesbian Lust
, and she also edited
Lesbian Cops
which was just recently released from Cleis Press. Her erotic writing has also appeared in many erotic anthologies including
On Our Backs: Volume Two
and
Naughty Spanking Stories from A to Z
which are both sold here on EdenFantasys.
Do you have any interesting
questions
for Sacchi Green? We're giving you a chance to ask them!
You are free to ask as many questions as you'd like! If you want to blog about the interview, we'd love to hear your thoughts about it too!
Like always, we are providing some amazing prizes during this interview as well!
Sacchi will be giving away three prizes for her favorite three questions! We'll be announcing the winners on this thread after the interview is complete!
The prizes are...
1st
The unique
Kiwi
!
2nd
One of Sacchi's edited book,
Lesbian Lust
, and a $25 giftcard!
3rd
A $25 giftcard!
The
interview
is open today, April 26th through May 3rd (at midnight) for questions!
Please give us a very warm welcome on having Sacchi Green on the Community Interview!