He is from Aerosmith and seems to be followed by all groups of people, even a little boy on a harmonica.
Trying this, maybe I will get it right: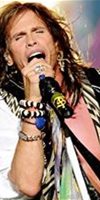 I did it somewhat right! He is in his 60's, does not look or act it and even does trapeze acts over the audiences.
Look up his music, those that are unfamiliar with him. Oh, he just recently moved from rock to country. (bleh)