I probably won't be doing a real review on this for a while, but I thought some might like to see in-use pictures of the Extra Small.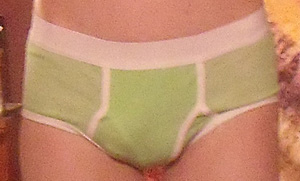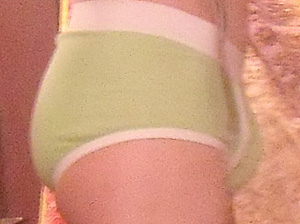 I'm 5'7" and 102lbs.
If I ever do a review, I'll take better pictures. >.>
It would stick out more if the shaft was directly over the testicles, but that was just too much for me.
I'm glad I went for the Extra Small, not the Small. I might get the Small to do a comparison some time, but I doubt I'd ever use it. Extra Small might be "small" for an erection, but it's pretty average for a flaccid penis. I took a look at a search of underwear pictures and the majority's (and I have to assume having a good-looking bulge was part of the job description) weren't long enough to hang past the testicles - the longest pretty much just broke even with a few outstanding ones just barely poking over. Now, hey, if you wanna be outstanding, that's your choice ! And you have to take proportions into account to find what will work for you.
Really wish Vixen would make a smaller one, because with the size of the XS for me, it's obvious Mr. Right would be too big.
You can tell it's there under tight jeans and the like, though modest under trousers cut so that you're not supposed to see a bulge, anyway.