Summary
With Easter approaching, everyone wants to get a rabbit of their own to celebrate the holiday. Now you can not only get your own rabbit - but customize it to fit your needs.
Introducing the "Create Your Own Vibrating Shower Rabbit Kit" - which is SO MUCH FUN!!!!!
In this kit you get a disposable scalpel, sample rabbit for the pattern, a vibrator bullet to insert in the bottom and soap that you carve into the rabbit that fits your deepest desires. You aren't limited to the design that is given in the package - you can carve your rabbit into any design you want. In fact, we veered away from our "Hop" Rabbit to create something much more ... "interesting".
So how does this wonderful little kit work? Easy - first of all pick your soap/design combination - the following are available:
Olay - Hop Rabbit (from the movie)
Lava - Peter Rabbit (from the Beatrice Potter Books)
Dove - Easter Rabbit (for $2 more you can add his basket)
Ivory - Velveteen Rabbit
Once you've picked your combination, wait for the mailman to bring your package. Then - open it up - match your rabbit pattern to the soap bar and carve your very own rabbit for bath and shower usage (rabbit will last longer in the shower than if used in the bathtub).
Make sure to leave enough room in the bottom of your rabbit to insert the enclosed bullet (which has two sets of batteries with it).
Once your rabbit is made...just turn on the shower...take your rabbit in with you....press the button on the bullet (once you've inserted the batteries) and have at it!
Clean-up is easy after play - but you must make sure that you rinse off thoroughly. Also, do not set your rabbit to soak or try to boil him or put him in the dishwasher. A quick wipe down with the washcloth will be sufficient until next time.
Total amount of time you can get out of your rabbit depends upon the battery life of the bullet plus how you "design" your rabbit yourself. Chunkier rabbits will last longer than thin ones.
Another nice feature of this toy is you can give it the texture you want - ridged, bumpy, smooth, veined - that is up to you. You can make the ears any length you want...add a tail at the back. You are limited only by your imagination.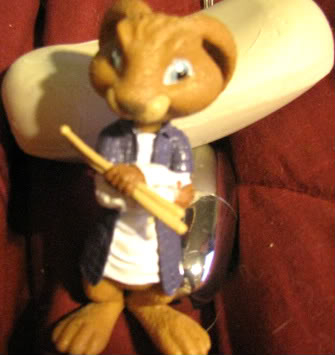 Kit (we removed the scalpel)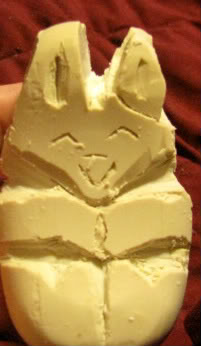 Our creative design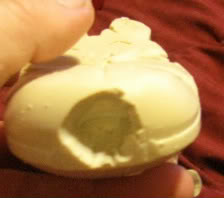 Hole we left for the bullet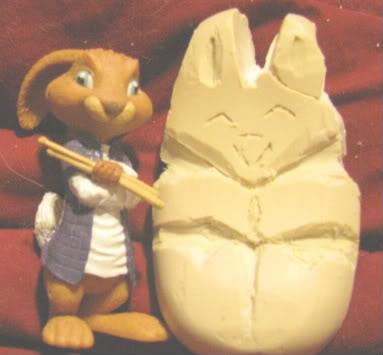 The design rabbit with our homemade rabbit
The paperwork included stated that in 2013 they plan to come out with kits to make your own vibrating octopus and eel for the shower also. Isn't that a great idea?
We give this rabbit 5 stars for creativity and originality.
Vroom: 2
Bees: 2
Pros
Cheap
Personalize it as you wish
Pattern can be reused again and again
Cons
Cutting yourself with the scalpel can hurt - be careful
Making the bullet hole the right size isn't easy
Final Thoughts
We can't recommend this rabbit highly enough. You can use the pattern again and again on any bar of soap that you want and you can even buy extra batteries here on Eden for the bullet. With a lot of experimentation, you can find the rabbit shape that will work well for you. We suggest that next year they add a strand of beads for more help in designing a better rabbit vibrator and perhaps a rotating shaft to go up the middle.
Still yet, for the low price of $7.99 - this made showertime fun and sexy!