Ugh, laundry! Am I right? It's the totally necessary but completely mind-numbingly boring chore that must be done in every single home. I don't know about you, but I am absolutely sick of it. Never fear, the Housewife's Helper is here! (see footnote 1) Time to make laundry fun with the world's first washing machine powered toy!
The Housewife's Helper comes in two parts: the O-ring compatible dildo and the black straps. I know you want to know about the size of the dildo, so let me get that out of the way. It's approximately 4.75 inches long, with a very small circumference of 2.25 inches, and comes in your choice of color between "Obnoxious Lilac" and "So Horribly Pink It Makes You Cry." It's made of silicone and can be washed with soap and water or boiled to clean. The smooth, silky (see footnote 2) straps can be machine washed. All of it is packaged together in a delicates mesh laundry bag.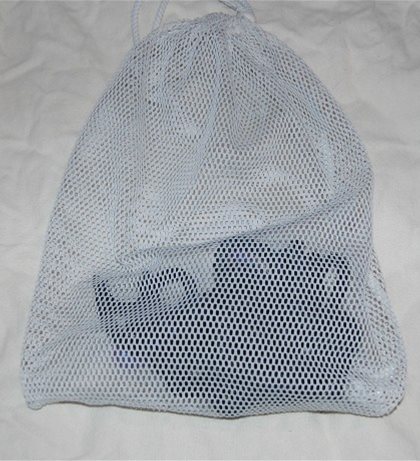 Use of the Housewife's Helper is unlike any other toy. To operate, slide the included dildo into the center hole of the straps. Then, simply attach the straps to the top of your washing machine (see footnote 3). Select a vibration-filled mode on your washing machine: heavy duty, bedding, normal, delicates, SPIN CYCLE!!!!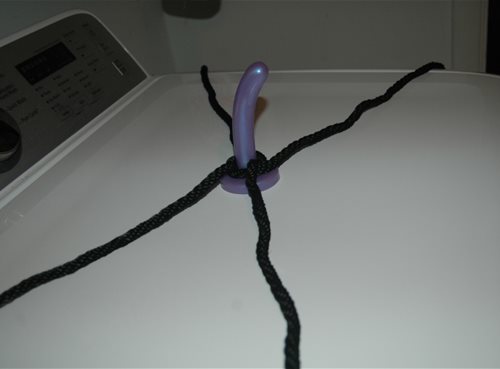 Finally, hop on! The small size and flared base make the Housewife's Helper perfect for clitoral, vaginal, and even anal stimulation. As long as your washer is running, the Housewife's Helper is vibrating! No batteries, cords, or chargers to worry about.
As for my feelings on it, I have to say the tiny dildo is perfect for clitoral orgasms. My washer has deep, rumbly vibrations instead of buzzy ones, and therefore so does my Housewife's Helper. No disappointment there! And now the laundry in my house is always done, which makes my family happy. It makes me happy, too, of course...but for completely different reasons.
The Housewife's Helper truly makes laundry fun. Talk about multi-tasking!
1. The makers of the Housewife's Helper would like everyone to know that they never meant to suggest that a housewife's life is unfulfilling with their product, nor do they assume that all housewives have a substandard sex life. They politely ask that you stop e-mailing them.
2. The makers of the Housewife's Helper would like to remind the consumers that they did not say the straps are silk. They said they are
silky
, and are actually made of polyester. They would also like to say that the phone calls to the company's factory over this issue are getting to be a bit much.
3. The makers of the Housewife's Helper does not guarantee the safety of your washing machine when using this product. If you bought a crap washer, it's your own fault.