Take The Plunge!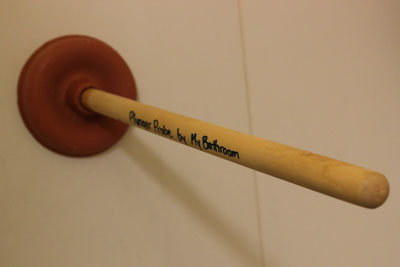 PROS
- Discreet
- Multi-functional
- Suction Cup Base
CONS
- Hard To Clean
- Splinters
USE
Plunger Probe from My Bathroom is a discreet probe that is designed mainly for anal use, but can be used in a variety of ways.
Designed to allow your bathroom visit to be an all-in-one experience, you can now do your business, unclog the toilet, and experience stimulating anal play without leaving the comforts of your throne room! This probe is 100% anal safe thanks to the large base at the bottom of the toy. The base not only takes the fear out of this toy accidentally getting lost inside the depths of your bowels, but it also has great suction to it! Attach it to the floor, the wall, or inside your shower for an amazing hands-free experience!
Ladies interested in vaginal penetration, never fear! Plunger Probe works fine for that as well! Though it doesn't have a G-spot curve to it, it still provides that great thrusting feeling you love so much. Do use caution to not thrust too hard or bounce too fiercely onto it. The rigid material could bruise your cervix and cause discomfort. Always make sure to use a condom over the end of this one. Even if it hasn't been used anally (at least to your knowledge) it's still better to play it safe than sorry!
Couples can also enjoy the great qualities of this toy, though it might be a little difficult to bring it up to your partner at first. Not everyone is interested in this type of kink. Suggest at your own discretion.
Unlike a lot of toys, this one should remain in the bathroom at all times. Bringing it into the bedroom might result in soiled bed sheets and the immediate need to launder the bedding and consider shopping for a new mattress. Thanks to the great discreet look, it blends right in with your other bathroom necessities and would work fine for those that have roommates. Your secret is safe unless you discover that there are as many Plunger Probes in your bathroom as there are people.
Material/Texture
Plunger Prob is available in two material types; Plastic and Wood, but both have the same rubber base to it. The plastic has a little bend do it, but the wood is totally solid. I chose wood since I prefer something nice and solid in my booty.
The wooden Plunger Probe is a nice tan color, so worrying about this probe discoloring from use is very unlikely and if it were to happen, would probably go unnoticed. The material is rigid and has no give to it, but there are some issues with it also. The material might be a bit much for a beginner especially since the texture is called 'Splinter'. The splinters are frequently an issue with those who use this without a condom, but for those who appreciate some sort of pain in their play, the texture could be stimulating. Unfortunately, My Bathroom won't be held liable for any injury caused from the insertable area splintering in your ass.
Design/Shape/Size
This discreet probe is sized just right. It fits comfortably next to your toilet and will often be overlooked. It has a large, circular base on the bottom, and the wooden probe sticking up from it. Because of the shape, it's not at all a travel friendly option. While no one would think you were carrying around your BFF (butt friend forever), they might wonder why your plunger was buckled into the front seat of your car, or sticking out a considerable amount from your purse (unless you're Mary Poppins, then I guess you're all set!).
The only marking on the probe that really give it away, are the product name and company name written on the side. Since this toy isn't very smooth, the company came up with the brilliant idea of allowing you to choose whether or not you want to make the toy more discreet by giving it a good sanding (sandpaper not included). Once the words have been sanded off, no one will ever know the true nature of this product.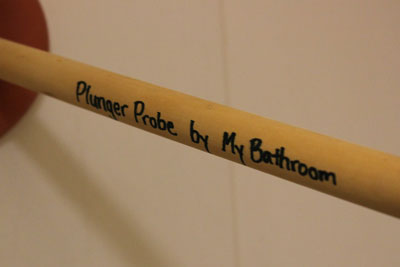 While anal beginners might find a diameter of 3/4" to be a little large at first, it's truly the length of the probe that gets everyone talking! The full length is 20" with an insertable length of 16 1/2". There are other sizes available from this company, but they only go up in size from there. The base itself is 5 1/4" in diameter, giving the user no concern about accidental slippage. The rounded tip helps with insertion and the straight design makes it comfortable and easy to use.
Performance
Plunger Probe works great in so many different ways! It remains attached to the wall for long periods of time which is great for your extended sessions. No only that, but for those super fiber filled days, the suction cup end of this toy is amazing at unclogging stubborn poo. A toy that also helps with tedious daily tasks? Can you ask for a better product?
Care/Maintenance
Caring for your Plunger Probe is a little but of a hassle. It's best to clean this beast in the tub/shower since it doesn't fit inside the sink very well. Using antibacterial soap and warm water while wearing a pair of surgical gloves is a great idea. It's best to wipe this one down with a washcloth since the material is sometimes difficult to clean well. Always make sure to give it a good scrub before use as well. You never know who may have discovered your amazing toy while relieving themselves!
The wood material is compatible with all types of lubricant, but be aware, since there isn't a good coat over the wood, it absorbs the lubricant quickly. It's easy to go through entire bottles of lube each time you use it.
Storing this product couldn't get any easier! Once the probe is cleaned, simply stick it next to your toilet; allowing it to blend in with its surrounding.
Experience
I'm a busy person, I don't like to travel from one room of my house to the next in order to receive pleasure. After several horrible attempts at disguising my favorite adult toys as bathroom accessories, I chose to grab Plunger Probe and see if I would have more success with that.
Everyone that came over commented on my great new plunger and were impressed with how well it was able to remove their embarrassing leftovers from the toilet. I smiled and did the best I could not to laugh. I wonder what they all would have thought had they known my true reason for purchasing my new bathroom buddy.