Hi i just ordered this toy: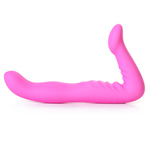 From another website.
And the dildo was inside a white paperish package which seemed sealed.
But when i opened it it had a very strong odor.
And the odor seemed to like sting in my eye. (weird)
I also see little white bits on the toy.
And what looks like black bits. Its pretty faint the black.
but the white is definitely there. its almost sort of an powder i think.
I did not wanna touch the toy further.
My Question now..
Should i boil it?
See if it helps?
Or is it really dangerous and should i contact the store.
I also would like to do a review on this toy.
But im not sure if i should if its discontinued on this site.
Thank you for reading.
Preview