Does mona 2 can make my girlfriend squirt?
What? "Does Mona 2 can make my girlfriend squirt?" Are you asking
if
this Mona 2 toy can make your girlfriend "squirt?"
First of all, if that is in fact what you are asking -- if the toy could make your girlfriend "squirt" -- then that question is basically impossible to answer because 1. every female is different, and 2. when you say squirt do you mean have a g-spot orgasm or do you mean she is trying to achieve the actual squirting of the fluid when it comes out?
A female will either have liquid shoot out from their orgasms or it will gush. You can't control
how
it comes out, although most people care more about making the ejaculate shoot out rather than care about the orgasm much.
Now, I figure you guys are probably more likely just trying to achieve an orgasm from g-spot stimulation and are looking for a toy that will help aid in that?
Also, it'd help to know if she's ever had a g-spot orgasm before? If not, I highly recommend using your fingers first as that is the easiest and quickest way for most women to achieve it. Your fingers can bend in ways no toy can, but that is not to say a toy won't work. Some women only orgasm from a toy. Anyways,
It also depends very much on what works for her as everyone is different. This is why it's best to have already been able to achieve it from fingers, so you know more about what type of toy will work for you in that area.
For instance, the first times I had g-spot orgasms (and most of mine) came from my partner's fingers. I've been able to get there with toys, but not nearly as well as with his finger. However, yesterday I had the most amazing toy and g-spot experience ever! I got that newer toy from here called Sweet Lola and whoa! That is the first toy to ever make me have that intense of a g-spot orgasm. I've had amazing g-spot orgasms from my other toys, but never so intense that it soaked the bed like it did while using Lola.
But the thing is, Lola won't do it for everyone. My needs are different. But if your girlfriend is anything like me, she might have great luck with a toy like Sweet Lola. The Pure Wand is actually famous for being able to give g-spot orgasms and sadly enough, it doesn't do it for me. It's uncomfortable, too curved and just doesn't quite work like that Sweet Lola toy, which has a subtle angle in the wand and the tip is bulbous.
My g-spot is shallow, near the entrance and very easy to stimulate with the slightest pressure. When I learned this about myself, I knew that a toy with a subtle angle, not a major curve, not a lot of girth and one with a bulbous or ball-shaped tip would do best for me. Then you have girls who need a pointy tipped toy. But in my opinion, most people will have pretty decent luck with Sweet Lola. Here, I'll post a photo of it: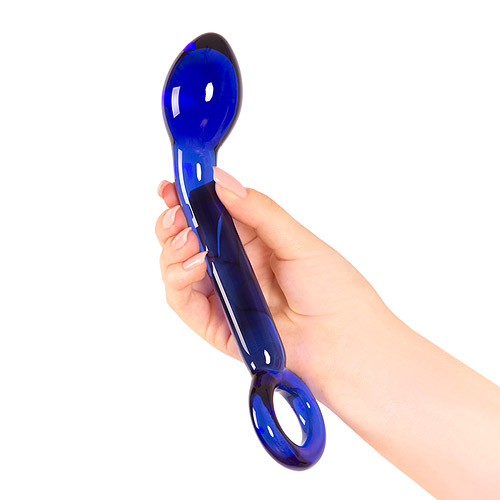 And here's the link to it:
link
I can't know for sure what will work for her. You said "Real reviews please." Have you not looked at the reviews available for Mona 2? There should be some really informative ones by now, but people don't write reviews on the forums. You have to read them by going to the product's page. People can tell you more info about their experience and what they personally recommend/think here, though.
Mona looks great to me for g-spot stimulation, but I can tell that for those who need something really intense, applying a lot of pressure to the spot, Mona2 may not be enough. Either way, I doubt it would ever be a "bad" toy. I think Mona will be a wonderful toy whether it gives you a g-spot orgasm or just other orgasms alone. It's a high-quality, luxury vibrator that's likely to please. The only thing I personally worry with about it is that it may be too wide for me to use comfortable. This is also something important to know -- how much "girth" your girlfriend likes/can handle. Has she ever used insertable toys before? If not, then I would definitely not buy a toy larger than 1" wide. Unless you know for sure she likes very thick toys. A penis is totally diff. from a toy. Many of us can handle a penis' width, but when it comes to a toy being the same width, it can be too much or uncomfortable. Not everyone is like that though.
Anyways, I hope this was at least somewhat helpful to you. Sorry I couldn't give better advice. Would a girl be pleased with Mona2? Most likely. It's one of those toys that I think most people will enjoy at least. Maybe not the one most known for g-spot stimulation like say the Pure Wand, but definitely a nice one. Do you think she'd like the Pure Wand? You could look into it since it is so famous for giving g-spot orgasms.
12/31/2012
Looks like it could, looks like a pretty awesome toy !,,
04/06/2013
Quote:
Originally posted by
Billy boy
Real reviews plz..
If your girlfriend can squirt than she can squirt. Yes, sometimes G-Spot stimulation can help that. But if her body doesn't do it then her body doesn't do it.
04/10/2013
it might...kendra said it all
04/10/2013
Total posts: 5 Unique posters: 5