Add This to Your Late Night Double Feature
This one goes out to all the Rocky Horror fans out there! Doesn't it make perfect sense to turn the cult classic Rocky Horror Picture Show into a porn parody? The original is already so hedonistic, so over the top and silly that it slides easily into the porno form (pun intended). Next time you're planning a late night double feature, put this porno on the bill! You'll still want for the music of the original, but this spin-off will provide an explicit and silly cap off for the evening.
Published:
Pros:
Has the spirit of the original, hedonistic, wacky, anal play, toy play
Cons:
No guy-on-guy action
I heard about the Rocki Whore Picture Show when jessica drake and Brad Armstrong came to visit the Eden Fantasys Porn Club a couple months ago. Everyone got excited that Wicked did a porn parody of the Rocky Horror Picture Show, and I decided that I needed to check it out for myself.
Production Value
As with most Wicked features, the Rocki Whore Picture Show has high production values and a giant orgy at the end. The costumes, make up and sets all contribute to creating the world of Rocki Whore. And if you've watched the original Rocky Horror, you know that it's all about over the top glitz and glam. Campy fun is what this film is about! There's an interview with Brad Armstrong on the bonus disc in which he says the original Rocky Horror is basically a parody of itself, so there was a lot of room for creativity when turning it into a porn parody.
Faithfulness to the Original
I don't want to say too much about the plot, so as not to ruin the surprises. Suffice it to say that this parody uses a ton of elements from the original with a lot of added perversion. The plot's a little different, and they pause a bunch of times for some frisky fun. Were you expecting something else?
Yes, there is music in this film. They've parodied songs like "Time Warp" and "(I'm Just A) Sweet Transvestite" to the point where they won't get in trouble with any lawyers. So words are changed, melodies altered, etc. The performances are pretty great though. They fit. They're so cheesy, and that's just perfect for a porn parody of Rocky Horror. I think this was a really smart choice for a film to turn into a porno.
Mac Turner as Frank n' Beans
So Mac Turner has a face that is so similar to the original Frank-N-Furter. This was a brilliant stroke of casting if I may say so. He's also the lead in many of the songs. He sings and struts at the same time which is no small feat! Indeed, Mac Turner is a multi-talented man. His first scene is a take off on that classic racy scene from the original in which Frank-N-Furter visits Janet in her bed. With jessica drake as Janet, they have a good old romp with exchanged oral, PIV and a cum shot. He is also one of the revelers during the orgy at the end.
jessica drake as Janet
Janet is the innocent (virginal?) newly wed who arrives with her husband Brad at the Frank n' Furter mansion. Though I will always be devoted to Susan Sarandon's Janet Weiss, jessica drake's Janet is a little more ready to get down and dirty! She's part of the opening sex sequence in which her and Brad fuck in the car (you know when they're lost out in the storm?). The first time I watched that scene, I totally loved it. It's so weird to see blow jobs and close-up PIV amongst all that 50's style clothing in the front seat of an old car. It's a really great juxtaposition of innocence and sexual revelry. The sex itself isn't the hottest, but the weirdness of the scene totally makes up for that.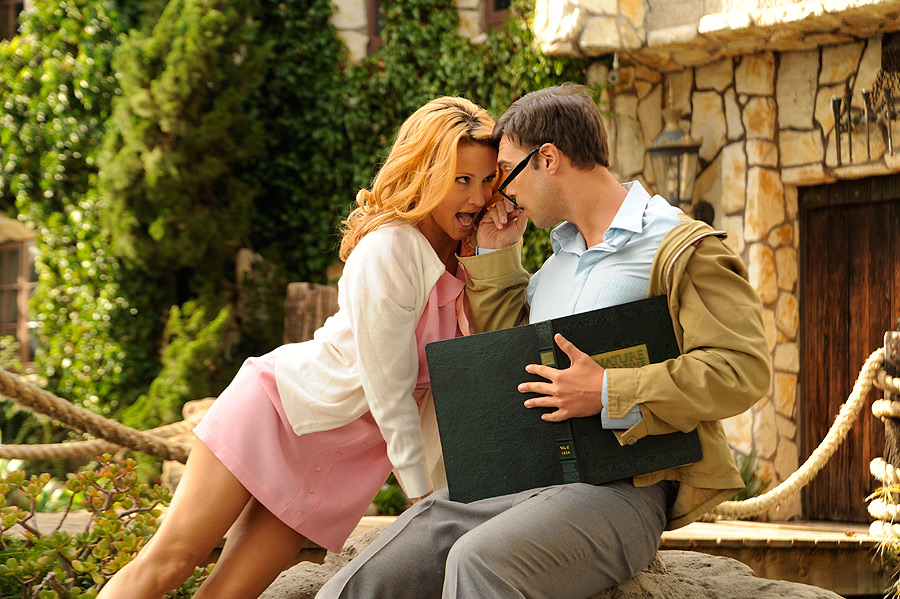 Rocco Reed as Brad
Rocco Reed plays the hesitant new husband, Brad. In addition to his scene with Janet, Brad gets some FFM action with Transylvanian groupies Mona and Lisa (Kaylanie Lei and Annie Cruz). My biggest complaint is that Brad and Frank n' Beans don't get it on like they do in the original! Such is the downfall of having a fabulous queer film parodied by a porn company that markets to straight guys.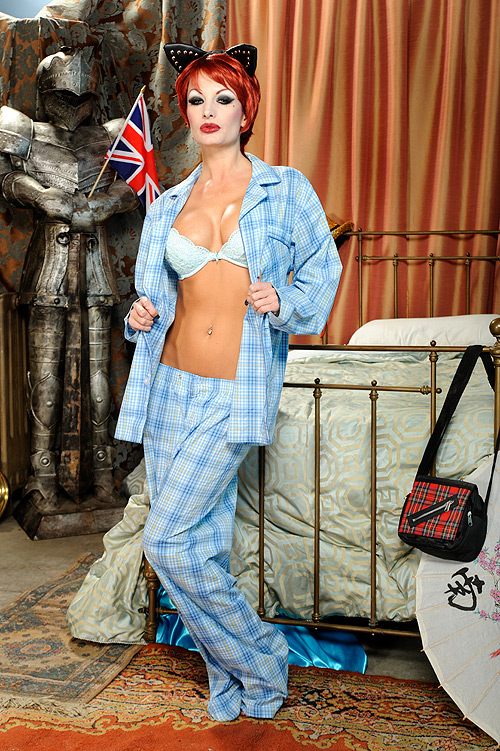 Alektra Blue as Euphoria
Euphoria is the name given to the character Columbia from the original. I love Columbia. And I love Alektra Blue as Eurphoria in her scene with Nikki Hunter (the maid!). Their scene had me on the edge of my vibrator even when watching it the second time. They play voluptuously with each others breasts, then they pull out a box full of glass toys. Watching Alektra fuck Nikki in the ass with a giant butt plug is highly enjoyable. I think other sex toy enthusiasts will agree. I didn't enjoy Alektra's other scenes quite as much, but that's because I don't enjoy watching Alektra Blue all that much.
Experience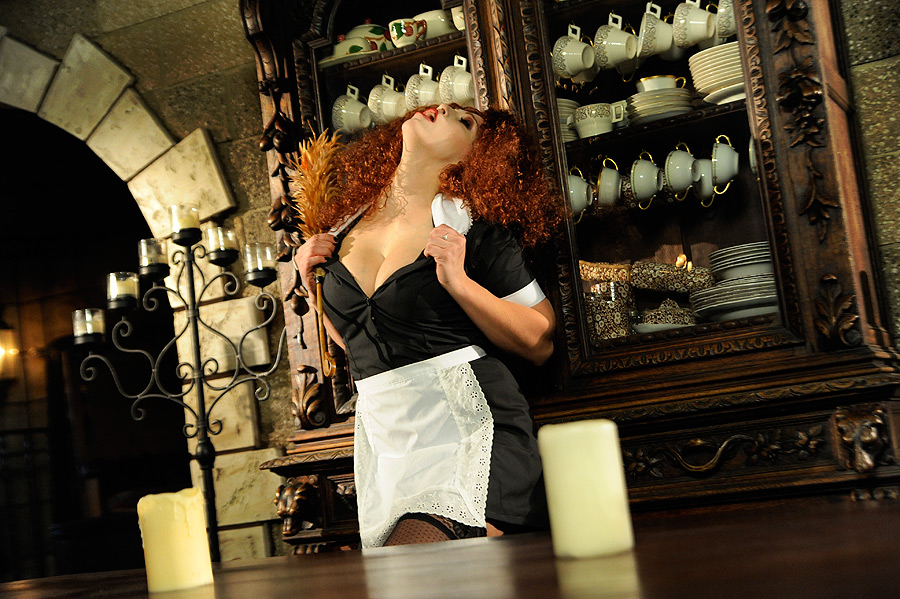 Nikki Hunter as Vagina
I love Nikki Hunter in this movie! She looks like she's having so much fun wearing this huge ridiculous red wig and a perverted maid's outfit. Her scene with Alektra is brilliant, as is her scene with Randy Spears. Her non-sex acting is wonderful as well. After watching this film, I am a new convert and a new fan.
Randy Spears as Stiff Staff
Stiffy is the buttler in Rocki Whore. Played by Randy Spears, he's involved in a lot of the acting scenes. He has a great voice and a great look for the role. Another brilliant stroke of casting! I really liked seeing him get a blow job in the final orgy scene. He's so weird looking and excellent.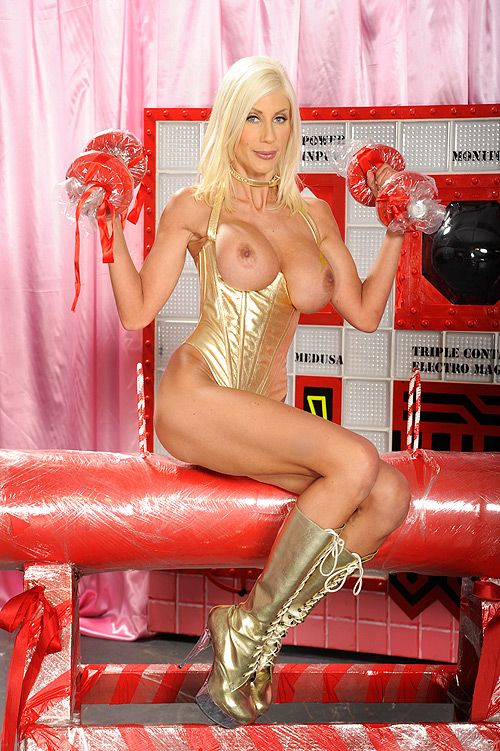 Puma Swede as Rocki
One of the major ways that the parody differs from the original is that Rocki is a woman. This is slightly disappointing, perhaps due to the awesome beefcake that was the original Rocky. Puma is quite stunning though. She has the longest leanest legs I have seen in my entire life. She was cast as the most stereotypical-looking porn star there is. I definitely enjoyed her acting scenes. Her sex scene with Janet was alright. It wasn't what I'd call authentic lesbian porn, but seeing jessica drake wield a long red strap-on was fun.
And Everyone Else
There are many extras and smaller parts in this film. Also included are Brad Armstrong (as Eddie), Kaylani Lei (as Mona), Kirsten Price (as Lisa), Lucky Starr, Nikki Daniels, Dick Chibbles, Jack Vegas, Marcus London, Ron Jeremy and Tommy Gunn. This film does end with an orgy, after all!
DVD Features & Extras
The Rocki Whore Picture Show has hilarious menus featuring the main characters talking and visiting directly with the audience. It's a great way to establish the hilarious world of Rocki Whore.
There's also a bonus feature disc with the following:
Auditions
Makeup Magic
Table Read
Bloopers
Wardrobe
Rocki Girls
Fan Convention
Interviews
3 Bonus Sex Scenes from various Wicked films
Trailers
Promo Reel
Digital Copy
Follow-up commentary
8 months after original review
This DVD is a total keeper because of the camp value. This is the kind of porno I could show to my friends who I wouldn't necessarily show any porn to. Everyone can bond over the Rocky Horror Picture Show, right?
This product was provided free of charge to the reviewer. This review is in compliance with the FTC guidelines.

Thank you for viewing
The Rocki Whore Picture Show: A Hardcore Parody
– dvd review page!