Come to the Lab and see what's on the Slab
If you're into movies with an odd ball twist, this is the one for you. If you try to make sense out of it, you won't get anywhere.
Published:
Pros:
It's not a bad movie really, just not up to my tastes
Cons:
No guy-on-guy scenes in it.
The Rocki Whore Picture Show is a hardcore parody produced by Wicked Pictures, and is NOT to be mistaken for The Rocky Horror Picture show made by Twentieth Century Fox. These are two completely different movies.
The box case on the original movie has Tim Curry (yes he's a smashing actor, dancer and singer) in a sexy little corset number sitting in a lovely pair of luscious red lips. It was made in 1975 and has a cast of huge talents of today's actors and or singers. Cast includes Tim Curry, Barry Bostwick, Meatloaf, Susan Surandon as well as many other great talents. It's a mixture of Sci-fi, musical, Rock music, and comical horror, and for a B-rated movie it's my favorite. It has helpless and stranded "main characters", a creepy castle, a strange Doctor who has a lustful appetite for cranial pleasures, and out-of-this-world acting from the cast members. It also has a nipple shot or two due to costume malfunctions with the corset coming down, but the cast didn't even skip a beat; it was left in the movie and made it even that much better. Rocky, being the object of the Doctors attention, is played by a man. In the porn Rocki is played by a woman.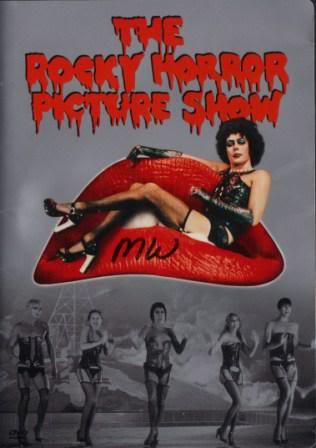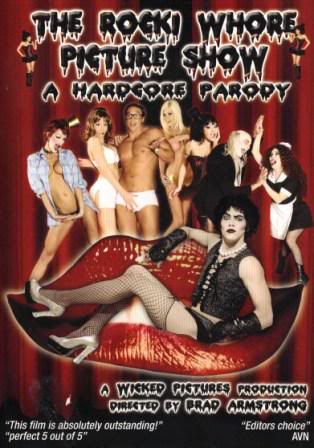 Cast members for The Rocki Whore Picture Show are:
Puma Swede, Rocco Reed, Dick Chibbles, Jack Vegas, Kristen Price, Tommy Gunn, Marcus London, Nicki Hunter, Brad Armstrong, Jessica Drake, Kaylani Lei, Randy Spears, and Ron Jeremy. This Rocki is played by a woman, so the only thing the two Rockies have in common are the fact that they're both blond.
The cast members really don't look even remotely close to each other. As you can see the covers are completely different, and the part of Rocki is played by a female (as I stated before). Don't take the title the wrong way, there's nothing remotely scary in it, it's just porn where the actors are in drag and make-up. The only characters that even "remotely" resemble the original are "Riff Raff" (the butler), known as Stiff-Staff in the parody, the maid known as Magenta in the original and Little Nell the hot looking red head.
There is a massive amount of sex scenes, orgies, girl-on-girl, and cum shots galore. This movie needs to be kept in the bedroom with a TV and DVD player so the kiddies don't get ahold of it. The parody isn't bad but it could have been better. It's over 2 hours long, and made in 2011 so it's basically new. I wonder how long it took them to watch a 30-year-old movie and decide to make a porn out of it.
It comes in a 2-disc set and has the usual features. On the first disc there's the movie, and on the second disc it has the usual special features. There's only one song in this movie close to the beginning, and no dancing. The lighting was rather decent, not too dark and not too light, with them trying to keep pace with the 1975 version.
Experience
Some of the scenes I didn't care for, but other than that I had to get out the toys on a few scenes.
Follow-up commentary
3 months after original review
While this is making fun of the original RHPS it's unique in its own way. This is the first of it's kind where as a porn would go. They went all out to make sure the characters, costumes, and make-up were up to the originals' standards. Bravo!! For that I as well as other true RHPS fans greatly appreciate the effort.

This content is the opinion of the submitting contributor and is not endorsed by EdenFantasys.com

Thank you for viewing
The Rocki Whore Picture Show: A Hardcore Parody
review page!