Don't Judge a Porn by Its Cover
Jesse's Juice is a modern porno which oversteps its reach by over-worked visual and audio effects, a high price/low run-time ratio, and an absurd focus on weaponry which may appeal to some, but will turn-off most. While the stars in this film have the skills, bodies, and experience to produce a fantastic porno filled with hot sex, there are too many cons to redeem this film and make it worth the hefty price tag.
Published:
Pros:
All-star cast, some moments worthy of them
Cons:
Guns, Distracting camera effects, Audio is repetitive action-music, Lame extra features, Price
Jesse's Juice
is a hardcore action flick from Digital Playground starring Jesse Jane. Although you might not notice it from the title, front cover, or brief synopsis for this porno: this film is about guns. Each scene features one of the many weapons from their available arsenal, so stars can point handguns, bend down for grenades, or tease themselves about machine guns. If you are into guns, Jesse Jane, or highly cinematic sex scenes blasting out action music, you may be into this film, if not, you will have a hard time overcoming this film's many shortcomings to make it worth the price.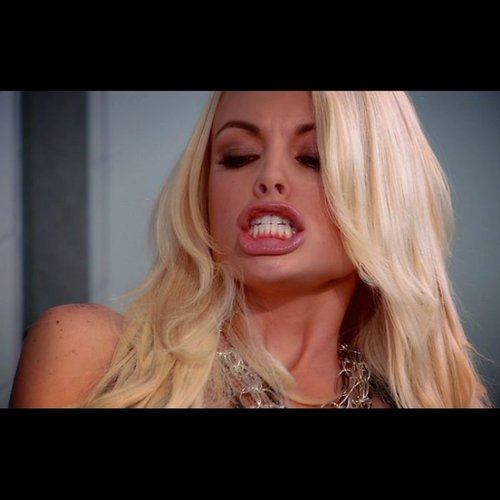 There are eight scenes in this 90 minute film, with Jesse Jane starring in five of them (
Jesse's Bio
). Jesse is in great shape, sporting a six pack, pouting lips, and long, blonde constantly sex-tousled hair. On the downside she has implant scars and some possible stretch marks; otherwise she is in great shape for the very crisp and clear visual quality of this DVD. The rest of the cast includes Naomi, Ben English, Jean Val Jean, Katsuni, Scott Nails, Lacie Heart, Marco Banderas, Lux Kassidy, and Cayton Caley. Not all actors are as camera friendly as Jesse, especially some of the men (more than a few face contortions set me laughing). Expect to see in this DVD some guy-on-girl, girl-on-girl, and solo action featuring vibrators, anal sex, dominance, and GUNS (for a scene breakdown see "Experience").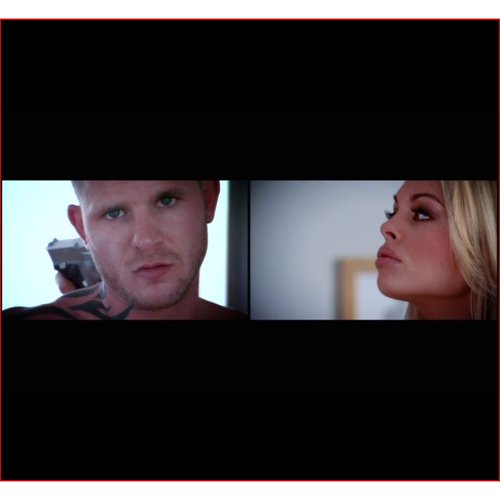 Scenes start with rapid shots, loud music, and camera effects. These can be a little dizzying and often create a distraction from, rather than add to the quality of the sex scenes. There are tons of face close ups, swipes in and out, duel images on the screen, and high-tempo action music. There are almost no steady shots, and no shots held for more than a few seconds, so in the rare instance that you like what you see on screen, don't blink or you'll miss it.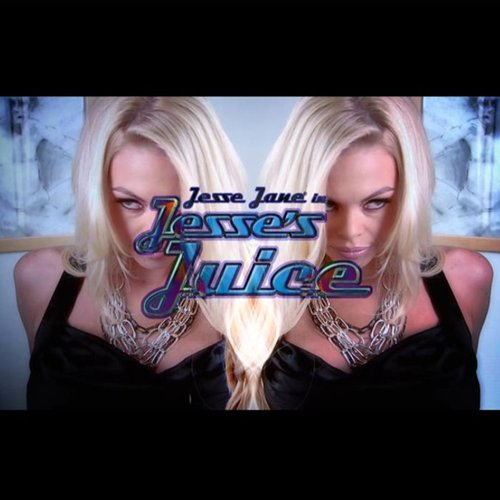 The product description says the feature is "rich with innuendo," which I believe is code for holding guns up to genitals and poking them in mouths. The dominance/submission is highly suggestive in this film and may be too much for most viewers.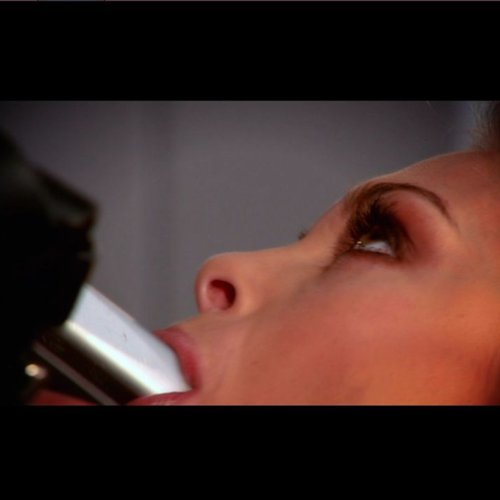 There are extras such as behind the scenes, trailers for other films, and a slideshow. The behind the scenes footage is particularly poor for such an expensive porno. There are useless backstage interviews featuring poor acoustics. Ben English and Jesse Jane interview. Katsumi admits she likes the power of holding a rifle and then talks about her implants.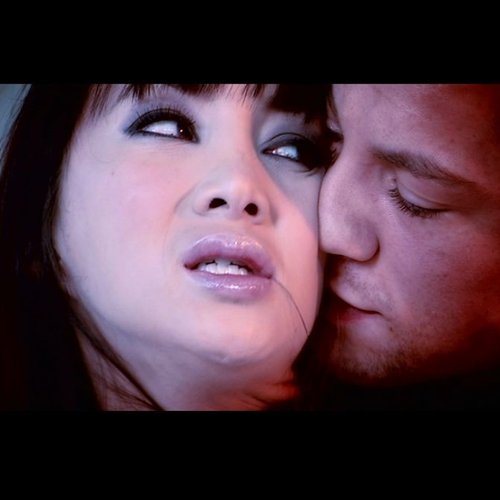 In the end, this Sam and Joone film directed by Celeste turns out to be too ambitious, with too many distractions from just watching hot people having sex in the comfort of one's living room. If you don't like guns, can't handle fast music dubbed over all the sound, and fear getting motion sickness from the many zoom-ins and outs, then save yourself the steep price of $32 and find yourself another film.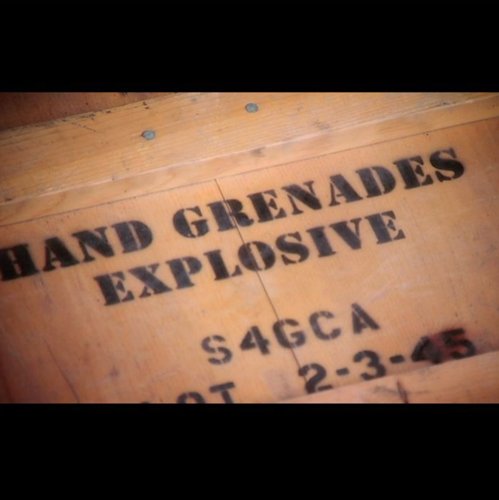 Experience
Scene 1: Jesse Jane and Scott Nails. Jesse teases with a silver vibrator on top of Scott after holding him up with a silver pistol. Jesse rides his face then gives a hand job/blowjob which proceeds to sex with one leg on the counter. There are many close ups on penetration, faces, and some wandering showing nothing in particular. Then Jesse rides him on the bathroom floor, finishing with a facial on her knees while holding a gun to Scott's balls (14 min) My Rating: 2/5.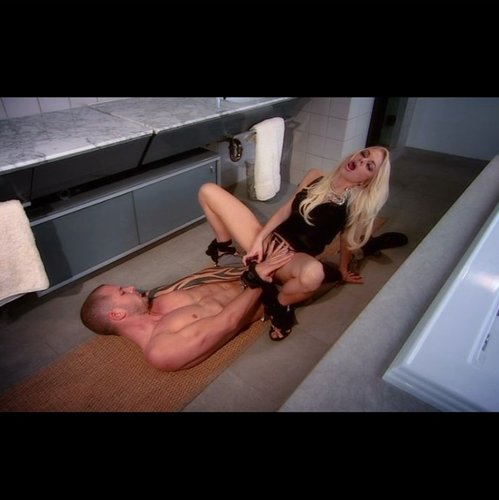 Scene 2: Naomi and Marco Banderas play with grenades and a pistol. There's kissing and gun play. Marco points a pistol at his erection. Then there is standing sex against the wall. Then anal against said wall, followed by Naomi riding anal on the floor, then an oral cumshot (11 min) My Rating: 2/5.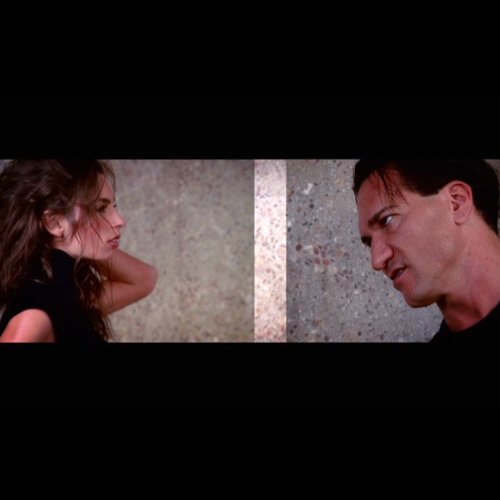 Scene 3: Jesse Jane and Lacie Heart. Opens with blindfolded teasing and proceeds to cunnilingus, spanking, and fingering. Jesse holds a machine gun up to Lacie Heart, then there is more oral (11 min) My Rating: 2/5.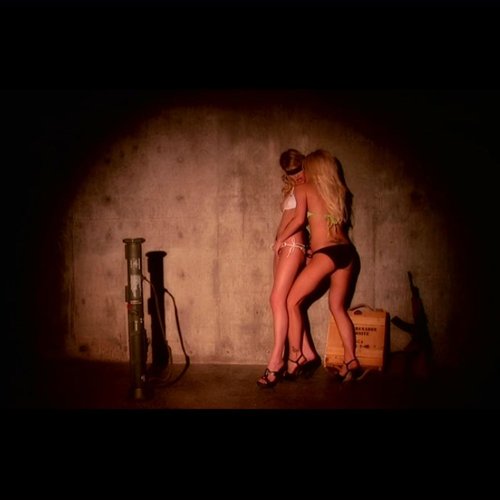 Scene 4: Cayton Caley and Jesse Jane. Teasing on the steps, Jesse points a gun at Caley's body parts. Caley masturbates with a glass toy and then Jesse uses it on her. For most of this scene some metal railing remains in the foreground (9 min) My Rating: 1/5.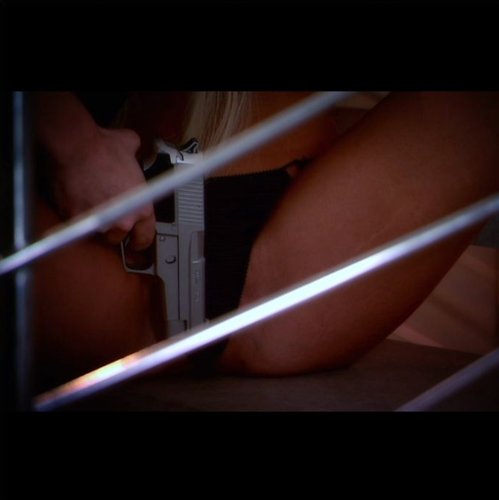 Scene 5: Jesse Jane plays with a machine gun on a white rug then masturbates and uses a vibrator (10 min) My Rating: 1/5.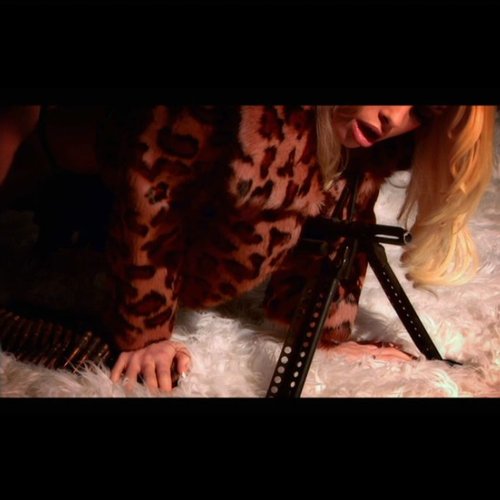 Scene 6: Lux Kassidy plays with an Uzi and stripteases. This is probably the softest scene in the film (9 min) My Rating: 1/5.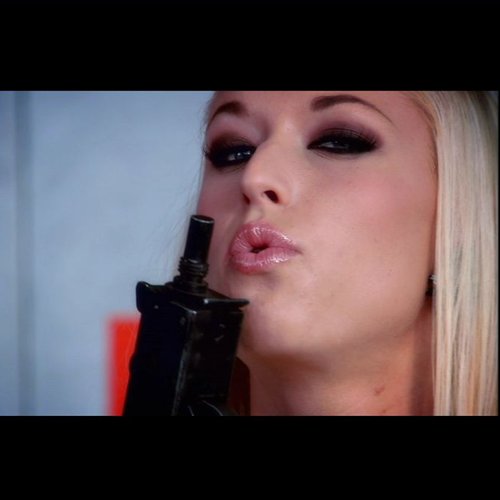 Scene 7: Ben English and Jesse Jane. Jesse holds a gun to Ben which means they're going to have sex. Jesse gives a great blowjob and then hops on. They have vaginal sex in a few positions and Ben sweats like crazy, even dripping on Jesse. Ends with a facial (16 min) My Rating: 2/5.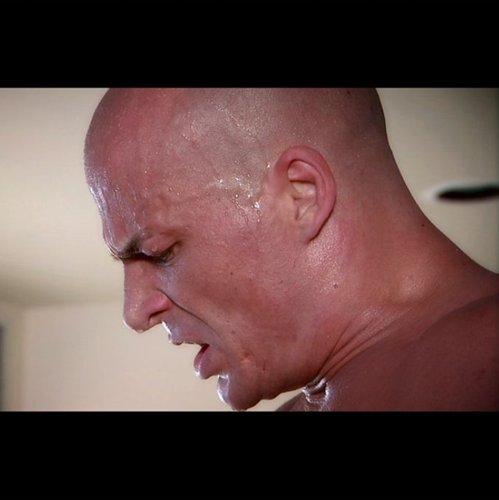 Scene 8: Jean Val Jean and Katsuni. Opens to gun play then kissing and Katsumi uses an anal plug with a raccoon tail on it. There is lots of submission and domination in this scene. It features a chain and collar and progresses into anal riding and cumshot (12 min) My Rating: 2/5.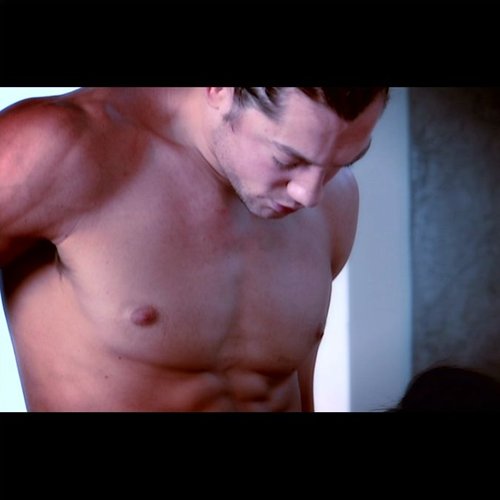 This product was provided free of charge to the reviewer. This review is in compliance with the FTC guidelines.

Thank you for viewing
Jesse Jane's Juice
review page!