If You're Looking for Trouble
This is a high quality and well produced look into queer sex and some big names in queer porn. All the cast gave excellent performances, and the nature of this film connects the audience into the scene more so than traditional porn. The scenes include a mixture of all sizes, ages, and sexes and the film as a whole has a bit to offer just about anyone.
Published:
Pros:
Diverse cast, DVD extras, Director commentary, Not pricey, Variety of scenarios, High quality image
Cons:
None
Here's yet another Courtney Trouble film, but this time, she includes Tina Horn as a director. Trouble is known for using a variety of different sexes, body types, and ages in her porn films. This film is a little more polished and has a few more hardcore scenes in it than some of her others. It's nice to see such a great mix of individuals in a film that share one common love - queer sex.
Cast:
April Flores, Jolene Parton, Arabelle Raphael, Wolf Hudson, James Darling, Papi Coxxx, Sophia St. James, Maya Mayhem, Jiz Lee
Film Length:
1:36
The packaging is pretty simple. It's a standard DVD case and is wrapped in plastic when it arrives. The case isn't discreet at all, as it includes pictures of scenes from the DVD all over it and includes information about what the DVD entails. Down the side is the title, so it'll be clearly visible and will catch the eye when on your DVD shelf. I store mine away from my other DVDs.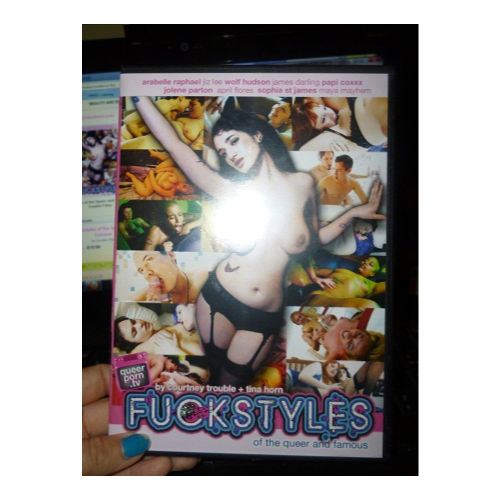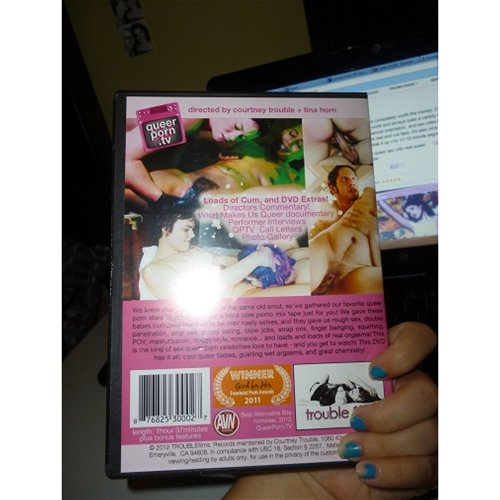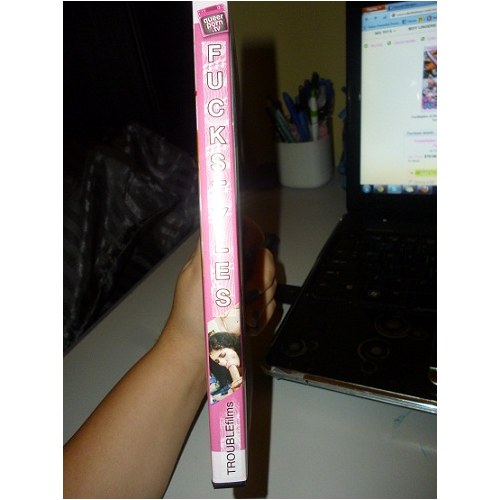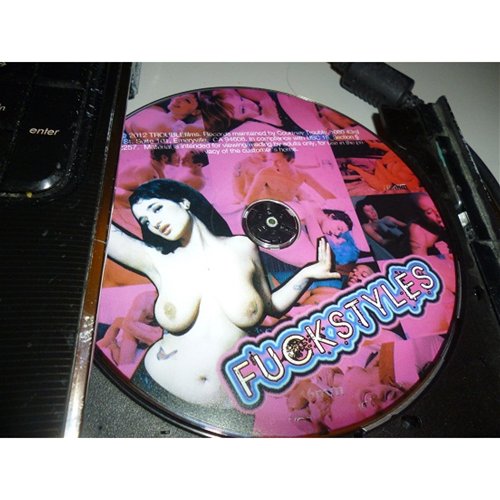 The menu for the DVD is simple, but includes a lot of extras, such as cast interviews, director commentary, a side documentary, photos, and a trailer for another film. All the extras are pretty awesome and really make the DVD's price worth it. It's a lot for your money and highly interesting to watch what the cast has to say.
Key points in the film:
Anal, Gay, Masturbation, All Sex, Oral, Squirting, Group Sex, Lesbian, Point of View
The difference between this film and mass produced porn is the amount of connection involved. Not that there isn't one between the cast of more high budget films, but this film includes stars that have been in multiple scenes together and have a friendship beyond sex. Most of the stars are familiar together and it shows. Jiz Lee performs fantastically, as always, as does April Flores. After some scenes, there's tender moments of hugging, cuddling, or kissing. This shows the connection I was talking about that you often miss out on in films that are shot to get to the point and be over with. Trouble almost always includes footage that shows the relationship between the two cast members or more in a scene. Even if some of the scenes aren't entirely your cup of tea, they're at least worth watching.
Jiz Lee's scene is with Papi Coxxx and the setting is particularly sexy and really intimate to watch. The green lighting in the background offers a little something different for the scene and sets it apart.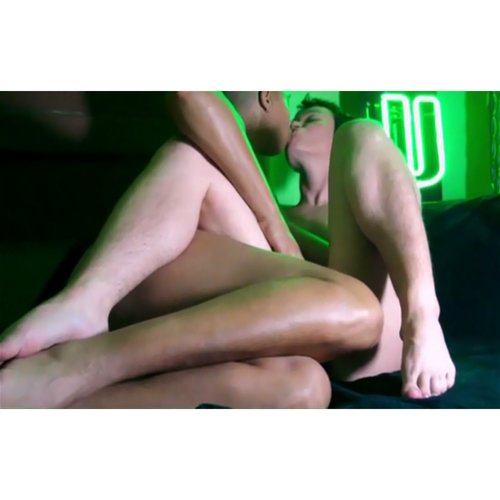 The angles are shot so closely in this film that you kind of feel like a voyeur in the same room watching. The best part of all is that the film is shot in such high quality that the images are crystal clear. You can see just about everything in the scenes, and the good lighting is note worthy. The last scene consists of April Flores's scene, which is shot in a Point of View manner, showing the viewer angles that simulate being there. I thought this was a nice scene to include to offer that much more variety to the film.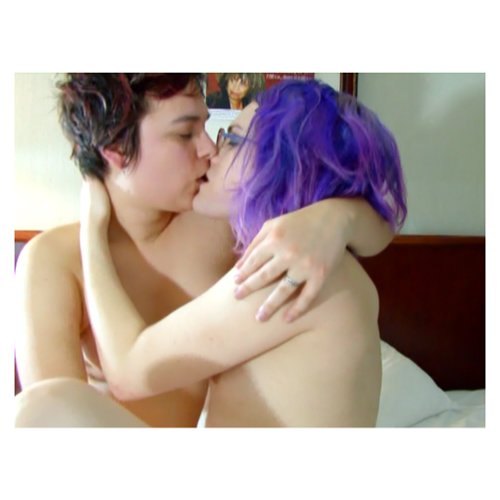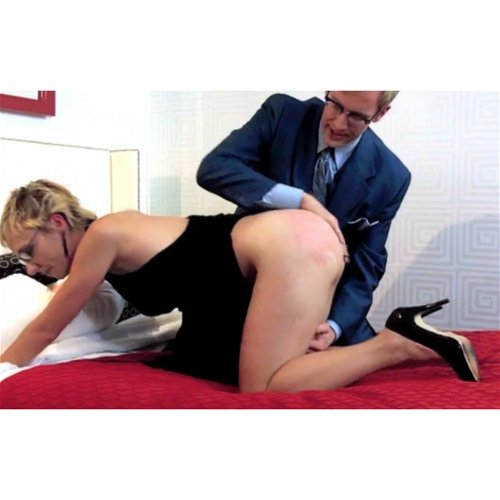 Experience
Watching this with my partner didn't quite do it for us, but we like it for what it is. Compared to Trouble's film Live Sex Show, the angles and lighting were much better, as well as the variety in this film. I enjoyed all the different couples and the range of people included in the scenes. I'm into really hardcore strap on play, and while this film did include a good bit, I like it a lot rougher than most queer porn offers. However, I think this film does have some great moments of genuine connection between the cast, and that makes up for any shortcomings that someone may find. If you don't like closeness between the cast in your porn, a Trouble film, and particularly this one, probably isn't going to do it for you at all.

The extras are also worth mentioning, because there are cast interviews and those are always so much fun. I love to hear the cast's view on making the film, their scenes, and their take on things. Sometimes you can find out that much more about their connection with their scene partner, or their likes/dislikes from the interviews. The documentary includes the cast as well, speaking on what they perceive queer to be and what makes them queer. As someone who also identifies as queer, I find a lot to appreciate about this film and the way it was put together.
Follow-up commentary
3 months after original review
You'll find far less over the top moaning and extreme poses in this porn. It's not a high budget film, but it makes up for that in many aspects. There's a realness to the scenes between queers that obviously enjoy each other's company in and outside the bedroom. I appreciate this film and though it doesn't give amazing camera angles of direct genital action, there's an intimacy to some of the scenes that makes it arousing all the same. I liked that Eden sells queer porn and especially this film, as I feel it's a good representation of all the things queer sex can be.
This product was provided at a discounted price in exchange for an unbiased review. This review is in compliance with the FTC guidelines.

Thank you for viewing
Fuckstyles of the Queer and Famous
review page!