On Fire!
This movie is completely worth the money. Courtney Trouble is a genius in the queer porn world and always uses a variety of body types, gender identities, role plays, sexual orientation, and sex roles in her films. I enjoy that all of the orgasms are real and not fake. It's also nice that you can watch the whole movie or break it up into 10-15 minute segments.
Published:
Pros:
Real queer sex with real queer people.
Cons:
I wish the film was longer!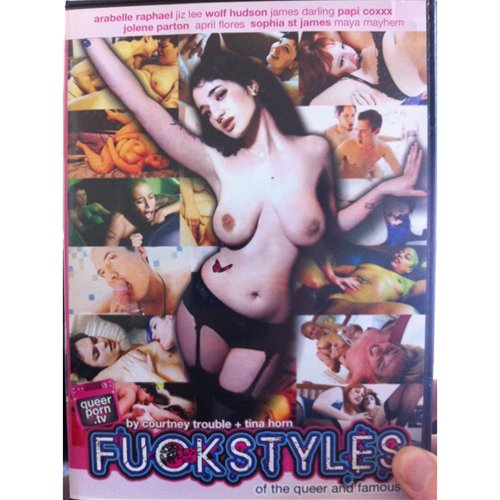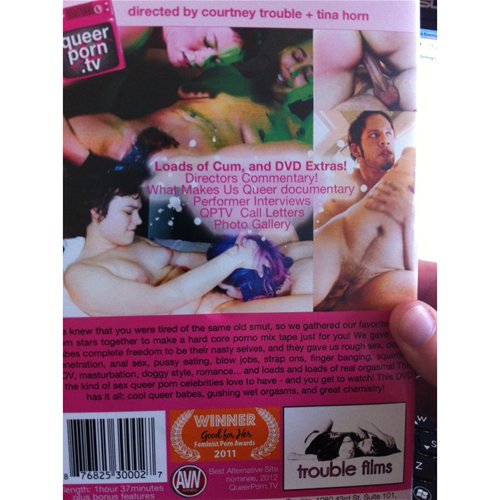 Fuckstyles of the Queer and Famous is an adult DVD directed by Courtney Trouble and Tina Horn. The video features several members of Queerporn TV and NoFauxxx, such as Jiz Lee, Sophia St James, and April Flores.
The DVD arrived packaged in plastic wrap. The front and back covers are not discreet as it features several images from the DVD, which means you might not want to keep it with your other "normal" DVD's depending on your living arrangement.
Once the DVD starts playing, a menu pops up with different selections. The selections are as follows: you can play the movie, play it with commentary, go to a photo gallery, scene selection, watch QueerPorn TV shout outs, watch Docu: What Makes Us Queer, or watch a live sex show trailer. I decided to start with the extras. I watched What Makes Us Queer, which features different people from the movie stating in their own words what makes them queer. It's amazing for those who identify as queer, like myself, to see so many different individuals define queer is so many different ways. Next I watched the live sex show trailer, which highlights another queer adult film by Courtney Trouble.
Now to the actual film itself, which I watched without commentary. The actual film is very hot and entertaining. This adult film won the Good for Her Feminist Porn Awards in 2011. Do not watch this film if you are wanting airbrushed scripted porn. This is good queer porn with a stellar representation of body types, sexual orientations, gender identities, and fetishes. It's the kind of porn that makes you feel good about yourself because it is real people having real sex that obviously makes them really happy.
Some of the scenes are more romantic and gentle, but others include rough sex, double penetration, anal sex, bondage, fisting, and lots of genuine orgasms.
The movie has a great soundtrack, and the cinematography is artistic and fun. This film will certainly get you turned on. The sex scenes are intimate for the participants as well as the viewer. It's rare to find an adult film that can be so real, hardcore, and intense while also being sweet, romantic, and intimate. It is this wonderful contradiction that makes for a titillating adult movie. The movie runs for 1 hour and 37 minutes. It is divided up into segments where you will watch one couple having sex for about 10-15 minutes and then it will move on to a different couple. Each scene is filmed in a different location and has a different dynamic.
You could watch this movie by yourself or with a friend. You can watch it with headphones or on silent, if you don't want to disturb your roommate.
What I really liked about this film is that it's not a gay porn or a lesbian porn. It's inclusive to pretty much anyone who identifies as LGBT. If one scenario is not your thing you just skip ahead to the next one.
Experience
This DVD works great as foreplay with a partner, material for masturbation, or something fun in the background during sex if that is your thing. I used this for both masturbation, and foreplay with a partner. As a curvy woman, I loved this film: nothing is fake or airbrushed! It made me feel sexier to watch how these people were having sex and not really caring if a camera angle was flattering or not. It was a nice change from many other adult DVDs. This is one I will certainly keep around.
Follow-up commentary
22 days after original review
The movie is still as amazing as the first time I watched it. I have loaned it out to a few friends who gave it mixed reviews. I enjoy it and will keep it in my collection.
This product was provided free of charge to the reviewer. This review is in compliance with the FTC guidelines.

Thank you for viewing
Fuckstyles of the Queer and Famous
review page!