Is there anything you wanna show your fans, Kim?
Unless you are a big fan of Kimmy K or Ray J, this isn't the best pick. A lot of the sex scenes are blurry, the music/dubbing gets annoying, and the sex is very vanilla. Still, you get to watch the sexy Kim Kardashian give a blow job, get eaten out, and fucked hard. The camera work isn't the best but the sex is hot - mostly because Kim & Ray J are fine and clearly into each other. It's not my favorite in terms of turning me on, but I'm still glad I got to see what all the fuss was about.
Published:
Pros:
Kim is sexy and almost naked. Some good oral & sex scenes.
Cons:
Badly dubbed, Blurry video, A bit short.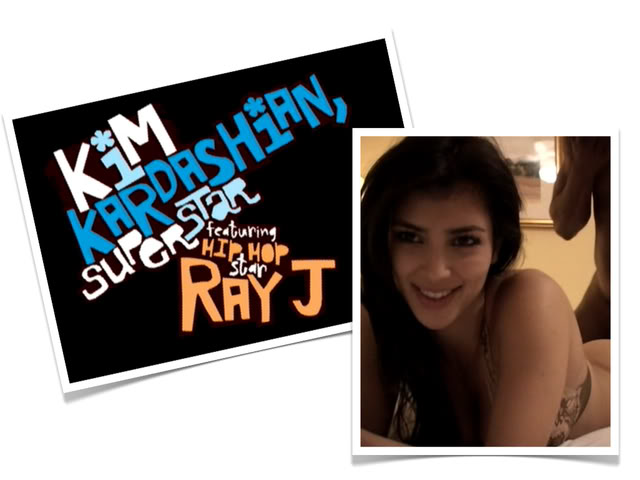 I finally got to see the movie that made her famous. Famous for something other that being the daughter of lawyer Robert Kardashian, that is. In case you didn't know, Daddy Kardashian was part of O.J Simpsons defense 'dream team' in his trial for the murder of his ex-wife, Nicole.
In any case, the 40 minute film begins as then-boyfriend Ray J films Kim putting on her makeup in front of a floor length mirror in their hotel room. She then comes up to the camera, grabs her boobs and says: "For everyone that thinks my boobs are fake, they're real." This makes me think that it wasn't entirely intended to be for their eyes only; I would assume that both her and Ray J already knew this, so she wouldn't need to say it on camera if it was just for private viewing. But who knows!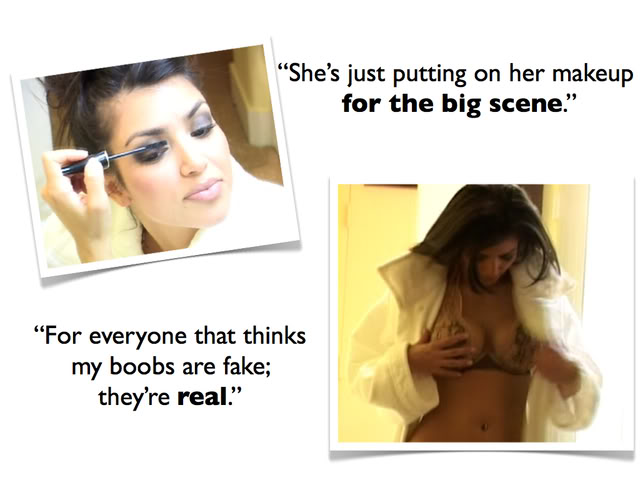 Ray J looks directly into the camera: "watch what's about to happen" and the sexy times get started. There's a scene of them making out on the hotel, and they actually look sweet together as they talk about how they're on "that drug called love."
It then goes directly into an oral scene, Kim giving him a blow job. She is partly covered by the bed covers and her bra, but she slips off her underwear. There are some direct shots of Ray J making some strange faces, which I can't say were a turn on. However, Kim looks pretty fucking hot as she gives him a blow job, sucking him off and twisting her hands around his dick. Then Kim shows off her body in the same pair of lace underwear and bra. Ray J touches her through her panties and she smiles at the camera as she does some more posing, twisting her butt around for everyone to see.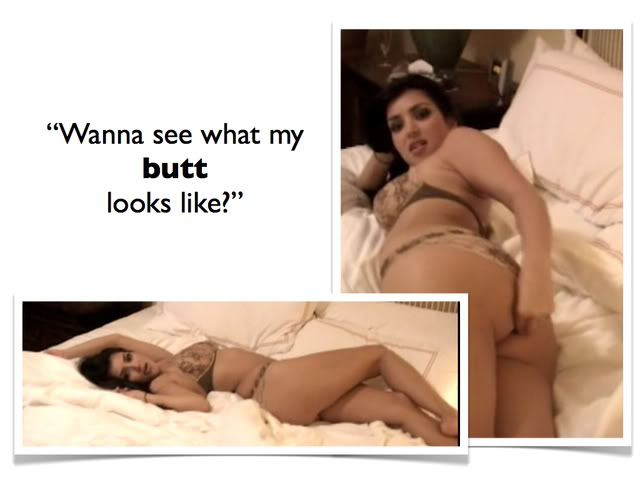 And then it's sexy time: Ray J is licking Kim's pussy. She moans a bit. "I'm cumming. Oh fuck." As a female who likes to imagine that's me in there (yeah, right) the scene is pretty hot. I really enjoy a good oral scene, and it seems like Ray J knows what he's doing.
"Is there anything you wanna tell your fans Kim? Not yet." We get to see some shots of them in a restaurant. She shows off her "bling," revealing that her watch is just for show - the time is hours off. He films her toes, and she then gives him the finger.
We're back in their hotel room, watching them lay back on the bed, make out, and then lick each others tongues. Why is he licking her tongue like that? It's A LOT of licking.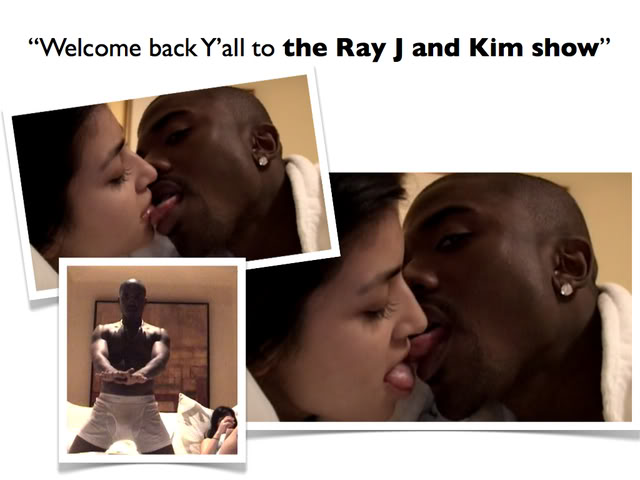 Ray J removes her panties, says he wants to see her pussy. Suddenly shy, she covers up with her hand, and it replays in slow motion. Kim is taking her nipples out of her bra and showing them off a bit. She never seems to take off her bra; the only topless shot we'll get in the whole film is when Ray J catches her topless in the background while filming himself.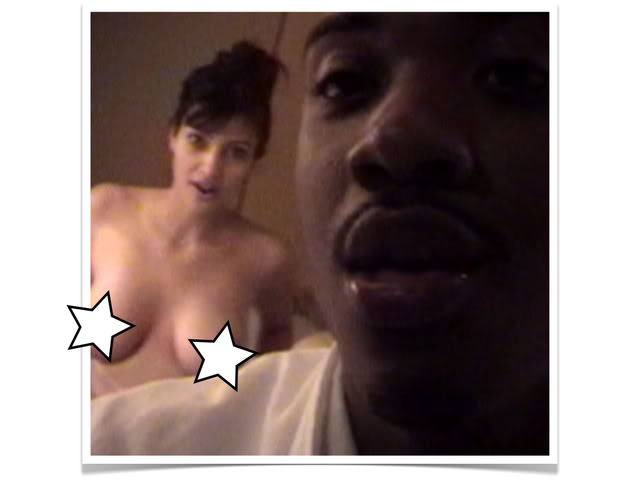 Okay, it's another clip of Ray J eating Kim's pussy. This time his dick is out. Wait does that mean we get to see some actual fucking? Okay, it's a kind of weird angle, but at least we're getting to the good stuff. He fucks her for about 10 seconds, then licks her pussy some more. I kind of enjoy that fast back and forth head motion thing he is doing, that looks it would feel kind of nice.
Some generic jazz-type music is playing on the tape. They're having sex, but the camera angles are strange and the video is moving around a lot. I'm wondering why they didn't just put the camera on a flat surface like everyone else does in home movies. Seriously, I can barely see anything, but Kim is saying "Oh shit, Oh shit, baby, Ooh, Shove it in there" so I imagine there is something good happening. However, the reason I watch porn is so I can see sex - not just imagine it. It's really blurry but I think I can see the outline of Kim's pussy as the camera shakes. Maybe? "Shit, baby, baby you're fucking me so good." I really can't see much of the action, so I'm relying on the sound effects to let me know what is going on.
More shots of Kim looking into the camera, preening, looking at her hair, applying lip gloss. He then films her feet while she scrunches her toes. He thinks it's weird. I think - who cares about her feet? I'm trying to get off here.
Experience
It's been 20 minutes and I'm getting bored. This is coming from someone who has watched "Keeping Up With the Kardashians," and almost nothing ever happens in that show. However, I had much higher expectations for the infamous sex tape. Maybe it's because the sound is clearly off, or because the sex keeps getting interrupted by random video clips of Ray and Kim messing around or Kim staring at herself and putting on makeup. It's messing with my momentum.
Finally it's back to sex. Kim is laying on her stomach so at least we get to see her ass as Ray J fucks her. It bounces a lot which is pretty fun to watch. The moaning/dirty talk would also be hot, but it's pretty obvious the track is off so it's just getting on my nerves. She is clearly mouthing "fuck me" but the words are way off.
Has anyone fucked someone who said "Oh shit" repeatedly as though it was sexy? She says it so many times I kind of want to keep a running count.The camera keeps switching between SUPER close up shots of her ass - I mean lower butt cheeks only, with him slowly fucking her from behind - and shots from the front. It's really blurry. He appears to be going REALLY slow, but I can hear a lot of slapping noises. I don't quite understand why they didn't try to at least make the audio somewhat match up. But in some of these shots I can just see Kim's face and her ass bouncing as he fucks her, and it's really hot. Whatever you may think of Kim Kardashian, she is really pretty and her body is killer.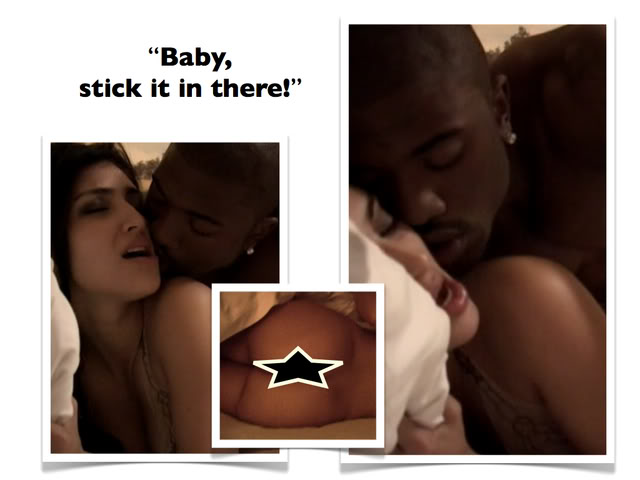 "I want you to come, all over my face."
He pulls out and she blows him for a while. No money shot as far as I can tell, but she does stroke his dick as if he were cumming on her tits, so maybe I just missed it.
The good:
Kim is hot, and you get to see her almost naked. Some good oral/sex scenes.
The bad:
The sound is off in terms of timing. I found it annoying, but you may not be bothered. Video is often blurry, camera is often positioned awkwardly so you can't see much. Candid scenes, while cute, interrupt the sexual momentum.
The verdict:
It's a decent sex tape, especially if you are a fan of Kim Kardashian or Ray J. I like that they are clearly enjoying themselves and very into each other. However, if you're not a Kardashian fan, there is better stuff out there where you can actually see the action. The video is often blurry, the sound is way off and Kim's lines are repeated at times when they clearly aren't being said. There are also some cute clips of them together; goofing off, unpacking at a hotel, laying on the beach, and talking in a restaurant. They are interspersed between sex scenes, which is kind of annoying if you are trying to get off to this video. I still watch some scenes occasionally because I think Kim is really gorgeous, but I can't say that it's my favorite. If it didn't have Kim, I wouldn't bother with it at all.
This content is the opinion of the submitting contributor and is not endorsed by EdenFantasys.com

Thank you for viewing
Kim Kardashian Superstar
review page!