A Unique Spin on a Classic
We're all familiar with the common books full of positions for couples to try, but Lover's Choice took this all too common theme and created these flash cards. Containing 52 different cards, each with a different position, you have a year's worth of new ideas (one a week) for you and your partner. The positions themselves aren't all that different from what you would find in any sex guide but the format is what makes it unique.
Published:
Pros:
+ Unique format
+ Easy to replicate the positions
Cons:
- Paper cards are not very durable
- Some positions seem impractical
The flash cards arrive in a 2.5" x 3.5" cardboard box (roughly the size of a standard deck of playing cards) with the image of a naked couple on the cover embracing, it is certainly not subtle. The cards sit in a tray that slides out from the cardboard sleeve.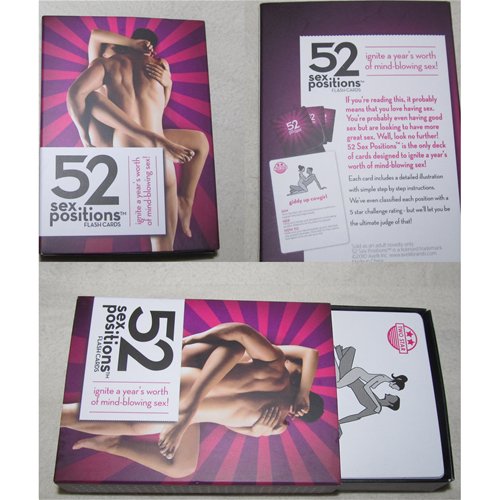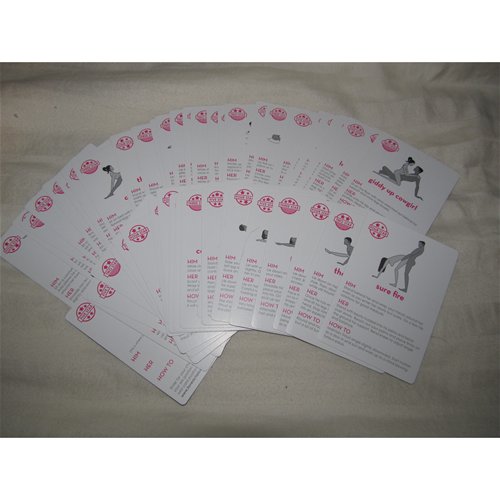 The cards themselves feel like typical playing cards, I would recommend moving them out of the way before starting any sex play because it would not be easy to clean them, but they are more of a foreplay item anyway. The front of each card shows and image of the position, directions for "him", directions for "her", and a "how to" which basically explains what type of motion works best. On the top left of the card is a rank, 1-5 stars of how difficult the position is. There are two One Star cards and these are very simple and not particularly unique. There are eleven Two Star cards which are still somewhat simple, but begin to get more interesting. There are thirteen Three Star cards and these begin to get a bit more challenging, these are the positions that may not be part of your typical routine and may require some strength and flexibility. The Four Stars have the most with seventeen cards, each of which require some strength and skill to perform. The Five Star cards seem a bit odd to me, there are nine of them and many of them seem like they should be three or four star cards at best. They include common and well known positions like 69 or a variation on doggy style where the girl is kneeling on the bed and the man stands penetrating her. Finally there is a Wild Card that you can use to record your own favorite position. The language on the card is not very clinical, but it is still quite clear and makes the positions easy to replicate. While some of the positions provided are useful and fun, others are just a little silly and not very practical and seem like they are only there to jack up the number of positions they could say they had.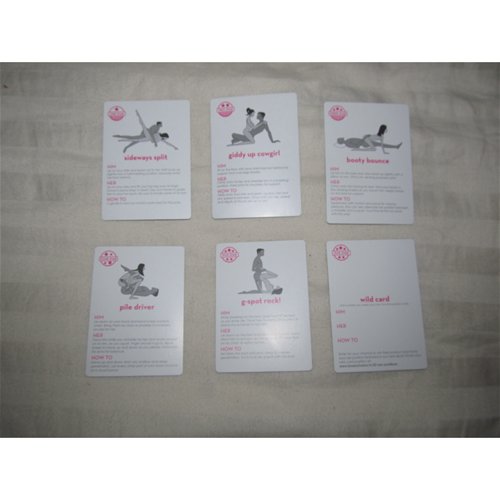 What I like best about this product is that instead of being in a book the positions come on cards, making it easy to make a game with your partner. You can select one card at random, each choose your favorites, or even hide one or two in your partner's bag or briefcase as a hint of what's to come.
This content is the opinion of the submitting contributor and is not endorsed by EdenFantasys.com

Thank you for viewing
Sex positions flash cards
– adult game review page!