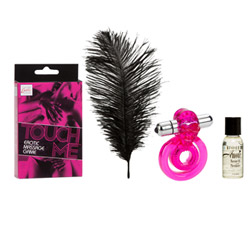 Date night kit
Sensory play kit
by California Exotic
Date night? No, hunny. Play night!
All in all this kit brought on an amazing unforgettable experience and will keep them (and us) coming! Absolutely LOVE it and will be using very often.
Published:
Pros
Fun, soft, easily washed
Cons
Oil will stain
Date night just got better!

Create a new experience with a little foreplay and stimulation. Start the fun with an exciting game of erotic massage. Touch Me will open the door to a luxurious massage experience, while a touch of sensuous Massage Oil takes it to the next level. The oil smells AMAZING, like aromatherapy candles and is super slick and sexy, we didn't have to apply much. From head to toe it feels amazing and washes off easily with warm water and soap. Try to keep it off of clothing and bed sheets as it is an oil and will stain.

The included Feather Tickler ignites the passion even further as you tease and tantalize your lover to blissful ecstasy. It's soft and silky and feels great with out being too tickly. We used it on each other's backs, chests, up and down the inner thighs, and everywhere in between. It does the perfect job to tease and open new doors to exotic bliss. It is a little fragile so use gently to avoid it falling apart.

Culminate your night of fun with a Vibrating Enhancer ring for simultaneous orgasms! Date night can't come fast enough! Easily washed with warm water, stretchy, and great for doggy style for anal vibration or missionary for clitoral vibes. It's a soft and stretchy dual enhancer ring that fit very well. It looked small but is very stretchy to fit comfortably, with flickering tongue to tantalize her. It is a removable, wireless, push-button waterproof stimulator. It's sexy and pink for all the pink lovers! And it is a mouth with a flicking tongue! Need I say more? It requires 1 N battery which is included. The bullet is removable and super quiet yet awesomely strong, which is always a plus! It wasn't uncomfortable to hold or use without the cock ring as a sleeve and was extremely quiet.

Date Night Kit includes everything a couple needs for the perfect date night. Includes a Touch Me erotic massage game for couples with 3 desks of cards plus rule booklet. That will blow your minds and make date night the best night! The cards are kind of like a massage truth or dare game that takes it to the next level! You will not be disappointed! The rule book it comes with is only a two page pamphlet explaining the game and two short alternate versions.  The game is very simple.

Touch Me Cards
So how do you play this game?  Well I'm sure everyone has played a matching type card game, this is basically played the same way. You have three colors of cards; yellow, orange, and red.  Yellow cards are warm-up massages, orange are "that feels really really good massages" and red are "hot and full blown heat massages".  Each color is separated into its own deck of 18 cards and each card has a type of massage on it.  There are two of each type of massage in a deck. You start by shuffling the yellow deck and placing them face down across a surface.  You then proceed like any other type of matching game, flipping them over and collecting pairs.  When all the yellow cards are gone, move on to the orange and then red.

Once all the cards have been taken, each partner looks through their cards and picks out one type of massage from each color and let the massaging start! You get 27 massage ideas to use!  You can make up your own variation on the game or just pull out a random one or two to have a nice relaxing massage.  You could also use them as coupons for your lover.  Pick out a few or just give each person one of each card and they can redeem the type of massage they want at any time.  The descriptions are pretty detailed and they each have a unique name which I'll list as a little teaser.

Yellow Card Massages:  Morse Code Massage, Exploring Far North and Down Under, Like No One Has Gone Before, Slow and Steady, Nipple Nirvana, Massage A la Mode, Soft Brushes, Tender Touches, Delighted-To-Be-Here

Orange Card Massages:  The Basic Tool Chest, Time for an Oil Change, There's The Rub!, Anticipation, Cutting Figure Eights, Invigoration Nation, The Spice Rack, Sloooow Motion, It's Officially Unofficial

Red Card Massages:  Just Add Water, Anticipation Is Great, but I Can't Wait, Sultry and Sexy Strokes, A Thigh For A Thigh, The Music of Erotic Massage, The Cock Will Crow, The Cock Will Grow, Please Pet the Pussy!, Fancy Footwork,  Hot Dogs

Overall, its a sexy fun little game!
This content is the opinion of the submitting contributor and is not endorsed by EdenFantasys.com
Thank you for viewing
Date night kit
– sensory play kit review page!