Fun for all ages over 18!
This is an interesting, but useless, toy that can entertain you anywhere from a minute to a hour, depending on your attention span and how interesting a back-flipping penis is to you.
Published:
Pros:
Interesting Design
Does Back-flips!
Stylishly dressed in a bow-tie!
Cons:
No real usage
Attempts to jump off tables if wound up near the edge.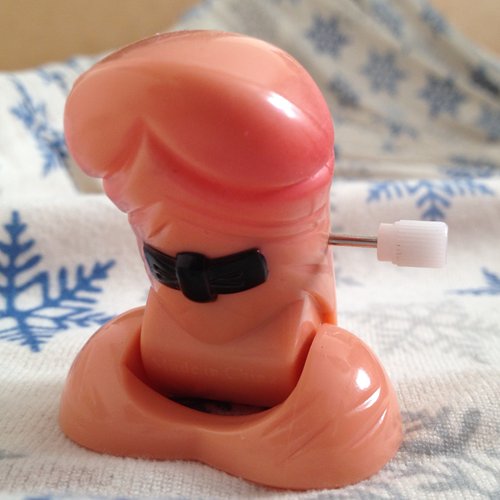 The flippin' pecker is an interesting little thing which seems to have taken the idea from the toy industry that anything can be made twice as good if you can make it do flips. Like the wind-up cars children get that drive forward and do back-flips, this little toy winds up to do back-flips as well. While not really having any use, it is fun to watch it flip around. The only real problem I have had with it was it keeps flipping off the table I had it on, which would be fixed by simply placing it in the middle of the table instead of on the edge. It is rather small, at only about 2 inches tall and 1 inch wide, or about as tall and a bit wider than a good sized thumb.
The flippin' pecker is made of plastic, and does not seem too durable. This really should not be a problem, considering it's usage. When you wind it up, it bends over and then quickly springs up. When it does flip, it usually lands on its base unless the surface is uneven, in which case it will land on its side or back and uselessly flail around. Because of it's inability to stay up(pun intended) on non-flat surfaces, you will probably want to place it on a book or table if you don't want to pick it up after every flip. Considering it is made out of plastic, if you do need to clean it off just washing it off with soap and water should be fine.
The toy does look interesting, it has a base, which is shaped like a pair of testicles, and a penis head, which is a fairly accurate model of the real thing, complete with the bow-tie. While my first thought was that it was some kind of secret agent, I am fairly sure that there are many more reasons a back-flipping penis would need to wear a bow-tie and that I was just discriminating against penis's that just like to dress nicely. Regardless of how it's dressed, this toy is fairly fun to play with.
This product was provided free of charge to the reviewer. This review is in compliance with the FTC guidelines.

Thank you for viewing
Flippin' pecker
– gags review page!