More Cute and Funny Than Spicy
The Spicy dice are not as spicy as some might like, but it can be a fun bonding time for couples. Don't assume it'll give you new ideas and it can give you some enjoyment and/or laughs.
Published:
Pros:
Cute, fun, gift potential.
Cons:
Could be kinkier.
Spicy Dice? I must know about this
It's fairly straightforward. This little package contain three dice. There is one pink/fuchsia die that is a traditional cube shape and then there are two purple dice that are eight sided (called octahedrons). One of the purple die has actions on it such as: lick, blow and kiss. The other purple die has nouns or body parts on it like: nipples, toes, and thighs. The third pink die has locations in a typical house like the kitchen, bathroom and bedroom. The goal of the game is to roll the two purple die and act out what they say. Then, after every few rounds, you roll all three dice for a specific location.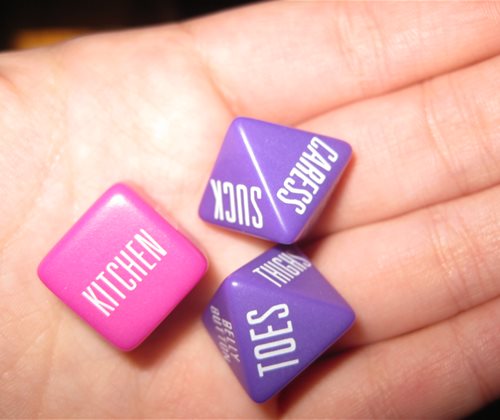 While they may appear to be meager dice, they have a lot of options. There are 64 combinations of actions when rolling both the purple dice. When you add the pink on to the mix you have 384 options available to you. You are bound to find one in 384 actions you haven't done. It isn't because the actions are super kinky, it's just that you probably haven't thought to do it. Have you ever thought to nibble your partner's toes on the car or lick their belly button in the kitchen? Maybe you have, but it's safe to say most couples haven't done everything presented on the dice.
The Spicy Dice can lead to fun for a variety of couples: new, experienced, together for 1 year or together for 10. It can be a way to have fun and bond with your partner. Be warned that the dice are not always sexy and can give you some awkward results. You can blow lips outside. You might scratch your head on that for a second, but then you have time for giggles. These dice are not going to guarantee romance and sexiness; it can be quite the opposite. However, your attitude during the game can greatly affect this. Also, if you play long enough, you can land "sex doubles." If both of your purple dice come up to sex, you get to have sex after all those romantic, funny, or awkward rounds!
While you may be presented some new options, these dice aren't kinky. It stays fairly vanilla (however, you could end up having sex in your car or outside according to the dice. Public shenanigans can be quite the thing for some couples, but don't blame me if you're caught!). It would be cool if there were some kinky dice that could come with this with sides like beg, whip, tie, blindfold, and so on. Perhaps if you find dice like that you can combine them with these dice.
Anything else about these dice?
The dice are not a bad investment if you plan to use them. They don't take up much space and the option is always available to you. It is best to keep these dice away from kids or grandma since they are a bit inappropriate (Then again, grandma may get a good laugh. Even if you don't want to admit it, sweet ole' granny has seen it all). The dice have tame wording. For example, privates is the word used for the fun bits. It does work, I suppose. Genitals might be considered too clinical for some and others might not like raunchier names for their bits. It also keeps things gender neutral, which makes the dice a good option for more folks.
Overall, the dice are not going to magically improve your sex life. They're probably going to make you giggle and laugh and not have hot, mind-blowing sex. You will bond with your partner, you will laugh, and you just might get some sex after. I think it's still a good deal.
Experience
If you have read my reviews, you may be wondering, "Why is Mwar reviewing all these tiny products that are unlike her normal profile?" Well, I'm moving soon. During my time at EF, I have acquired a lot of products, and while I absolutely LOVE many items I have received, it's hard to like everything. Because of this, I have had a box of "forgotten rejects" in my closet. If I'm not too fond of a product, don't have a strong opinion on it, and/or I don't have to review it, it tends to go in this box. Over time, this box has gotten a bit large.

I do not wish to move with all these products because, frankly, if I havent used them this last year then I'm probably not going to anytime soon. Also, I feel it is a waste to have possession of these products and not review them. Thus, I'm here doing this.

The dice are pretty cute, but that's just it. They're cute, not sexy or spicy. They should have this version and then a kinkier version. Better yet, they could give you sex dice, these and some kinkier ones and you can tailor your game to how randy you're feeling. It can let you turn up the heat. Still, these were a bit of fun, but not in a sexy way. Then again, things don't need to be "just sexy" to bond with your partner. If you have a good sense of humor, you can enjoy the concoctions the dice come up with.
This content is the opinion of the submitting contributor and is not endorsed by EdenFantasys.com

Thank you for viewing
Spicy dice
– adult game review page!