Not so Naughty
The Naughty Boot Stocking is a great stocking that men and even women would enjoy. It is well made and will hold lots of goodies from Santa. It is a much better design than the female high heel stocking. Out of the two this is a much better deal. Together they are adorable, but I wish the Female version was the same quality.
Published:
Pros:
Functional and Eye pleasing christmas Stocking
Well made
Holds lots of goodies
Cons:
No color choices
Have you ever noticed that men's clothing seems to be better quality than women's? The fabrics are sturdier and buttons and zippers more secure. A friend of mine always shops in the men's sections first for button down shirts, jackets, tee shirts, seatshirts, and socks. The stuff is just made better. Well, apparently Christmas stockings are no different. Sportsheets sells both a male and female version of a Naughty Stocking. I reviewed the
female version
months ago. It's cute but mostly for show. I expected the male boot to be similar. I was surprised to find it was so much better than the heel stocking. It's slightly bigger and has better material. I guess Sportsheets was just following the fashion industry's lead in offering better quality to the menfolk. As a set I think the stockings are adorable. The men's one is superior in every way especially when inspected closely.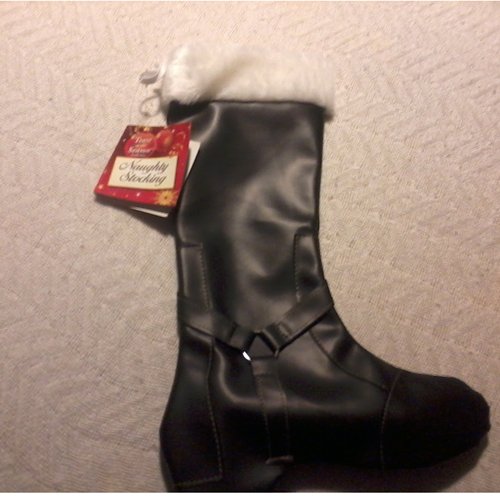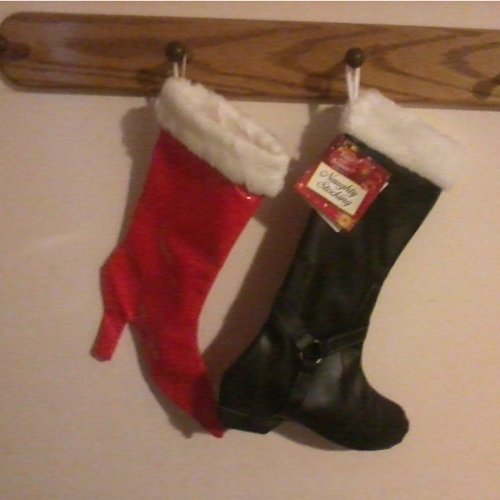 The naughty boot stocking is black with soft white faux fur at the top. It is made from a soft and pliable faux leather. The high heel stocking is made from cheap looking vinyl so this is much nicer. The fake leather is supple and pliable so it's easier to fill and just looks nicer. It's much classier especially up close.
The bottom of the naughty boot is flat. The design makes it perfect for filling with goodies. You don't lose any space with the flat bottom design. In contrast the high heel boot has very little space at the bottom. Something small can be placed in the toe, but the high heel uses up precious present space. The black boot has a very nice design on both the front and back. The toe and sides have patch inlays stitched neatly with a light brown thread. Three rectangular pieces in a y-shape are joined by a key ring. It's a nice strong design that is pleasing to the eye. It is of course marketed to men, but I think it would be fine for women as well. Nothing about screams "For men only." I think women may like it too. I only wish it came in more colors. Since it is sturdier and holds more, it may be appreciated more. If I were to fill a stocking for a female friend, I would buy this stocking instead of the other.
The important question is how much will it hold? In my high heel review, I said that stocking was more for decoration. It looks great above a fireplace, but isn't very functional. The male version fares better. Because the faux leather is more pliable, it is easiet to work with. It's bigger so it hold more. Here's a pic of both hanging after being filled.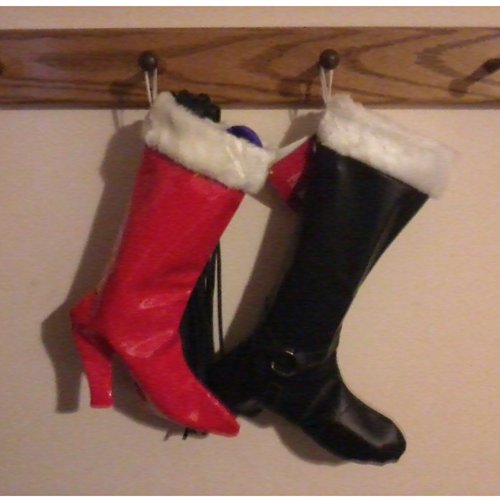 If you wanted to make it a truly naughty stocking you could fill it with a variety of Goodies. I filled the boot with Wet Platinum Lube, Edens vibrating cockring, Maven masturbator, chain ball tickler, a pair of thigh highs, and cologne. There is a bit more room, but not much. My man would enjoy getting the thigh highs for ME to wear for him. But a pair of sexy men's underwear would have fit just as easily. I left Maven in it's box, but it could be put in a plastic bag to free up even more space.
I know this isn't a review for the high heel stocking, but I went ahead and filled it as well. It has a small jewlery box in the toe followed by a Shunga massage candle. From the black rose collection is the whipping willow, silky surrender sash, rosie restraints, budding blinder, and forbidden flower mouth bit. Everything is out of it's box, but it does fit well. I wouldn't mind getting that stocking. The picture might look like there is more in the red heel boot. It's an illusion. The sashes don't take up much space and the whip is hanging outside the boot. I cannot fit the same stuff from the men's boot in here.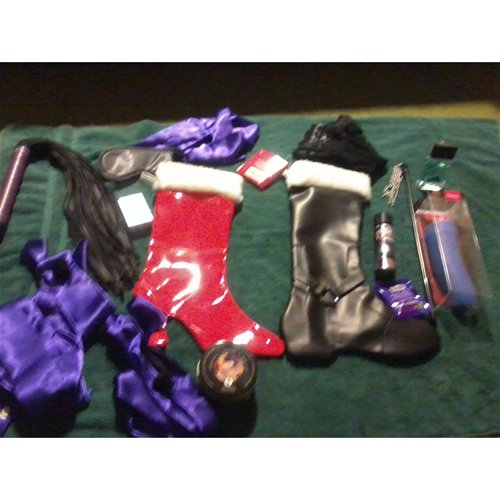 Experience
I am glad I own the pair of these Christmas stockings. They will look splendid together this Christmas season. I have no reservation recommending the Men's Black Boot. It's sturdy and a nice size. It's a great decoration as well as being functional. The high heel boot is more of a decoration and not quite as nice even for that. Still the set is adorable together.
This product was provided free of charge to the reviewer. This review is in compliance with the FTC guidelines.

Thank you for viewing
Naughty mens boot stocking
– gags review page!