Sexy Couples Foreplay Dice
These are great to help with foreplay because the location, the action, and the part of the body to do the action are all chosen at random by the dice. These dice are also small enough to hide in your pocket, so you can bring them out at the right time. This product also has a location die of where the couple should do the sexual act, which many sets do not have. This location die can give couples new places to explore.
Published:
Pros:
Adds excitement
Easy to hide
Cons:
Hollow plastic
Very light, so they do not roll well
Printed graphics
These dice are worth the small amount of money($7) they're sold for. After using them just once you will realize the fun and excitement that they can stimulate in a relationship. The main use of these dice are for foreplay by selecting a body part, an action, and a location at random with the roll of the dice. These are not ordinary dice, as they have sexual parts and actions to do during foreplay, but they are regular in that they are six sided dice. The dice seem to be hollow as apposed to regular, solid dice with the indented, "Dot" numbers. They are light weight and easy to roll. I would suggest rolling them on a carpet so that they flip around and rotate a lot. If you roll them on a hard surface they tend to slide because they are a hard, bouncy plastic. These dice have printed graphics and words on them to depict different body parts, actions, and locations to perform the act.
Packaging:
The package is basic, but it is nice because it will hold the dice when you are not using them. The box is just cardboard, but comes with a nice sleeve that holds the dice in place when they are put away.
Front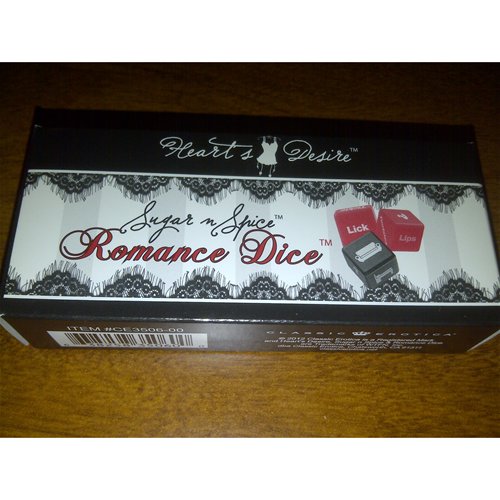 Back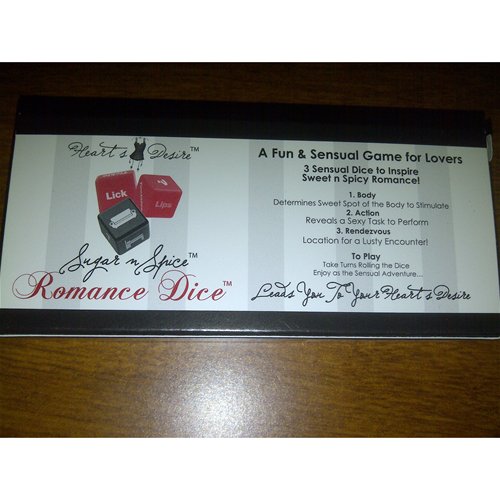 Directions:
1. Body (Red Die)
Determines Sweet Spot of the Body to Stimulate
Choices:
Tootsies
Booty
Boobie
Lips
Sweet Spot
(?) (Rollers Choice)
2. Action (Red Die)
Reveals a Sexy Task to Perform
Choices
Kiss
Tickle
Caress
Nibble
Lick
? (Rollers Choice)
3. Rendezvous (Black Die)
Location for a Lusty Encounter!
Choices
Tub
Bed
Table
Couch
Car
(?) (Rollers Choice)
To Play
Take Turns Rolling the Dice
Enjoy as the Sensual Adventure... Leads You To Your Hearts Desire
This is what the dice look like: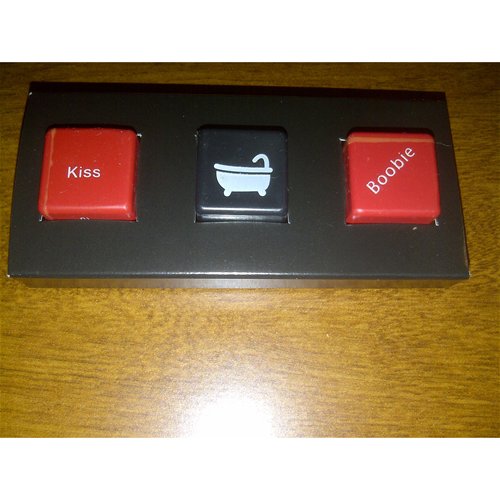 Overall:
These dice can be used individually or all together. My girlfriend and myself at times have just used the "Location" die to give us a random place to do our own foreplay and have sex. The dice are small, so they may pose a choking hazard if you and/or your partner have children. The plastic seems to be of good grade and should last a long time since you are only rolling them and not inserting them or anything. The dice are gender neutral and can be used by anyone. They are minimal, but they are a great addition to the foreplay arsenal.
Experience
My experience, as other reviewers may have already stated, is that the location die should be rolled first and only be rolled one time. If it is rolled multiple times you have to start running around the house naked from one place to the next... which is not all that bad, but sometimes you just want to play around with the other dice in one spot to build the mood during foreplay. Once you are in place you can start rolling the other two red dice for the body part and the action. The mystery selections are always fun because it can be new and include "interesting" actions/parts that are not typical. In my experience I have always had a good time when using these dice. Make sure to try them out!
Follow-up commentary
3 months after original review
My girlfriend and I still enjoy using these dice. We use the location die all the time, sometimes just by itself without the other two dice, since we do not always agree on the location to fool around. I would highly suggest you pick up a set of dice for you and your lover!
This product was provided at a discounted price in exchange for an unbiased review. This review is in compliance with the FTC guidelines.

Thank you for viewing
Heart's Desire romance dice
– adult game review page!