This Little Piggy Played with My Wee-Wee All the Way Home!
Into farm animals? Want wild pig-sex? Achin' to make bacon? Perhaps you're into bestiality and need to satisfy your animal instincts? If so, this oinker may just be the thing you're looking for!
Published:
Pros:
Even if you're not into pig-sex, this little porker will certainly make your sausage sizzle!
Cons:
Unfortunately, Ms. Piglet is rather useless except for providing a very good laugh!
Want something to bring out the animal in you? Need to squeal in delight? Perhaps you want to go hog wild after a long day on the farm? Fear not! Ms. Piglet just loves it when you bring home the bacon and is always there to send you to hog heaven! Heck, your place might even look like a pigsty and that'll only make her want to pork out more! While some women complain that men are pigs, Ms. Piget actually encourages guys to be that way! She especially loves male chauvinist pigs. (Unfortunately, I don't speak French and really don't know what the term "chauvinist" means. I am, however, fluent in pig Latin and that drives Ms. Piglet wild!) What could be better?!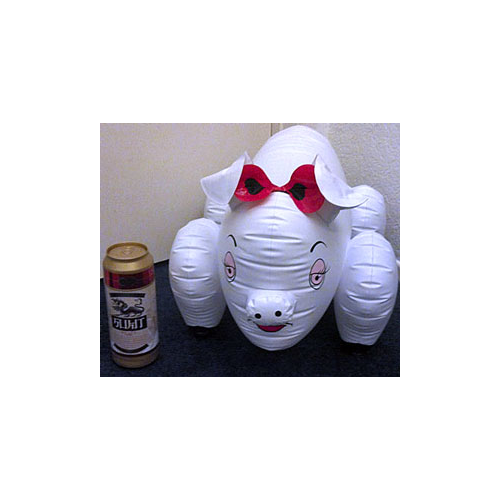 You can't imagine my delight when I arrived home after spending the day sowing some oats (okay, I fantasized about my new sow while I was sowing). I had been sweating like a pig and simply reeked. Ms. Piglet squealed when she got a whiff of my pheromones! Wow! BTW, she wears
eau du beachball
which is, as you might expect, the overwhelming odor of plastic and is not particularly romantic. Despite our smells, she thinks it's really manly for me to work out in the fields. I suspect that the only sowing Ms. Piglet really cares about is the kind where I plant my seed in her.
By this time, my little piggy and I were achin' to make bacon and needed all the energy we could get - so we decided to dine with the swine. We had a good hearty meal and ate like a couple of pigs. Fortunately, Ms. Piglet has no desire to live high off the hog and could care less about using silverware or fine china. She's also a cheap date and gets offended if I spend too much. After all, it's never wise to cast pearls before swine and Ms. Piglet is no exception!
Ms. Piglet never worries about her weight; she was designed by Cal Exotics to be a BBW. She's pleasantly rotund, has shapely curves, and let's face it, her ears are kinda cute! She should be able to accommodate most average size men. Bigger guys will need a sheep or a cow. Notice her lovely vagina: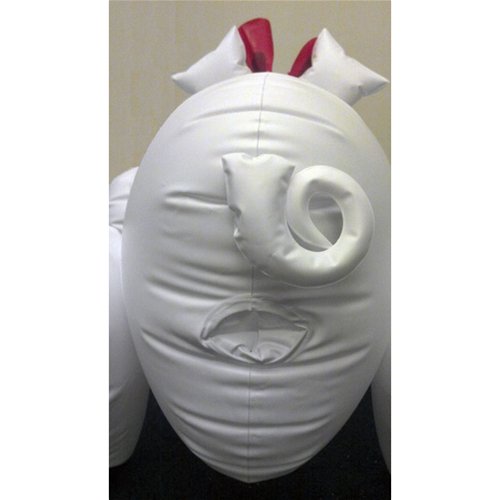 Like two pigs in a poke (a noun that means "bag"), we couldn't wait to hop in the sack. We engaged in a little mud wrestling first - Ms. Piglet loves that! I've never been a big football fan but Ms. Piglet really goes wild when I play with her pigskin. There's nothing quite like a mud bath to get her aroused! Given that mud wrestling is an outdoor activity, we faced a dilemma when things started to get a bit too hot; we needed some privacy. The problem was that Ms. Piglet has one fault - she is pigheaded and couldn't decide where we should go to get a room. The first place was made from straw and that wasn't private enough. The motel down the street was made from sticks, but that was too drafty (and it was also too cold for my hog - which makes it droopy). Finally, we checked into the resort made from stone - sure, it was expensive but we didn't have to worry about disturbing the neighbors.
By this time, I was ready to give her a good poke, when . . . oh no! I forgot something! So, while I putting my overalls back on, she shouted, "Where are you going, hun?" I had barely spoken the words, "To market, to market . . ." when she screamed, "to buy a fat pig!?" (Did I mention that Ms. Piglet is also a bit, shall we say, possessive?) But I assured her that was not the case; I had merely forgotten to bring some lube and told my little piggy to stay home. Of course, I also told my little piggy that I'd get some roast beef - she liked that!
Upon my return, I announced, "I'm home again, home again, jiggety-jog. Look Ms. Piglet at my big fat hog!" She nearly fainted at the sight of it! I quickly lubed up my pork sausage and we played "catch the greased pig". It was so HOT! It didn't take long before I went whole hog! First, I hogtied her (she's a bit kinky) and tickled her baby back ribs until she begged me to stop. We then had a great time playing piggyback. When the deed was done, we curled up (just like her cute little tail) and I whispered, "That'll do, pig." She turned to me and replied, "Babe, you really know how to make a pig fly!"
Experience
Ms. Piglet is easy to use. The instructions provided by Cal Exotics (shown below) are, unfortunately, useless as they tell how to use a foot pump to blow her up. The problem is that no pump is included!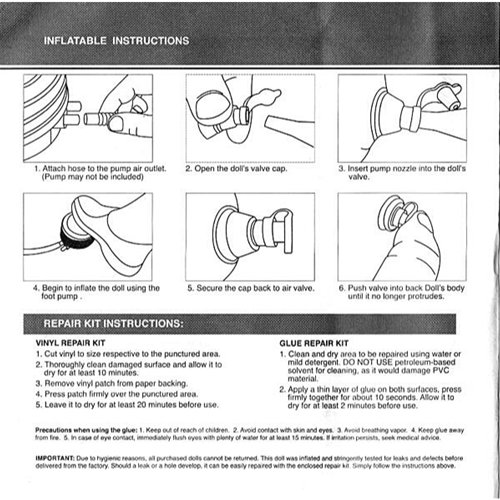 The good thing is that Cal Exotics included a handy dandy "Vinyl Plastic Repair Kit" (shown below). This is very useful in case you get carried away and stuff your pork too hard! At least there's a chance you can extend Ms. Piglet's life (and then you'll be a hero)!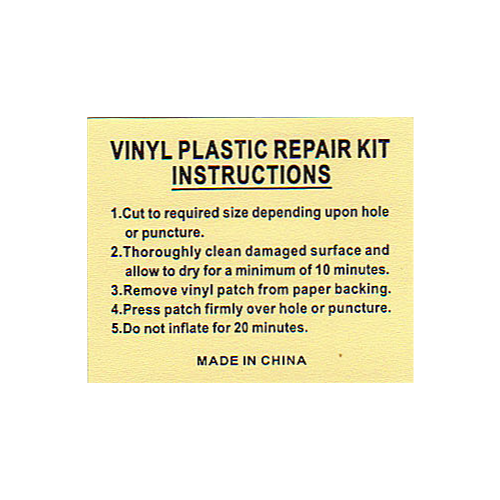 The best part is that the most important instructions are tattooed right onto Ms.Piglet's breasts! Wow! They're especially useful in the event that you decide to take a cruise with her (avoid the Hawaiian Islands, she really doesn't like luaus - she says a relative had a bad experience at one and now she has nightmares)! Isn't her tattoo hot?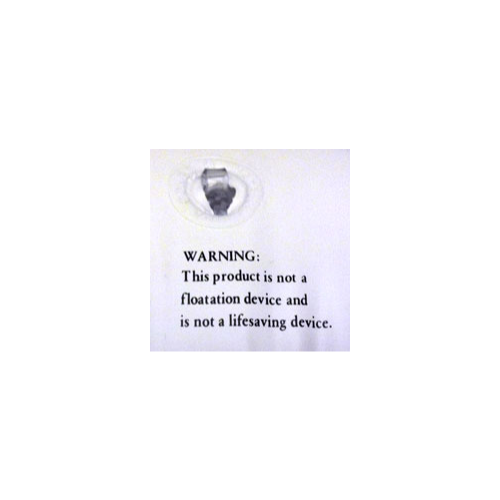 Special Thanks!
I want to thank all of my lovely "friends" on EF for selecting this toy for me! I was bored, and there wasn't much new to write about so I let them pick from a rather small list of misfit toys that hadn't been reviewed by anyone else. I will say, I had a LOT of laughs abusing and using this porcine pleasure. It was great fun! Thanks!
Follow-up commentary
1 month after original review
I've got to admit, I really don't use this but it sure was fun to review! Unless Ms. Piglet is used as a gag gift, you're really into wild pig sex, or are just looking for an adult pool toy (caution, don't use this as a flotation device), Ms. Piglet isn't good for much - other than a very good laugh!
This product was provided free of charge to the reviewer. This review is in compliance with the FTC guidelines.

Thank you for viewing
Ms.Piglet party pig
– animal love doll review page!