Who Knows How Many Weeks of Boring Nights
These cards are honestly pretty boring. In my set, I got some repeats between the his and hers cards. Some cards are not creative in the least bit. We've gotten some cards involving actions or things that we already do, so it's not really adding in any variety for us. The target audience for these is also strictly heterosexual couples. Other couples may be able to adapt these to fit their needs. I only really liked the cute little black satin bag.
Published:
Pros:
Cute satin bag, price
Cons:
targeted towards heterosexual couples, boring, repeats in cards
We've never tried any sort of scratch off "game" before, so when the 52 Weeks of Naughty Nights second edition scratch cards by Lover's Choice went on sale recently, I decided to give them a try. I've never tried the first edition version, so I have no idea how these differ from the first edition. I have tried a Lover's Choice massage oil I found in a retail store once. It was chocolate scented, but very thick and heavy on my skin, so I don't use it much.
The cards come in a plastic wrapped paperboard box. The box measures 5 x 3 3/4 x 1 1/2 inches, which is pretty small. The front shows a bra and underwear with a chocolate dipped strawberry sitting next to a scratch card. One side claims that there are over 100 ways inside the box to spice up your love life. The back and other side of the box are the same exact things, just written in French. The box is okay looking. It's all patterned in red, black and white. I personally would not save it for storage. After using these long enough to review them, I recycled my box.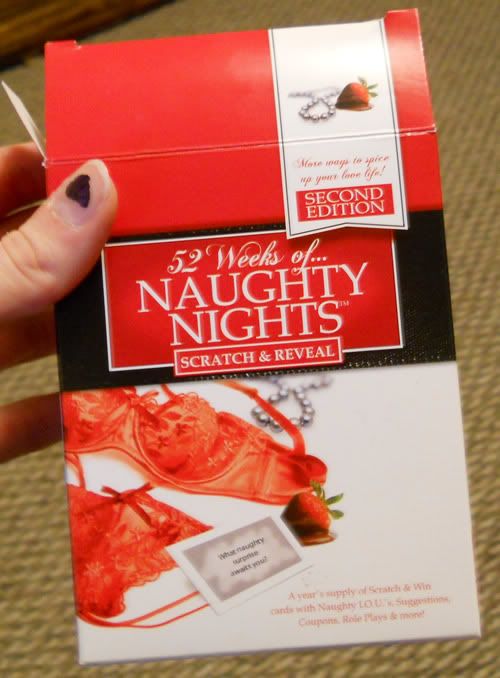 Inside of the box is a small black satin drawstring bag with all of the scratch cards in it. While the box says there's 100 ways to spice up your love life inside, there's only 52 cards inside of the bag. The bag measures 7 1/2 inches by 5 1/2 inches, which is kind of small. After you've used up all the cards, it would be great to store condoms, batteries, vibrating rings, or other little bits and pieces in. The bag seems to be of average quality. It's well constructed but it does have a couple of loose threads hanging off of it. If you treat it gently, you shouldn't have any problems with it unraveling. I don't recommend washing this in the washing machine at all. If you store something in it that makes a mess, I'd hand wash it and leave it sitting out to dry. The black satin is nice and shiny and makes the bag a bit mysterious as to what the contents are.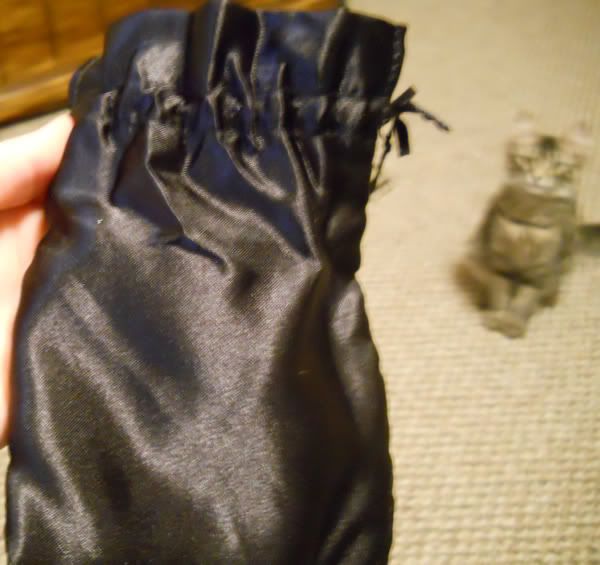 That's my kitty Princess in the background.
Out of the 52 cards, 26 are to be read by each partner. These are meant for heterosexual couples, as the black cards state "For him to read" and the red cards state "For her to read." I think other couples may be able to modify the cards to better fit their needs. Each card is about as sturdy as poster board. The cards measure approximately 2 inches by 3 inches. The scratch area is a completely covered rectangle made of the same scratch off stuff as that on lottery tickets. You cannot see what a card says unless you scratch it. The backs of the cards have a slick, smooth feel to them. All of the cards are divided into 4 strips of cards. You tear a card off with the perforated lines. It's a bit annoying to have to separate them all to really be able to pick any card in the pack, rather than just the end ones. I've noticed that digging through the bag or taking the cards out and putting them back in scratches the surface a bit. It's not enough to reveal any words, it's just a light scratch. If you don't want to ruin the surprise of getting a completely random card, I suggest handling these gently.
To scratch them, you can really use any object you'd use on a regular lottery scratch card. I use whatever I happen to have nearby that will do the trick. Coins, keys, and screwdrivers work just fine. There will be a bit of a mess from the stuff coming off the paper, so you might want to do it next to a trash can so you can just sweep the mess into the can.
As with the box, the cards have both English and French on them. The back of the card will indicate which side to scratch according to language. If "For her to read" or "For him to read" is facing up, you'll scratch the top half of the card. In the same position, the bottom half of the card is in French. The text on each card is a bit small but still legible. Some scratch cards have a small extra idea under the main body of the scratch card written in an italic font.
Continued in Experience...
Experience
Here are some examples of what you'll get on the scratch cards:

"Give your partner a foot rub. Use subtle touches, purposeful strokes and meandering fingers to arouse and entice. Tip: add oil to make it an offer he can't refuse!"
"Tell your partner that he's needed as the guide for this adventure. Place your hand under his as you ask him to show you how and where he wants to be touched. Idea: start this adventure dressed or undressed!"
"Give your partner a sexy gift that says 'I want you - now!' Wrap it in a sleek black box tied with ribbon."
"Make it a game to avoid your tried and true moves and habits for a specific period of time. Come up with a fun penalty to enforce whenever you catch each other falling for a favorite standby."

Honestly, I can see these cards needing quite a bit of improvement. We got some duplicates out of the set and we haven't even used that many cards yet. There was a version for him to read and one for her to read about giving your partner a gift. We actually both got those ones one right after the other, so it was a bit boring. I suppose he got a Tenga 3D out of it and I got some awesome handmade heart-shaped soaps, but still, repeats aren't fun at all, especially when the box has, "over 100 ways to spice up your love life." Some of the cards simply didn't work for us in any way, as what's written on them are things we normally do for each other. The one about coming up with a penalty for going back to favorite moves is kind of stupid to me, too, since if the new stuff isn't getting you off, you kind of need to fall back on the standby. I was kind of expecting maybe something dirtier or maybe more romantic. These aren't very original ideas at all and aren't exciting.

The target audience for these cards is a couple who's in some sort of long term relationship. New couples may find they relate to the cards much less. However, they may also quickly become boring to long term couples, too. We've been together for just over 3 years now and find them to be a bit boring. We do not use these every week as I guess they are meant to be used. We just pull one out whenever we happen to feel like it.

I honestly do not recommend these to anyone. They're boring. If you sit down and think for a while, maybe browse the internet or look through a book for inspiration, you'll find something awesome and original to do with your partner. You can present it to them on a handwritten or typed card, maybe hidden in their purse or briefcase or set out in the open where they won't miss it. Or you can just go wild and do something different without the use of a card. That way, it's personalized and it fits your relationship and needs better, too. The only thing I really liked about these was the satin bag. I love having little things around to store stuff in.
Follow-up commentary
2 months after original review
These are still super boring to me. For the past few weeks, every time I look through my big chest of lingerie and stuff, I see these and just shove them out of the way. It just seems that I can come up with something more creative and interesting in my relationship than these cards can provide.
This content is the opinion of the submitting contributor and is not endorsed by EdenFantasys.com

Thank you for viewing
52 weeks of naughty nights second edition
– love game review page!