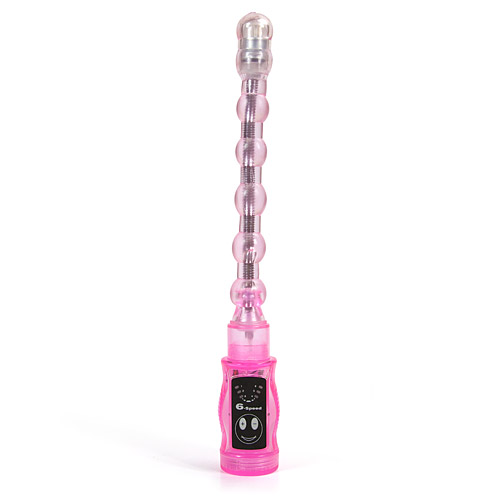 Eden waterproof vibrating bendable anal beads
Bendable anal bead vibrator
by EdenFantasys
A Big Name for a Little Toy
If you can get over the material this toy is made of, and don't mind using a condom to cover it, this is an interesting addition to anal play. It allows you the freedom to decide how deep or how strong you'd like vibrations, or the ability to have no vibrations at all and still enjoy the experience.
Published:
Pros
Flexible nature, vibration variety
The Eden Waterproof Vibrating Bendable Anal Beads is quite a mouthful of a name, but this toy is certainly deserving of each modifier it possesses. The name spells out its intended use. This toy is designed to be inserted anally, to the depth of your choosing. It could be used by anyone, regardless of gender, unless you're sensitive to toy colors and you really don't care for pink. You can choose to use beads with the vibration or without. I suppose you could use this for vaginal play, if you'd like, assuming you haven't used this anally without a condom covering it, to ensure you don't introduce bacteria to the vagina. By the same thought, you could use the vibration feature externally for clitoral stimulation.

The material, TPR, is porous, so it really should be covered with a condom when it's used. Because it's an anal toy, whether you are using this for purely solo play, or you intend this to be a toy you share with a partner, covering it with a condom is the way to go. There is no way to sterilize the TPR. The toy material will hold onto a certain amount of bacteria. For general cleaning, soap and warm water can be used, but it will not totally disinfect this toy. Either silicone or water-based lubricants can be used with TPR, but be sure to use a lubricant that works with the condom you are using to cover the toy as well.

The core of the beaded shaft has a visible springy looking spine, which allows it to be extremely flexibly and to remain in the position you bend it. It doesn't take much resistance to move it, so it is very forgiving when you are inserting it, and it will work with the twists and turns of your body, allowing for comfortable movement and thrusting. The space between the beads is not hugely smaller than the beads themselves, so you can move this toy more smoothly than some other anal beads. The flip side of that, is that there isn't as dramatic a popping sensation from the beads being inserted or removed. The vibrator is in the first bead, which is roughly kidney bean shaped, and the vibrations are mostly centered there. The total length of the toy is 10 1/4", with an insertable length of 6 1/2". The beads are around 5/8" in diameter, and there isn't a great deal of change from bead to bead. The largest bead is the first one, and the others are basically uniform in size.

The vibrations themselves are fairly buzzy, without a lot of rumble going on. For some reason this doesn't both me in an anal toy, while I gravitate toward a deep rumble in insertable vaginal vibes. Is this one a powerhouse? No, but it has enough power to do the job. There are 6 levels of vibrations. The first two are steady vibrations, and the others are a series of fairly standard patterns. The settings are controlled with a simple plus and minus button. The vibrations are powered by three AAA batteries. You can hear this one through the covers, but it can't be heard through a closed door.

Unless you plan to have a partner control and insert this toy for you while they take you from behind, it's fairly tricky to use during penetration. It won't stay put and the base gets in the way, causing discomfort. I'd say the two best ways to use this toy are either solo, or having someone use it on you from behind. Any other way feels tricky and unproductive, as the controls become hard to reach and use.

It comes packaged in a simply plastic bag, which isn't suitable for storage. You can place it in a plastic storage bag, or a toy pouch, for a more permanent storage plan. Although it comes with no instructions or paperwork of any kind, it's self explanatory, so none is needed.
Experience
In my large collection of anal toys, this was something slightly different. I enjoyed the range of sensations it offers, depending on how far you choose to insert it. With some more rigid toys, there can be some discomfort when a toy is inserted or you move around. The flexible nature of this toy eliminates that discomfort.

When used underwater, there was still a great deal of sensation. It performed well, and there was no water in the battery compartment afterwards. The seal seems well made.
Follow-up commentary
12 months after original review
Any toy that I need to cover with a condom for use isn't my first choice when I reach in the toy box. I like the versatility this toy offers, but the material use to make it is a real turn off.
This product was provided free of charge to the reviewer. This review is in compliance with the FTC guidelines.
Thank you for viewing
Eden waterproof vibrating bendable anal beads
– sex toy review page!