A Cheap Date
The Colt Throbber offers water-friendly fun at a great price. With a powerful range of vibration settings, the Colt Throbber is a strong contender. Overall, its rigidity and shape tend to hinder this toy from being a favorite.
Published:
Pros:
Price
Vibration Strength
Waterproof
Cons:
Rigid material
Lack of flared base
C Batteries not included
If you're looking for a reasonably priced anal vibrator with middle-of-the-road functionality, this toy is for you. The bargain price allows this toy to be an easy addition to any vibrator collection.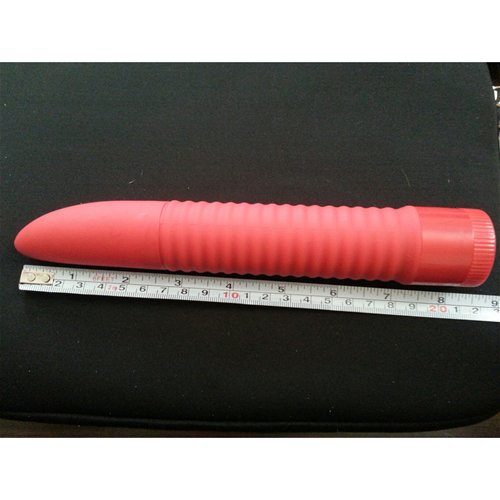 The Colt Throbber has a tapered head, rounded out to one side and generally straight at the other. The insertable length is approximately 7 1/4", with a 1 1/2" base for handling. The vibrator reaches its greatest smooth girth at 2" from the tip of the head and the ridges begin at approximately 3" from the tip. I think the toy would be better designed if the ridges began a bit earlier during insertion. Once the ridges begin, they extend for another 4 1/4" inches, finally approaching the dial base. The girth isn't too hefty, reaching 1 1/4" at maximum thickness.
The vibrator is made of PU coated plastic. This material is rated "7" on the hygiene scale and meets that standard in cleaning. I had no problem cleaning the toy with antibacterial soap and water. At the same time, this toy isn't as hygienic as food-grade silicone and other products that can be fully sterilized. It's a great idea to apply a condom to the vibrator during use for increased safety, especially during transitions from anal to vaginal penetration.
The plastic is very rigid. If you're looking for a toy with give (which I personally prefer), this toy is not a good option. I wasn't pleased with the stiffness of this toy, which felt a bit too hard during penetration. I also didn't particularly like the fact that the tip was off-centered because the straighter end felt even more rigid during use. It's also important to recognize that most anal vibrators have a flared base. This toy does not, meaning that it is less safe to use and could potentially be "lost" during penetration. It also cannot be strapped into a harness for pegging or vaginal penetration. These are important facets to consider before buying this particular vibrator.
The ridges offer a great amount of texture during either anal or vaginal use. They are, however, very shallow. Additionally, the vibrating features of this toy were great. The Colt Throbber offers a range of vibration levels ranging from low to high. The high level vibrations are very potent. The vibrations tend to reverberate stronger than most vibrators on the market and they pulsate in deep waves. Combined with the ridges, these puslating levels offer a huge range of stimulation. Because of the strength of the vibrator, the toy tends to be noisier than many others out there. The Colt Throbber also comes with a water-tight seal for water play and can be used in the shower. I personally tested the toy in water and had no problems.
One downside is that the Colt Throbber does not come with batteries. It requires C batteries to operate (which tend to be relatively pricey).
Overall, this is a great toy if you're looking for an anal vibrator for a great price. I would not give this toy a great review for vaginal penetration. It tends to be far too stiff and the ridges aren't made for vaginal penetration. It gets the job done and allows you to warm up to the ridges and girth with its slowly tapering head.
This product was provided free of charge to the reviewer. This review is in compliance with the FTC guidelines.

Thank you for viewing
Colt throbber
– anal vibrator review page!