A Crystal Clear Winner
This plug is simple, elegant and safe - just how I like my toys. If you're a beginner-intermediate anal player who doesn't already own a glass plug of this classic shape, this would be a lovely choice to add to your collection.
Published:
Pros:
- Body safe, sterilizable, stays put, feels awesome
Cons:
- Wide base makes DP a challenge
The Crystal Tulip plug by SSA Glass is curious, to me. I was wary when I requested it because not only would it be the biggest plug I'd ever used, but it was glass – the other plugs I've used of similar size have all been silicone (for reference, this plug is 4 1/2" in circumference at its widest point). I wondered whether I was getting in over my head even though it's really not a huge toy but more of an intermediate-level plug. As much as I enjoy anal play, my butt has never really become accustomed to larger toys. I bought one of
the new Tantus plugs
in the same order as the Crystal Tulip, and I was sure that I'd be using the Juice's slightly smaller stature and more forgiving silicone material as a warm-up before starting in with the glass plug.
Let me say, though: I was wrong. The silky smoothness of the glass and the easy tapering made this toy way easier for me to take than the Tantus Juice the first time around. Somehow. I'm still not completely sure how it worked out that way. The fact of the matter is, though, my butt was just not cooperating with the Juice. The Crystal Tulip was a lot smoother for insertion (the tip of the toy is a very gentle 1 1/2" wide around), and the hard glass feels amazing once it's in. For the sake of experiment, I also tried the plug vaginally but it was pretty underwhelming. This is a great butt plug, and that's that. It's nicely filling and just long enough for my liking. The listed 3 3/4" insertable length doesn't include the neck of the toy; with that extra bit, it's more like just over 4".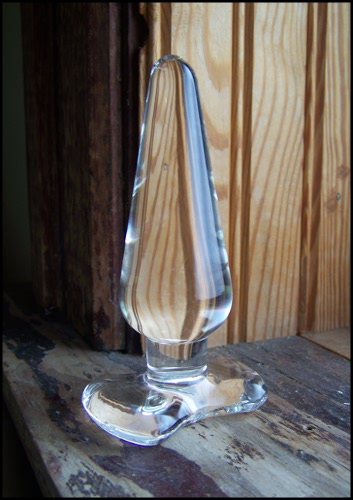 Gorgeous.
The widely flared base makes this totally safe for anal play (thank goodness), and the way the base is shaped makes for a really comfortable fit between the cheeks. You can wear it while seated at a chair with no discomfort whatsoever. The difference in thickness between the neck of the plug and the bottom of the insertable shaft means that this stays put for as long as you want, even when you wander away from your computer desk to go make some lunch. Or, during rigorous sex or masturbation. Whatever you do while wearing a butt plug, this toy will accompany you for the full ride.
My only issue with the plug also has to do with the base, though – as nicely shaped as it is, the fact is that it protrudes out 1" from the neck of the toy on each side. If I want to use another toy vaginally, that length of base is in my way. I can turn the toy so that the base is no longer covering my vagina, but then it's digging into my butt cheeks instead. Turning the base sideways like that isn't such a problem if you're on all fours, but in any other position it's not particularly comfortable. Maybe if they had made the base slightly shorter on one side? You'd lose the symmetrical elegance of the design, but it would be a bit more useful for us folk who enjoy plugs during DP.
Experience
Glass is awesome not only because it feels amazing, but because it's totally body-safe, compatible with all lubes, non-porous, and takes well to being heated or cooled for temperature play (just run it under warm or cool water for this effect – you don't want to hurt yourself with a toy that's too hot or too cold for sensitive tissue). It's also sterilizable if you want to share it with a partner. I just use soap and water to clean between uses, but wiping this down with a 10% bleach solution or boiling it for 5 minutes will bring it back to a clean-as-new shareable state. You can, of course, choose to use condoms if you want to switch orifices/users and don't have time to go for the full clean. Do make sure not to drop glass toys, though – although borosillate glass is shatter-resistant and will probably survive a fall, any chips or cracks will render a glass toy immediately unusable, for obvious reasons. Make sure to carefully check any dropped glass toys very carefully. The Crystal Tulip does come with a little red velvet storage bag, but the bag isn't padded at all.
The fact that the toy is clear glass makes for an interesting speculum effect for a partner (or yourself, I guess, if you're handy with a mirror). If you want to see the inside of your own or your partner' butt, this plug can totally make it happen with some help from a flashlight.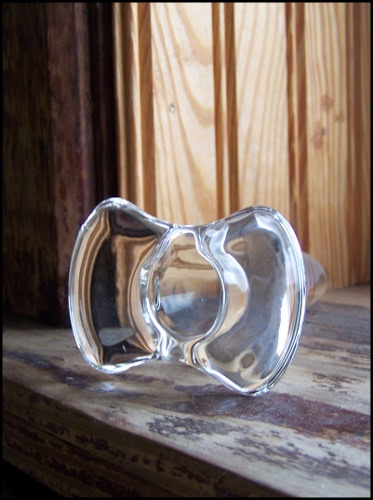 Very cool
This plug has quickly become one of my favourites because of its easy shape and classic style. I find it filling and satisfying, and glass toys always make me feel sexy. I highly recommend this one.
This product was provided free of charge to the reviewer. This review is in compliance with the FTC guidelines.

Thank you for viewing
Crystal tulip
– butt plug review page!