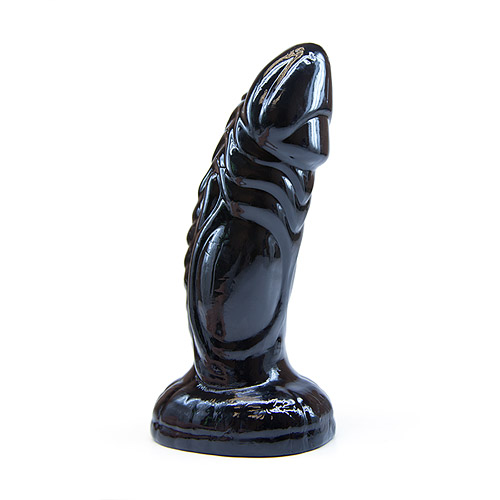 Dragon
Fantasy dildo
by EdenFantasys
a dream come true!
Are you a lover of fantasy creatures? Do you want one to fuck you hard and fill you up? You are in the perfect place with this Dragon fantasy dildo. It is by far one of my favorite toys I've ever tried. Monsterfuckers: GET THIS TOY.
Published:
Pros
AMAZING texture, size, design; sculpted head + shaft for spectacular sensations; perfect fantasy toy
This is the second toy of EdenFantasys's monster collection that I'm reviewing. Unlike Mr. Tentacle, which is great for a more teasing fuck, the Dragon is blissfully satisfying: long, thick, and filling in every way you could want. The wide head, ribbed back, and bulging shaft create a combination of sensations that will have your eyes rolling back at the first insertion. With a large suction cup base, the Dragon sticks to hard surfaces to let you ride it to your heart's content, and believe me, it is a wild ride you won't be able to resist.

The Dragon's 6.5" length and 2.25" diameter make this big boy no joke; I STRONGLY recommend plenty of warm-up play and lube because the thick head doesn't ease you into it. This is great for me because it means every inch of the toy stretches you out deliciously, but you'll want to be sure you're ready to take it.

I cannot emphasize enough how much I LOVE this toy. Despite its size, I find myself drawn to it nearly every play session. The warm-up is more than worth it to be able to ride this Dragon into the sunset. I find it easiest to secure it to a chair using the suction-cup base, but it can also be stuck to a wall, a door, a kitchen cabinet, or even the floor. Go wild!

The size and squishiness mean that the Dragon can also be used as a plug to stuff you or your partner full. It may get uncomfortable if used for long periods, especially as a beginner to plugs, but perfect for shorter periods or for those with more experience.

Speaking of squishiness, the Dragon is made of TPV, which is squishier and more gel-like than silicone. The upside to this is that it makes the Dragon more accessible to beginners and those who simply prefer softer toys at this girth. The downside is that TPV is more temperature-sensitive than silicone (it can melt if it gets too hot!) and degrades more quickly. I would love to see EdenFantasys make this or similar toys in more durable material; I, for one, want my Dragon to last for a long, long time. Otherwise, however, I have zero complaints about this toy - not that I'd be able to voice them anyways when this dragon dildo has me moaning.

The Dragon doesn't need much help in giving you the ride of your life. I rarely find a non-vibrating toy that can get me off, and still less a penetrative one that offers no clitoral stimulation, but by god, this one can do it. That said, for real eye-rolling, thigh-shaking orgasms, pair it with a clitoral vibe (or penis stimulation of your choice). A good wand vibrator had me coming so hard I was shaking. The vibrations carry through to the dildo and make that beautifully sculpted shaft feel like HEAVEN. This toy had noises coming out of me that I'd never made before, and I don't regret a single instant of it.
Follow-up commentary
1 month after original review
As expected, this has become The Toy in my toy box. Sure, other toys can do the job; and of course, it can be fun to wind someone (including yourself) up with softer and gentler toys before you go "whole hog," so to speak... but recently, I haven't found myself feeling very fulfilled unless I get to ride with the dragon. It may as well have been sculpted by the sex toy gods, for the numerous and blissfully pleasurable types of stimulation all packed into one very big package. This is a really great toy for intermediate/advanced users who want to daydream their fantasy cockwarming scenario, as it provides the fantasy-realistic sculpture and still maintains a softness that makes long-term use a breeze. (If you're doing anal sex, especially for long periods of time, you will, of course, want to replenish your lubricant periodically. That goes for people with vaginas as well; if you're feeling unpleasant friction while inserting or using it, do some more prep and add more lube before you try again.)

Once its handler has their rider ready, it will be the ride of life - and a comfy one, too. The soft material doesn't cause (much, if any) discomfort or pain once you have started to get used to it. Don't worry if you can't take the full shaft the first time; that's very sensual in its own way.
I really cannot stop gushing over this toy - in more ways than one ;). I hope that it and its monster companion, Tentacle, get stellar reviews and push EdenFantasys into producing more monster toys for those of us who just need a little bit more.

Don't get me started on all the erotic roleplay this could start either (not that most of you need tips :P). Are you a dragon captive, at its will and mercy? Have you subdued the beast, and it now uses its every appendage for your pleasure? Regardless of your daydream, the Dragon has brought the girth to cater to you.

I do still really wish this toy was made in silicone, but so far, no tears, melting, or other problems that occasionally arise with jelly-type toys. Mine are stored in a more or less temperature-controlled area and away from direct sunlight, which can damage it. It continues to be very easy to clean - a quick rinse with a dollop of soap will do - and, bonus requires neither charging nor batteries! (MY GOD, if they ever made a vibrating toy like this, I'd disintegrate.)
This product was provided at a discounted price in exchange for an unbiased review. This review is in compliance with the FTC guidelines.
Thank you for viewing
Dragon
– fantasy dildo review page!