A Rumble in my Butthole
If you like butt toys, especially aesthetically pleasing ones that can be worn for extended periods of time, I cannot recommend the Geisha Plug enough. Anal novices and connoisseurs alike can have fun with this toy. If size and the feeling of being stretched is what you're after, this'll probably be a pass for you.
Published:
Pros:
Small, sanitary, cute, silicone, unique, easily felt, very fun.
Cons:
Lint magnet, size may be too small for some, base may be uncomfortable for some, cannot be shared.
I'm sorry, I could not resist that title.
I'll start off by saying that the Geisha Plug is quite unlike anything else I have in my toy box, and if you like butt toys, get it. It's small and black and fits in the palm of your hand, and is adorned with a sweet, little, hot pink crystal.
It comes in a small box, with a clear window, displaying the plug. There are pictures of topless women on each side and a paragraph of information in six languages on the back. It's not discreet packaging by any means, but it is pretty classy and easily recyclable.
Inside the box is the plug, a small black "satin" pouch and a care and instruction booklet.
The company recommends the use of water-based lubricant with the Geisha Plug. This makes me question the 100% silicone claim that they make. However, the silicone feels soft and fine quality.
As far as cleaning goes, the company suggests you clean it after every use with anti-bacterial soap and avoid cleaning it with alcohol, petrol or acetone-based cleaning products. I am a little disappointed that despite being silicone, you can't really sanitize this plug. It is soft silicone coating (what I believe) is a plastic interior. Not knowing what exactly the interior is made of, I would stick to anti-bacterial soap and toy cleaner and avoid boiling and dishwashers (unless you want to experiment and get back to us). Because you can't truly sanitize this plug, I would use a condom if you planned on sharing it with a non-fluid bonded partner. However, because it is silicone, it is much safer than many other materials. Other information in the booklet includes liability stuff and limited warranty info.
The plug itself is smaller than I had expected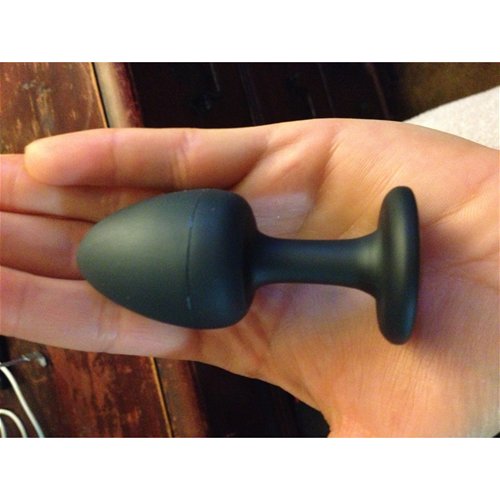 measuring just three inches tall and four inches around. The base is an inch and a quarter across. The small size seems to be a plus, rather than a minus in my book, though, and I think that will be the case for most people. It's comfortable to wear for long periods of time and small enough to be used during intercourse (I've yet to try this, but want to). The only thing that may not be great for everyone, is the round base. Depending on your body and your comfort level, the base can not feel amazing after a while of sitting on it. The jewel is glass (not sure about crystal) and while very pretty and sparkly,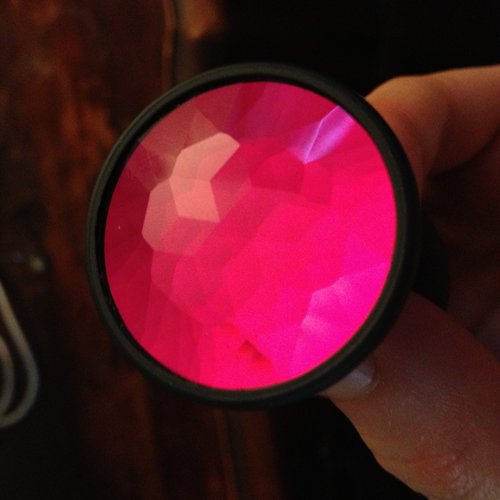 I think it looks funny having a hot pink jewel instead of a butthole. Funny in the very best way, though.
It has a small seam in the silicone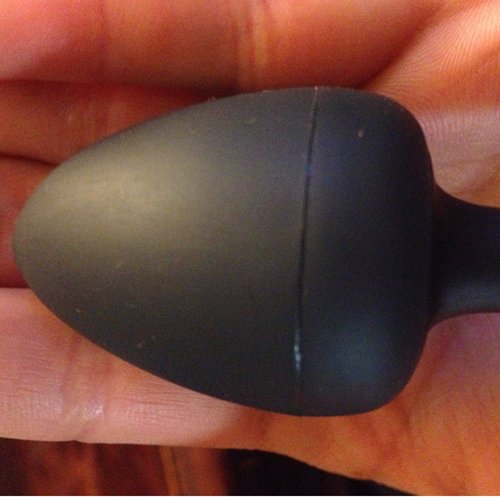 which can be felt with the fingers and easily seen, but won't be felt internally, as it's so small and smooth.
Experience
The movement created by the plug are very nice, very quite and easily felt, but not earth shattering. They are exactly like most vaginal exercise balls. I enjoy wearing this plug while I run errands, go to the gym and do house work. It's really a lot of fun and a great sexy secret. It stays in place and is small enough to be worn for quite a while. The Geisha Plug is my new favorite butt toy for sure and I cannot wait to try it during intercourse.
This product was provided free of charge to the reviewer. This review is in compliance with the FTC guidelines.

Thank you for viewing
Geisha plug ruby
– butt plug review page!