A seahorse that lives out of water!
A great butt plug is one that anyone can use, from men to women, beginners to experts, and all in between! This cute little seahorse is more than meets the eye, with its curved base for comfort during long-term wear, neat design which gives it a slight amount of discretion, and a perfect material for such a toy.
Published:
Pros:
Non-porous material, cute shape, great for beginners and those with more experience
Cons:
Someone new to using plugs may find the texture a bit too much
The
Smiling butt plug Seahorse
is a small black butt plug which can be used by just about anyone interested in some sort of anal play! This toy was made by
NMC ltd
and only comes in one color.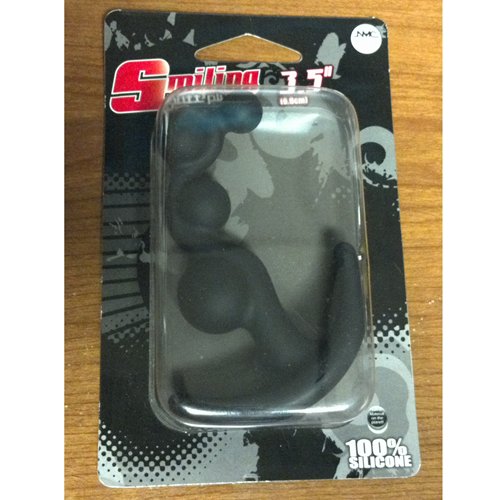 Butt plugs are an excellent, safe way to stretch the anus out prior to any type of anal sex, as well as providing pleasure during wear for some people. This particular plug is both stimulating as well as a way to prepare yourself for some partner play!
The plug is made of black colored
silicone
, which rates a 10 out of 10 on the Eden safety scale. Silicone is non-porous and easy to sterilize, making it safe to share with a partner even without the use of a condom. Aside from being non-porous, latex free, phthalates free, and incredibly safe to share with a partner if sterilized, this product is also tasteless and odorless, which is a huge advantage to those with sensitive noses! It is unlikely that you will be inserting this toy in your mouth for any particular reason, but if you should choose to, you won't receive a yucky taste from it either!
This particular buttplug, unlike the product display picture, is actually shaped like a seahorse - the kind you would find in the ocean or a salt water aquarium! You just have to have some imagination. It has a curved base, which is in the shape of a
boomerang
, followed by a curved shaft that leads upward. On the way up, there are 4 balls, alternating on sides going all the way up to the tip. The ball closest to the base is the largest while the one on the tip is the smallest. They progress from large to small in size. The largest ball is 3.5" in circumference and the smallest is 1 3/4" around. It is 3 1/4" from the top ball to the bottom of the largest ball, and the entire toy is 4.5" long. Only 3 1/4" of the toy is insertable, and the rest of the length is made up in the base. The base is 4" across and provides a nice flare to prevent the toy from being sucked into the body.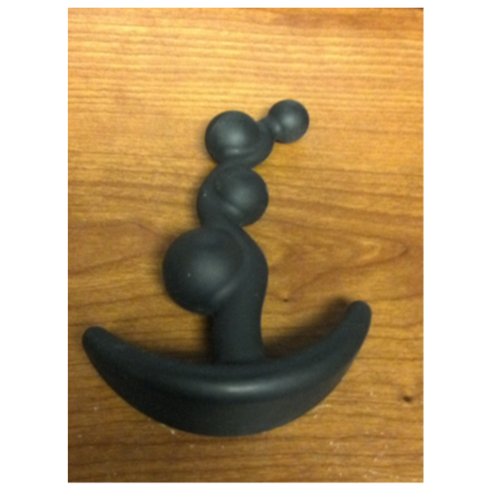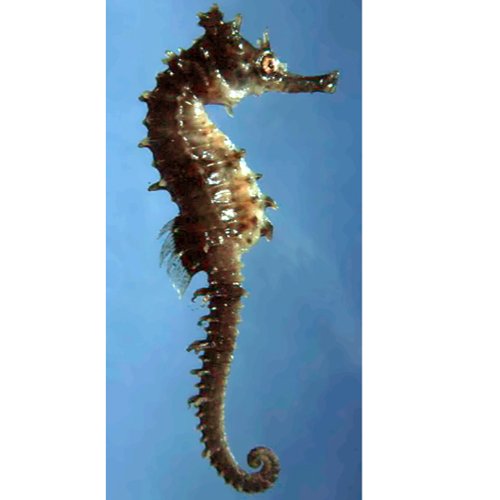 The best way to insert the toy is to apply your lubricant to the toy and a small amount around the anus. Then simply slide in the first ball, and continue to slide it in as you adjust to the wider balls. To remove, you simply grab the toy by the base. It is flexible so you will want to grab it by its width, rather than length and simply pull it out slowly. You may hear or feel a "pop" sensation/sound, which is completely normal, and tends to feel good!
Once removed you will want to be sure to clean your toy for obvious reasons, such as bacteria and germs on the toy. Silicone is easy to clean and there are a variety of ways to clean it! You can boil this toy for a few minutes, soak in a 10% bleach/90% water solution, use hot water and antibacterial soap, spray it down with some toy cleaner, or wipe it off with a toy wipe. Personally, I prefer to sterilized my toy with the bleach or boiling method. You may also place this toy on the top rack of your dish washer to clean, though I have not done this myself.
After your toy has fully dried off, you will want to store it away from other silicone toys, just in case they are not also 100% silicone. It would be preferable to store this toy in a pouch, toy box, or even a drawer. The packaging that it comes in would be difficult to use for permanent storage, because you have to tear the back of the packaging to remove the toy. It comes in one of those non-discreet package, a plastic clear shell to view the toy and a thick glossy cardboard backing.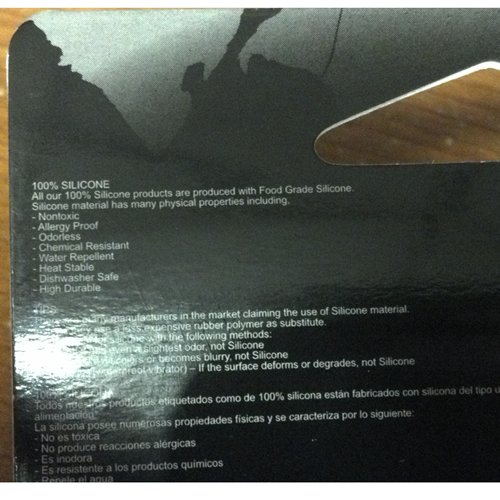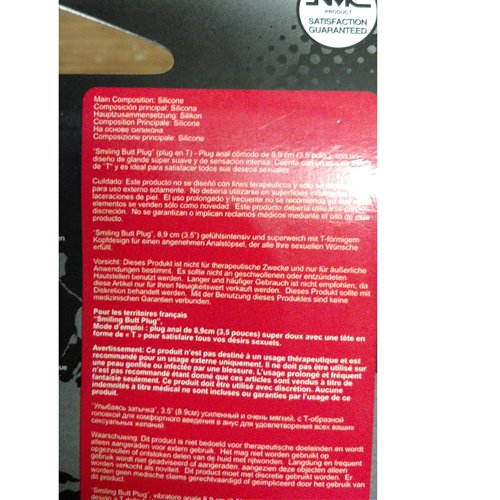 Experience
This was my very first butt plug and I was a little bit nervous about using one, but this was not too intimidating in size and the shape was pretty cute! I didn't have any problems inserting it as long as I went slowly. Because of the shape and the way it is designed, it still made me feel a whole lot more full, so I would imagine that even those with more experience with plugs like this one would enjoy it.
This product was provided free of charge to the reviewer. This review is in compliance with the FTC guidelines.

Thank you for viewing
Smiling butt plug seahorse
review page!