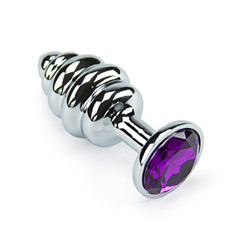 Twisted gem
Metal anal plug
by EdenFantasys
A Special Kind of Twisted
This is a gorgeous plug, and it's very different and unique. I love the way it looks and feels in my hand, and that the base makes it so easy to handle and use - whether on yourself or someone else. The jewel is a gorgeous touch and the material of this toy (and its jewel) is high quality. However, it may be harder to clean, and some may find it too weird to use, or too small for their taste. It can be used as a uni-sex toy, but not all will be comfortable with this.
Published:
Pros
-Beautiful shape & jewel color
-Creative design
-Small, good for newbies
Cons
-Design can be too intense for some
-May not suit all beginners
-Too small for me personally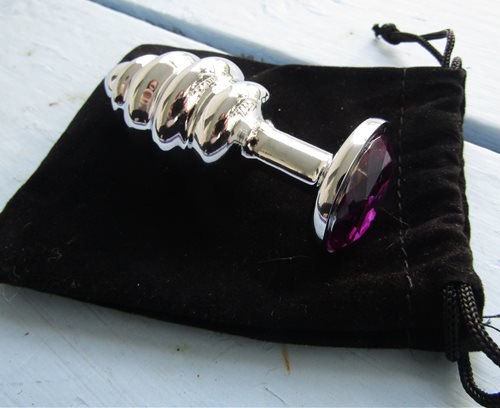 So this plug has been designated for my husband (just married!) and will be for his use only. What, did you think this plug was just too girly and that butt plugs with gems should only be used for women or gay guys? *wink* I'm just kidding. And after all, he's comfortable with his sexuality and not at all turned off by the jewel on the end of this plug. Shoot, come to think of it, purple is his favorite color!
Being that this is smaller (2 3/4 inches total & insertable length) than my other jeweled butt plug (which would disappoint me personally but it's good that it's smaller because this is the first plug my man has ever used), and though it looks and feels in an unconventional way, it is not a toy that is going to strike fear into someone who is venturing into anal play for the first time.
I must say though, that (again) for me personally, I would deem this butt plug too small. I dont want something too big, no, but I prefer butt plugs that are at least 3 inches in length and just a tad thicker in circumference and width. I do personally love the jewel on the base of this plug, and want to praise its beauty and high quality. My first jeweled butt plug, slightly bigger and also purple, is such a low quality that I think the metal it was made of actually started to rust - I kid you not! Also, the jewel in my first butt plug literally fell out before I even used it. It came from Amazon and was about $9.00 - super cheap, not only in price, but also in material. It was bigger and felt good inside me, but since it has seemed to start rusting, I have been more and more reluctant to use it. I doubt that this butt plug will ever rust, being that it is made from aluminum alloy, a much safer material for "metal" plugs. This comes as a relief because I would never recommend a sex toy, let alone purchase one for my love, that would be unsafe for the body. I want him to have the best materials, just as much as I would want the best materials for myself. Unsafe sex toys are a big no-no. The material in this particular butt plug, I feel a lot more comfortable with, whether it would have been for myself, or for him.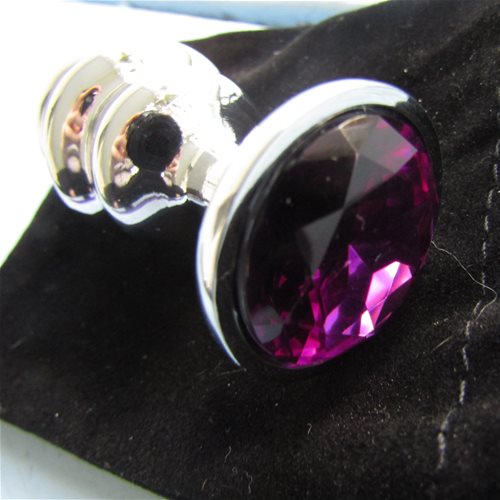 Ridges, ridges. Interesting ridges. These collect a fun little amount of you-know-what, and can be hard to clean in between (I recommend keeping an old toothbrush handy for crap like this - no pun intended). They can be very pleasurable however (a little bit like very large anal beads), and easy to insert. The tapered plug makes this plug easier to put in, while the space between the "ridges" and base, makes it safe as a butt plug, and should give it more staying power. However, as tight as my husband is, this plug did not want to stay put and he kept having to put it back inside of himself.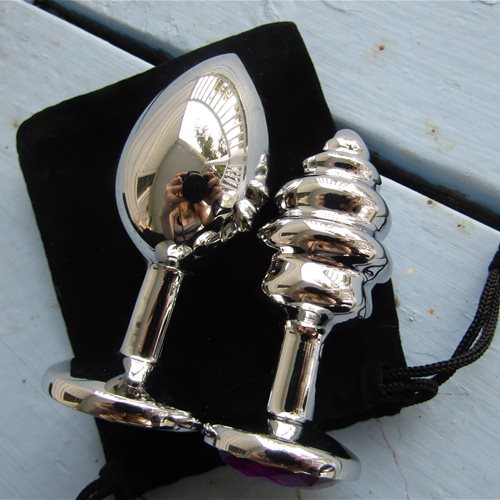 This beautiful plug came encased in several layers of packaging. Inside of a small plastic bag was the velvety black drawstring bag it now stays in, and inside of that was a styrofoam-like white bag, with a small rubber band wrapped around it, and then underneath that was white tissue paper. Finally inside it all was the butt plug itself. It was nice to see so many layers of protective packaging to keep this plug in great condition through the mail et cetera (all shipped in a small cardboard box which contained a large packaging pillow and the receipt), though I am always confused by EdenFantasys' minimal packaging and lack of real product information or branding on said packaging. Usually big brands like Tantus and CalExotics will have their company name and logo on the product, and at least some information about the product itself, even a photo of the product or a porn star it is associated with. But EdenFantasys includes none of this. Packaging is always bare and minimal, especially if drawstring storage bags are not included. Of course this has its pros and cons, being that it may leave less to throw away, but then there's always the issue of not being given proper instructions on how to use a product. This is always something that sincerely frustrates me.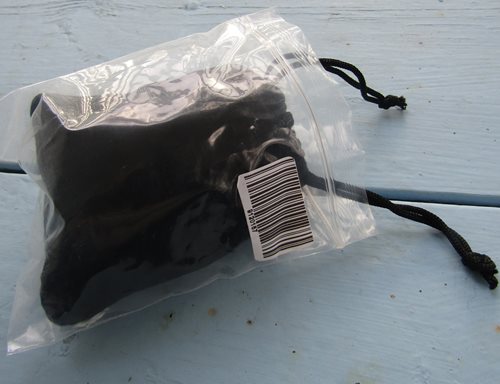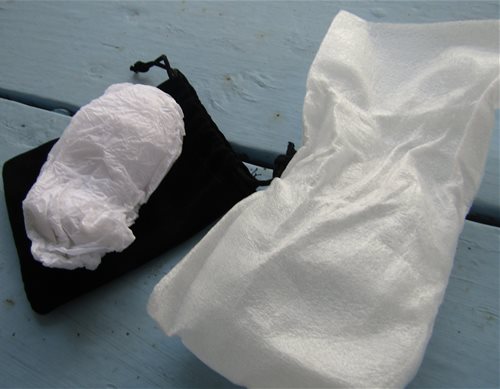 Experience
I'm a little concerned about this being dishwasher safe (as far as cleaning). Because of the jewel, I would not recommend putting it in a dishwasher. That would risk the jewel falling out, and though super glue can always be used to put it back into the base of the plug, not everyone would feel okay about super glue being so close to their butthole. I recommend anti-bacterial soap and water (and keeping an old toothbrush handy) to clean in and around this butt plug. As far as storage, using the styrofoam-like bag it came encased inside as well as the velvety black drawstring bag are definitely good ideas. Even if you dont use the styrofoam baggie, the velvety drawstring bag is great for keeping this plug in. Aluminum alloy doesnt attract dust and lint the way silicone and other materials do, but it's still a good idea to keep your toys as clean and safe from germs as possible.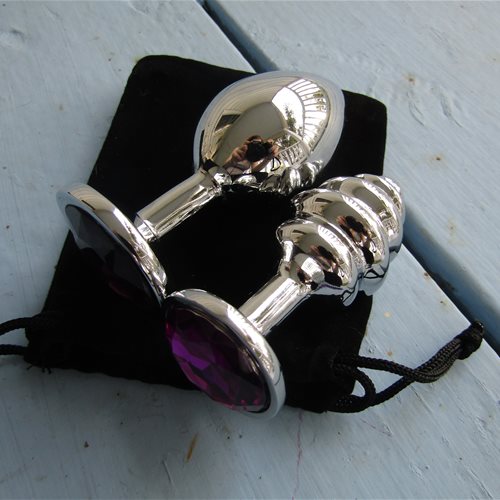 So in using it, his fascination and excitement soon turned to a bit of discomfort and disappointment, because it was such an odd shaped plug, that on top of everything, did not want to stay put inside of his tight hole. It wasnt too large of a plug, but he was not entirely pleased with the pointy tip of it, or the "beaded" feel of it, because it doesnt slide in that easily or smoothly for him. It may be easier for others to use this plug, but we found the experience a little different than we had expected or anticipated. I can definitely understand his disappointment. Though this is smaller and less threatening, and it could be good for beginner use, it may be better for advanced users who are trying a new kind of butt toy and dont mind the possibility of this plug not staying in as it was made to inevitably do. That's all up to the user though, of course! Do whatever you are comfortable with.
This is still the most interesting butt plug we've tried. Sure, you have your thin butt toys, your thick butt toys, vibrating butt toys, glass butt toys, sparkly butt toys, all kinds of butt toys. You even have anal beads.. which of course arent my favorite thing to use but hey, I've only tried them once. But I think the aesthetic beauty of this plug just gives it a special look, and a special purpose in any sex toy collection. It certainly is a whimsical, unique find.
This product was provided free of charge to the reviewer. This review is in compliance with the FTC guidelines.
Thank you for viewing
Twisted gem
– sex toy review page!