Angel's Adventures: Rear End Rapture
This item is definitely worth getting. It's not that expensive, and it's incredibly pleasurable, and just amazing in general. However, you should always make sure you're getting the right size for your experience level.
Published:
Pros:
The shape, easy insertion, comfortable design, easy to clean, easy to maintain.
Cons:
Maybe the anchor should be slightly narrower. You can see it if it's worn under tight clothing.
I'm a big fan of Bum Buddies; I'll admit it. The shape of the Rear End Rapture is what first drew me in: The fact that there was a (somewhat) gradual bulge to it, and the tapered end, making removal easier. Plus, the anchor section of it is incredibly comfortable when nestled between your cheeks.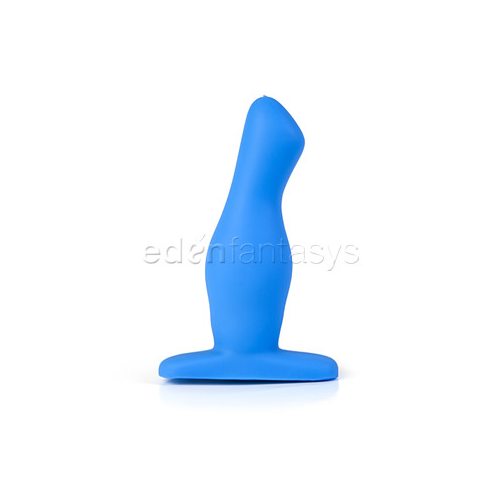 Now granted, it IS made of silicone, so you obviously don't want use silicone lube on it (That's a big no-no, guys!), but water based lube made this an absolute pleasure! Insertion is easy, even on my own. The fact that it's silicone allows just enough give that moving around isn't painful, and the anchor contours itself perfectly when it's worn.
The plug pictured is the "Advanced" level plug. At 5.5", it has 5.25" insertable length, with a 5.75" circumference. This is NOT a plug for beginners. However, for those who have experience with anal play and are looking for a plug that's fun and provides a little more "oomph", this would be my suggestion.
I've used this model several times, both during masturbation and sex, and let me tell you, this makes things a whole lot more interesting. It provides sensations I never knew existed, and make sex even better for my partner!
The sensation of my husband inside of me, pressing against this plug when he thrusts in, and the way it moves during sex - *especially* doggy style - is amazing. It's indescribably overwhelming. Add to that the fact that it tends to take up space and allow for contact with nerves I honestly didn't think were there, and you've got a recipe for mind blowing orgasms that left me laying there, breathless and screaming in pleasure.
Another great thing about these plugs is its wide, flat anchor. If you like being spanked, you should try this out during your sessions. Every thwack, every landed smack, turns pain into pleasure that you wouldn't believe. The silicone carries those sensations all the way through, providing deep stimulation.
Now even though the material is soft and relatively easy to insert, you should always make sure you have enough water based lube both during and after insertion, just to make sure no damage is done on the way out. Even with lube, it does take a bit of effort to remove it. Also, I made the mistake once of not thinking about it and just taking it out, and...well, sitting was uncomfortable for a bit!
Clean up is a breeze, as well. Just take it out, wash it with warm water and antibacterial soap, and dry it thoroughly. It's one of my favorite toys, and I don't think it'll ever go out of rotation in my collection!
Experience
I've always had good experiences with Bum Buddies. The beginner and intermediate levels of this particular model have always treated me well. One day, I decided it was time to go a size up, and I bought the advanced level.

I was honestly intimidated when I first got it. I sat there, staring, completely fascinated by the fact *that* was supposed to go in my ass. About a million thoughts were running through my head, not the least of which was "How am I going to make that fit?!"

I decided to give it a try on my own first, knowing that if it didn't work, at least it wouldn't break the mood. So out came the intermediate butt plug, just to loosen things up and get used to the sensations again.
After about 5 minutes, I took out the intermediate and slowly eased the advanced level in. It went much easier than I thought it would. I threw on a pair of underwear, and went about doing some cleaning around the house.

Housework has NEVER been as pleasureable as it was with the Rear-End Rapture! Every move brought on new sensations, and more than once I had to stop, almost overcome by the reaction my body had to it.
If you're into anal play, or just enjoy the sensations, and you can handle it, I'd suggest this.
This content is the opinion of the submitting contributor and is not endorsed by EdenFantasys.com

Thank you for viewing
Bum buddies rear end rapture
– butt plug review page!